(Last Updated On: September 5, 2022)
Editor's note: we've touched on the subject of cycling fabric care before — here are a variety of new tips for you to mull over as the weather heats up.
Looking After Your Cycling Clothes
If you're a regular cyclist, then you know how important the clothes you wear are. They are an investment, keeping you at a comfortable temperature, keeping you dry and always there to prevent soreness and injury. What's more important is looking after them so you can get the best use and value to ensure you don't have to fork out for another set of cycling gear over and over again. Make sure that yours last with these helpful tips.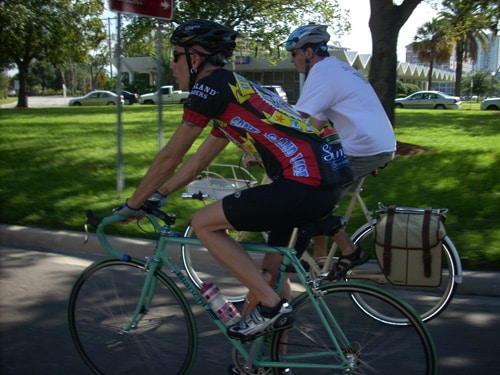 Air It Out
Don't let your sweaty bike clothes fester in a pile, especially if they are damp. The damp encourages bacteria to form and will make your clothes smell. Airing and drying your garments will prevent this to a certain degree.
Before You Wash
When you wash your gear, make sure that you turn them inside out, and apply pre-wash detergent to the areas that are worst affected.
Zip up any zips and close up any hook and loop fastenings before you wash, as these can damage garments. Place them in a mesh bag to prevent them being tangle and stretched with other items in the wash. Avoid putting them in with jeans or towels. Your cycle gear should be treated as 'delicates'.

Nothing Too Complicated
The soap or detergent that you use to wash your clothes should be just that. Don't use scents, dyes or softeners on your cycling gear.
Wash on a cool temperature, and if they don't smell clean enough for your liking, wash them in vinegar or a specialist sports wash detergent. You don't want your clothes to smell like detergent either, though, as this can irritate your skin.
Air Dry
If you can, always air dry your gear. Tumble drying can damage the fibres if too hot, so stick to a cooler heat if you have to tumble dryer.
Waterproofs
Waterproof cycling gear needs special care, as they are complex garments. Fabrics like Texapore, used on E-Outdoors' collection of Jack Wolfskin garments, have a breathable, waterproof membrane that lets vapour, but not liquid through. The outer shell is often hard-wearing and coated with a Durable Water Resistant (DWR) coating, which can wear off over time. You can re-waterproof your garments with a wash-in product or a simply spray. Wash in will waterproof the entire garment – though remaining most effective on the outer shell because DWR will only bind to existing DWR. A spray-on will only coat what you spray.
A last tip, always remember not to tumble dry waterproofed garments as they could end up smaller than you'd like!