Top Bicycles For Two Year Olds Reviewed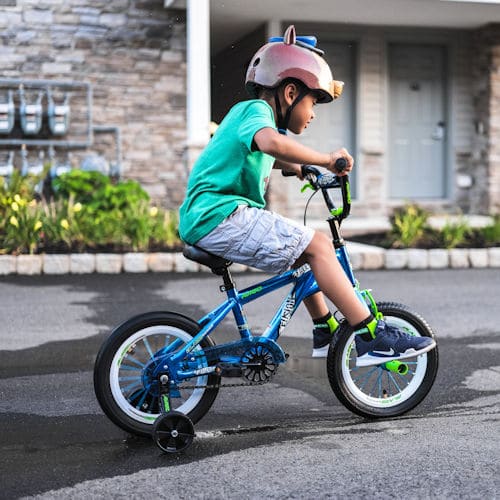 Perhaps one of the most memorable gifts you can give your child when they're young is a bike.
Learning to ride a bicycle one of the most common bonding experiences you and your child will have and it helps to create some beautiful memories for both you and your child.
It's also a fantastic way to introduce them to a healthy hobby that can eventually grow into an eco-friendly and active form of transportation.
Building up a habit of cycling at a young age is never a bad idea, but there are hundreds of different bikes for 2-year olds so it can be difficult to pick the best first bike for your child. Thankfully, we've done a lot of the legwork for you.
We go over each of the bicycles in our toddler bike buyers guide below, but for those of you in a hurry here are the bikes we looked at:

Top Choice
Model
Strider 12 Sport Balance Bike
Cruzee Ultralite Balance Bike
RoyalBaby Honey & Buttons
Top Choice
Model
Strider 12 Sport Balance Bike
Model
Cruzee Ultralite Balance Bike
Model
RoyalBaby Honey & Buttons
Best Bike For 2 Year Old
It seems bicycle manufacturers are continually coming out with new toddler first bikes almost daily. To help you sift through all the choices, we looked at the top reviewed models on the market, and came up with these picks for the best bikes for 2 year olds:
So in this article, we're going to review five of the best bikes for 2-year olds that are available. We've sifted through many different bikes to create this list of the best-value bikes for toddlers.
The Strider 12 Sport Balance Bike is an excellent choice for 2-year olds to start learning how they can balance on a bike. Unlike a traditional bike, the Strider 12 Sport Balance Bike doesn't actually have pedals but instead is low enough to the ground that your child can safely use their feet to propel the bike. This type of design is fantastic for helping children up to around the age of 5 years to learn the basics of how to balance on a bike with less risk since they won't fall over to the side and potentially hurt themselves.
The Strider 12 Sport Balance Bike is light, comes in many great colors and the seat and handlebars can be adjusted to be comfortable for your child. No tools are required to adjust it so it's really convenient to fit the bike to the size of your child. This is incredibly important as a feature because children grow very quickly and they'll eventually grow too big to use traditional 2-year old bikes if it can't be adjusted. This extra feature ensures that you're getting your money's worth thanks to the adjustable nature of it, meaning you won't need to replace this bike for several years.
Overall, this bike is a fantastic purchase and will last several years before your child grows out of it. The lightweight construction lowers the chances of the bike ever harming your child and you'll be surprised at the quality of the overall frame and inflatable wheels. If you're looking for an early introduction to bike riding, this is a great recommendation.
Sale
Strider ST-S4GN - 12 Sport Balance Bike, Ages 18 Months to 5 Years, Green
JOIN THE STRIDER FAMILY - Meet the bike that set the world on fire and revolutionized the way kids learn to ride. Children as young as one are experiencing the thrill of riding without training wheels before they're out of diapers.
GROWS WITH YOUR CHILD - The seat and handlebar heights adjust to accommodate ages 18 months to 5 years, or a 12– 20 in. inseam (no tools required). The adjustable 12 Sport is perfect for future upgrades like a foot brake or heavy-duty tires.
FOR YOUNG KIDS - Weighing in at only 3.0 kg (6.7 lbs.), the 12 Sport push bike makes it easy for your boy or girl to ride and stride. Mini-grips mean your child's little mitts can easily take control. This bike gives you the biggest bang for your buck!
IT'S MORE THAN JUST A RIDING TOY - Boring specs aside, this is the bike that introduces kids to the freedom, power, and responsibility of riding. Now they have the power to keep up with you when you're out and about, experiencing amazing freedom.
YEARS OF FUN - We know kids put things through rigorous…*ahem*…testing. With the 12 Sport's durable steel frame and puncture-proof tires, you don't have to worry about damage or maintenance and have a child's bike they won't outgrow in a few months.
The JOYSTAR Kids Bike with Training Wheels is perfectly designed for kids between the ages of 2 and 9 thanks to its adjustable seat and handlebar height. Unlike other balance-oriented bikes, the JOYSTAR Kids Bike is actually a fully-fledged bike that comes with pedals, a bell and training wheels to help your child learn how to ride a bike. It's built with a sturdy steel frame that even comes with a lifetime warranty. Thanks to the minimum amount of maintenance needed to actually keep the bike in good working condition, it's a fantastic investment that can last 8 or more years and will continue to give your child plenty of fun.
Most of the bike comes assembled when you purchase it, meaning it's simple to set up and even comes with a bonus custom decal that your kids can stick onto the bike to make it their own. It only takes around 20 minutes to set up and it comes with all the necessary tools. All; you need is a pump for the tire and the bike is ready to be used. Support is also very helpful (albeit a bit slow) so if there are any missing parts or confusion about the bike, support is always available to give you advice.
To conclude, the JOYSTAR Kids Bike is a great choice that mimics how a regular bike works. The training wheels are a fantastic addition that can be removed in the future once your kids get used to riding the bike, the custom decal is a nice touch and the ease of installation will ensure that your kids can get on their bike shortly after it arrives. It's far better in quality compared to bikes you can get at large stores and the price is incredibly reasonable.
JOYSTAR 14 Inch Kids Bike for 3 4 5 Years Boys & Girls, Unisex Child Bicycle with Training Wheel, Beige, 85% Assembled
DESIGN FOR KIDS - 1. This 14" bike comes with stable training wheel early rider. 2.Quick release seat simplify the height adjustment. 3.Saddle with holder to learn riding when the training wheel is off. 4.Foot brake suitable for young rider don't have enough power to manipulate the hand brake.
MINIMUM MAINTENANCE - Made of premium steel to survive the bumps of learning, the durable steel frame is backed by our limited lifetime warranty. The bike comes with black tire & single speed, only little maintenance needed due to the simple design.
DIY DECAL & SAFE CHAIN GURAD - Your child will get a DIY decal, they could make a unique bike with the decal by sticking their name on the frame or chain guard. The chain guard well protects the chain, it will last longer than other bikes, your child will not get hurt when try to touch the chain.
EASY TO INSTALL - The children bike comes with 85% Pre-assembled body and the basic assembly tools, only pump needed for tire, normally takes a novice about 20 minutes to assemble it. If you have problem about assembly or the bike, please contact us.
RECOMMENDED SIZE CHART - 12" biike for 2-4 years(33"-41") Toddler, 14" BIKE FOR 3-5 YEARS (35" - 47") CHILD, 16" bike for 4-7 years (41" - 53") boys & girls, 18" bike for 5-9 years (43"-59") boys & girls. Note: child height may vary even at the same age, please take the height into consideration.
As a balance bike, the Cruzee Ultralite Balance Bike is a different approach to teaching kids how to ride a bicycle. By taking a no-pedal approach, kids will learn to balance by pushing using their feet while being able to quickly correct themselves before they fall over. This provides a surprising amount of safety to your child and minimizes the chance that they'll be hurt. The Cruzee Ultralite Balance Bike is one of the best bikes for a 2-year old because of how lightweight it is. It weighs just 4.4 pounds and it works on a number of different terrain types.
The Cruzee Ultralite Balance Bike comes in a bunch of different colors, meaning your kids will be able to pick a bike that really speaks to them in terms of the design. It's also constructed well thanks to the rust-free anodized aluminum which also makes it very light and easy to maintain. When picking the best bike for a 2-year old, it's vital that you choose a bike that is light enough for your child to use, and the Cruzee Ultralite Balance Bike is a fantastic choice that offers incredible comfort, personalization options and excellent build quality.
For a bike that can really stand on its own as a worthwhile investment, the Cruzee Ultralite Balance Bike is a fantastic choice and should be considered despite its price being a little higher than the other choices on this list. Thankfully, that price offers you superior quality and a lighter frame that makes it worth it.
Cruzee Ultralite Balance Bike (4.4 lbs) for Ages 1.5 to 5 Years | Blue - Best Sport Push Bicycle for 2, 3, 4 Year Old Boys & Girls– Toddlers & Kids Skip Tricycles on The Lightest First Bike
TRY A DIFFERENT APPROACH TO LEARNING – Skip tricycles and training wheels. On a no-pedal blue Cruzee balance bike children LEARN TO BALANCE FIRST on two wheels. Pedaling on a traditional bike comes easy after learning on a Cruzee.
MAKE A LONG TERM INVESTMENT IN YOUR CHILD'S HAPPINESS – Constructed of rust-free anodized aluminum, Cruzees come with a LIFETIME WARRANTY. Wide seat and handlebar adjustment lets the bike grow with your child deliver as much as 3 years of use.
THE LIGHTEST BALANCE BIKE IN THE WORLD – In cycling, lightweight equals performance & safety. Weighing just 4.4lbs, the Cruzee delivers effortless control & builds confidence in the smallest riders, no matter what terrain they choose to ride.
THERE'S SO MUCH TO LOVE ABOUT CRUZEE - The Cruzee is incredibly comfortable with soft grips, a super comfy seat, low-profile axle bolts & flat-free foam rubber tires. Your child will love it, and you will too!
The RoyalBaby Honey & Buttons Kids Bike is a bike for 2-year olds that comes packed with features. It comes with a fashionable frame in many different colors and there's a lot of different configurations such as with training wheels or with a kickstand instead. These configurations make it easy to pick the right bike for your child's needs, but it does mean that you'll need to consider how comfortable your child will be on the size of the bike. This can be a bit of a problem considering how quickly kids grow up, but it shouldn't be a huge concern as long as you purchase the bike that is just right for your child as comes with adjustable seat and handlebars.
The RoyalBaby Honey & Buttons Kids Bike is everything you can expect from a solid bike for 2-year olds that can teach them all of the essential fundamentals. It comes with heavy-duty tires, training wheels, a foam saddle and training wheels (with the right configuration) that can help them get used to riding. It's very easy to assemble and surprisingly sturdy for the price.
Overall, the only complaint about the RoyalBaby Honey & Buttons Kids Bike is that it comes in too many configurations based on the size. This means that the bikes designed for a smaller range of ages compared to other bikes on this list. For instance, the 12" RoyalBaby Honey & Buttons Kids Bike is designed for ages 3 to 4, while the 18" is for ages 5 to 9. This makes it rather difficult to recommend it as a long-term investment unless you're willing to buy a larger one in the future.
RoyalBaby Boys Girls Kids Bike 14 Inch Honey Bicycles with Training Wheels Child Bicycle Purple
1. Easy to put together. 95% of the bike is assembled. Save your headache to install the front wheel and brake compared with 85% bikes. Assembly tools and an easy to follow instructions are included.
2. Unique design. Square tube frame with various fashionable colors. Safe and stable. Front handbrake and coaster brake. Adjustable bicycle handlebar and seat suitable for children of different heights.
3. Easier to Ride. Your little ones will enjoy a smoother ride with Royalbaby sealed bearing since 2019. Royalbaby exclusive brake lever allows little riders brake efficiently.
4. Safe kids bike. Safety grips, soft seat, sturdy steel frame, enclosed chainguard,crank, brakes,non slip resin pedal. 1.2mm bike steel tubes thickness and 2.4'' wide tires, bikes stronger and more durable.
5. More size options. 12,14,16,18 Inch available, use our easy to follow size chart, you'll find a perfect size for your little kids. Note: Please take the kids height into consideration.
The Raleigh Bikes MXR 12 Kids Bike is a brilliant bike that is designed for ages 2 and above. It's built with a sturdy steel frame and has fairly large 12-inch wheels that are surprisingly good at handling different types of terrain. It comes with training wheel attachments and a cool red color that is sure to be popular. As one of the more popular bike brands, Raleigh delivers on quality which matches their reputation. The training wheels can easily be removed once your child is more comfortable riding and the overall quality of this bike is fantastic.
One of the things that might put people off buying this bike is the serious lack of any customization. Because it only comes in a single red color, it doesn't offer your children any personalization. This could be a huge problem especially if your child isn't a fan of the loud red color, but for others, it might be incredibly popular.
Regardless of the color, the quality speaks for itself and Raleigh provide an excellent level of support that you won't see with relatively unknown brands. If you want a sturdy bike for a 2-year old that is going to last until they outgrow it, then choosing this Raleigh Bikes MXR 12 Kids Bike is going to be well worth your investment. It's a little pricey considering it's only designed for ages 2 to 4, but it's going to be a much better experience than cheaper alternatives.
Raleigh Bikes Kids MXR 12 Bike, One Size, Red
Made for learning to ride and heading out around the driveway, park, and neighborhood
Designed for boys 2-4 years old, or 35" - 42" tall
A strong steel frame is made to survive the bumps of learning
The 12 inch wheels will be stopped by the coaster brake - simply push the pedals backwards to stop
Removable training wheels can be used to learn balance, but removed when he is ready to tray 2 wheels
Learning To Ride A Strider Bike
If you learned to ride a bike with pedals and training wheels, the concept of a strider bicycle may be foreign. Here is a good YouTube video showing how a youngster learns to ride on his bike:

Related Articles
Last Updated on