(Last Updated On: October 17, 2022)
Electric bike – or e-bikes – are the newest edition to the road and ready to make life a little easier with ever-increasing supply and demand. What's so great about an e-bike? They let you drive a bike with less work taking advantage of new technology. People who need to commute to work in a crowded city may want to get there with a little less sweat on their work clothes.
With electricity, we can revolutionize living in tight quarters with easier deliveries, fewer cars taking up space, more parking, and a little exercise for good measure. Electric bikes even come with the option of folding for further reducing space. Moreover, they can reduce emissions and help to reduce the effect on the environment. It also gives a set of moving wheels to teenagers who aren't old enough to drive their license for a few more months or years.
No matter what your reason is for deciding to buy an e-bike, we found the best choices to save you money and time research. Don't spend hours researching as we already did all of the legwork for you with a wide variety of prices available to suit any budget. Find your right choice now and start biking!
Our Favorite Electric Bikes For Commuting
If you're looking for an electric commuter bike, you can't go wrong with RadCity 4. This bike has everything you need for a successful work commute, from a rear rack to help carry anything and everything you need to bring with you, to large tires to help you take on even the bumpiest of roads on your way into the office. Not only does this bike come in an updated size to help fit a wider range of riders, but it can also carry up to 275 lbs. of weight, allowing you to go further on a single charge. Speaking of charge, this bike features a 48V, 14 Ah lithium-ion battery. For anyone who couldn't care less about voltage, that means you can get more power out of a single charge, with less battery to weigh down your bike. This bike can travel up to 45 miles on a single charge, allowing you to make it to and from the office with little to no hassle. Looking to pump up your battery power between trips? This lightweight battery fully charges in under six hours, making this the ideal bike for any commuter looking to get the most out of their daily commute.
The RadCity 4 features pedal assist to automatically detect when you could use an extra jolt from the motor, as well as a twist-grip throttle to help you control the motor manually. A 7-speed, 11-34-tooth freewheel shifting system gives you the power you need and the control you crave to take on hills of all shapes and sizes, with smoother shifting and less worry about slipped chains or chunky shifting. On top of the amazing drive features, this bike features puncture-resistant tires with reflective sidewalls for added visibility, as well as a powered brake light to help keep you safer on your daily commute.
If you're looking for a bike that can help make your morning commute smoother than ever, while still reducing your environmental impact and helping avoid undue strain as you make your way into the office, the RadCity 4 is one of the top electric bikes on the market. The incredible design, amazing durability, as well as over a thousand positive customer reviews earmarks this bike as a must-have for the conscious commuter. But don't just take our word for it; as one satisfied customer noted, "The battery life is truly impressive, I can take a 15 mile trip thru the hills in our neighborhood (Big hills at that, think of hills like you see the Hollywood sign on) and still end up with 3/4 of a full charge left by the time I get home. The ride is comfortable, and it is almost embarrassing how easy it is to peddle past traditional cyclists that are decked out in their cycling outfits and riding on their expensive road bikes."
No matter your commuting needs, the RadCity 4 can take almost anything your morning commute throws at you, while still offering an incredible riding experience that's sure to wow.
The 500 Series Electric Bike Black Utility Edition offers a massive amount of benefits ready to make your life easier and give you other wheel options other than a car. From an integrated twist throttle to rubber grips, a rack, and fenders, you get a quality bike that's designed for comfort. This bike was designed with touring over long distances in mind. The company keeps making improvements to everything from the tires, gears, and the design to continue to create quality products customers can't live without.
As this is a class 3 electric bike, it comes with the pedal assist and throttle so you can ride the bike or drive the bike. You also get a massive amount of miles, including 25 to 50 miles per battery life depending of course on right away, terrain, incline, and drive style. The bike comes with an insanely powerful motor, including a powerful 750 W peak with a 500 W sustained geared motor with a 52NM torque.
What is the point of any bike if it's not comfortable to ride? That's why this bike comes with fabulous frame geometry and components built for the best comfort available. Included in that comfort are a lightweight alloy frame with internal protected and locked electronics. Did you read that last part? Yes, this doesn't affect come with a screen to tell you important information about your bike. The bike comes with a nine-speed LCD with an odometer.
Next, the bike comes with the saddle seat, Shimano Acera derailleur, shifters, and freewheel, plus a Suntour XCT fork. Anyone from 5'4 inches to 6'4 inches who weighs under 275 pounds. The bike comes with an integrated LED headlight, charger, all-terrain tires with puncture protection, two keys for the removable battery system, and a heavy-duty kickstand. Get ready for the drive of your life with this incredibly advanced bike.
Find out why customers love the Turboant Swift S1 Folding Fat Tire Electric Bike. It could be because of the sturdy frame and thick tires, or its impressive 330 pound payload capacity. Also, it could be the 750 watt brushless gear motor and 48 volt battery. In some ways it is reminiscent of mini bikes many of us had in our youth. Whatever the case, it made our list because of its great ride and its ability to fold down for easy transport.
That powerful rear hub motor allows the bike to deliver a cruising range of up to 60 miles, which should handle the worst commute you'd want to tackle with a bike. The S1 also lets you gain speeds of ups to 28 mph thanks to the Kenda fat tires. Each tire measures 20 x 4 inches for fabulous ground traction. As with all electric bikes, the top speed and range depend on several conditions, including drivers' weight, terrain, incline, and other variables.
You get three ways to drive – throttle drive, pedal assist, or manual pedal only so you can decide how much exercise and sweat you add to your commute. With throttle mode, you get a ride more similar to a motorcycle or a scooter. Pedal assist has 5 different levels to control how much the motor helps you while you pedal. Meanwhile, with a pedal only drive, you can put the power in yourself for a bit of a workout.
Stopping is not a problem with the S1, as it uses the Tektro Aries braking system to give you quick, smooth stops. The bike also comes with great features like an adjustable front fork that lets you tweak the suspension for the perfect ride, leather wrapped grips, and easy adjust seat and handlebars.
What makes the Turboant S1 different from many of its competitors is its ability to fold down into a compact unit for transport. When folded it fits in a space 38 inches long by 23.5 inches wide by 31 inches high. This means that if you want to take your electric bike with you it will likely fit in your trunk rather than requiring an external carrier. This is a great feature for anyone wanting to drive to a park or remote trails on the weekend.
If you are looking for a well-rounded electric bike that can handle both your daily commute and also recreational riding on and off the road, the Turboant S1 may be your perfect choice.
The ECOTRIC Fat Tire Electric Bike It has a little lower load capacity at 260 pounds, which Isi why it's a little lower on the list. What it does offer is pedal assist and walk-assist modes to give you new and different options as the option above offer throttle mode. This one also includes an outage braking system and mechanical braking system for extra security while driving, which is more important to others.
With extra fat tires at 26 x 4-inches, you have a bike that's going to stay on the ground and prevent you from falling or other issues. These tires are safer, more balanced, and can achieve and maintain higher speeds. Better yet, they work on all conditions.
It also has a max speed of 20 miles per hour and a pure electric power of 19 miles. Next, you get a 500 watt-brushless rear motor to help get up to 23 miles per hour. You can take out the 36V lithium cell battery, and it also comes with a charger. Take the charger into your office, charge it, and leave your bike outside. Don't worry, it comes with a battery lock and power lock function to keep your purchase safe.
The bike comes almost completely assembled and with quality parts. For example, the motor sits out of the way in the v-shape of the frame. Speaking of the frame, it's made of alloy with an ergonomic handlebar, adjustable seat, and anti-slip wear resistant tires. It even comes with an LCD display panel to tell you your distance and other stats and a five-year cycle display too. A few customers got defective models with bad batteries, but the vast majority of customers love their high-end priced bike.
No products found.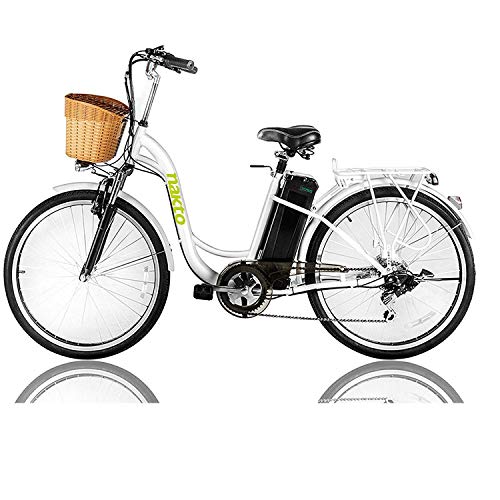 The Nakto ebike with Removable Lithium Battery by Bright GG comes with a beautiful vintage design ready to receive tons of compliments from everyone. It's also ready to transport you around the city with a basket and extra storage over the back tire. The motor lines up with the seat rail to take up less space. Meanwhile, the traditional crossbar doesn't come with this bike for more freedom of movement, or if you prefer, you can also choose an option with the crossbar.
Next, the bike comes in two different neutral shades, including black or white. It comes with a strong carbon steel frame, and the fork is also made with the same material. You also get a cushy seat on top of the larger and stronger frame to hold more weight. The bike also comes with a break and gearshift system with both front and rear brakes and a Shimano six-speed shifting system so you can choose your speed.
Speaking of speed, the 250 W rear hub brushless motor has a detachable 36 V 10 AH lithium-ion battery to help the bike reach speed of up to 25 to 35 miles per hour.
The bike also includes bright headlights for safe night driving.
Pick from three modes of operation, including pure electric mode, pedal-assist mode, and pure pedal mode if you wanna ride the bike without any power but your feet. You can switch the modes at whim or combine all three to go farther faster. The bike also offers a display to show you the battery power level and capacity, so you know when you need to charge it next.
The bike also comes with a one-year warranty and 24 seven customer service in case you have any issues. It offers an affordable and functional bike for city living to help you get around without breaking a sweat. Enjoy getting around without having a bulky car taking up space inside tight spaces with two forms of storage too.
Sale
NAKTO Electric Bicycle Cargo Electric Bike for Adult 26" Sporting Shimano 6 Speed Gear Step Thru Ebike 25MPH 25-30Miles Removable Waterproof Large Capacity 36V10A Lithium Battery & Pedal Assist
✔️38 MILES RANGE & 20MPH MAX SPEED ---- Equipped with Shimano 6-speed gear and stable 350W high-speed rear hub motor and a removable 36V10.4Ah lithium-ion battery that can reach 20-25miles (electric bike mode) to 30-38miles (assist mode), the auxiliary mode can be rid of under ideal conditions. The lithium battery 36V10.4ah is typically charged for 3 to 5 hours.
✔️3 RIDING MODELS ---- Ebike & Assisted bicycle & Normal bike. You can choose different models according to your own needs. If you prefer enjoy the cycling more, you can choose the Assisted bicycle mode. Pedal assist mode allows you to ride longer distances. When you choose the E-bike mode is no pressure whatsoever, you won't feel the strain in windy weather or uphill and enjoy long trips without pedaling
✔️HIGH-QUALITY MATERIAL ---- 26"ebike frame is made of high-quality carbon steel, lightweight, solid and durable. The front fork is made of high-strength carbon steel and has excellent comfort and shock absorption performance. Our electric bike is very pressure-resistant, the maximum allowable weight can be achieved 250lb
✔️OUR BRAND STORY ----NAKTO has been established for more than 10 years, and our e-bike sales have reached 300,000,000 units so far. NAKTO has a professional team with its own frame workshop, pollution-free shot blasting workshop, frame plasticizing workshop, and lead-free painting workshop for frames and parts. We mainly export to more than 60 countries and regions such as USA, Mexico, Europe, Japan, Southeast Asia, etc
✔️1 YEAR WARRANTY and UL CERTIFICATION ---- Nakto offers 1 year warranty for electric motors, batteries and other parts. You don't have to worry about damaged parts or repairs. If you have any questions, please contact our after-sales staff and they will reply you within 24h. We have professional and authoritative UL certification for e-bikes, batteries, controllers, motors and connectors. Please keep the original package temporarily in case there is any problem when you return the product
With the RINKMO FEB-S1 Folding Electric Bike, you get a bike that folds so you can take it into the office with you instead of leaving it out on the street for easy access to thieves. It comes pre-assembled thanks to the handy folding style. No need to learn how to assemble all the different gadgets and gizmos of a bike or the necessary tools to get the job done. The benefits don't stop there either; also, it's on a lower price bracket to make it more affordable for many budgets.
A dual disc brake system means you can stop on a dime for safer driving. The bike also comes with three models of riding, including pure electric, power-assisted, and you can use the bike without any power at all. Either pedal the bike or twist the throttle to accelerate the electric mode. You will see your speed shown on the smart meter that includes an LCD backlight. A built-in light also helps provide visibility in the dark.
Not only does the bike fold up, but the battery comes out for charging so you can charge it under your desk at work or at home in your kitchen while storing the bike someone more convenient. The lithium-ion battery comes with 36 volts and can provide between 15 and 30 miles of drive time with each charge depending on your stats. Add the battery to the 250-watt high-speed brushless gear motor, and you get a bike with a max speed of 15.5 miles per how that can also climb slants. Trust us, 15 miles may not seem like a lot in a car, but compared to pedaling or walking, it's fast.
Now, if you haven't noticed, the bike comes with different schematics than a typical bike. It has smaller wheels and a longer looking frame so the bike can fold up into 25 inches by 27 inches. You also get a horn right on the handle to honk at troublemakers on the road. Finally, the sturdy frame is made of aluminum alloy and can hold 264 pounds of passenger weight.
No products found.
The last bike, the Swagtron EB7 Plus Electric Bike, comes with lots of fabulous features, including the ability to fold into a compact size for easy storage and carry. It also comes with an eye-catching design and all the other features you have come to expect from an e-bike. First, though, the bike uses all three modes, including electric, pedal-assist, or simple pedal, giving you a wide range of options.
Second, the bike comes with a Shimano seven-speed to help you climb hills or commute to work with reliable shifting and a precision ride. On a single charge, you can ride up to 19 miles, and that includes inclines of 25°. Next, you can get extra power-on-demand as the 36 V lithium-ion battery is swappable so that you can keep a fully charged battery with you for longer rides. Charge the battery in just 3 to 4 hours and then switch to the second battery.
Moreover, the bike uses a key to lock and protect your bike from theft. It also has 16-inch wheels and an enhanced rear suspension, so your bike can handle anything. Dual disc brakes also help with performance and stopping on a dime. Because if it's low profile, it's recommended for writers between the heights of 4'10" or 5'10″.
Lastly, well, the bike has many many features that you would like it does not have a digital display for battery life, however as you can add a new battery when necessary, this isn't such a big deal. It also uses a 350-watt powerful motor to fuel your trip. Now you just need to pick your mode and start riding or driving.
Sale
Swagtron Swagcycle EB-7 Elite Plus Folding Electric Bike with Removable Battery, Orange/Black, 16" Wheels, 7-Speed
GEAR UP WITH 7 SPEEDS — Conquer hills like a boss with this commuter eBike's 7-speed gear shifting for the reliable precision and ride control that every cyclist craves.
HIGH-PERFORMANCE & EXTENDED MILEAGE — Upgraded with 23% more power, this pedal-assist bike has a throttle-only range up to 18.6 miles on a single charge with the capacity to cruise up to 18.6 mph and conquer 25° inclines.
EXTRA POWER ON DEMAND — Swappable 36V Li-ion battery fully charges in 3-4 hours. Grab an extra battery (sold separately) and keep it as a spare whenever you need it. A key-secured compartment keeps the battery locked and protected from dust and splashes
RUGGED, SMOOTH & STEADFAST — With 16-inch wheels and enhanced rear suspension, this electric commuter bike handles rough rides beautifully. Add the dual-disc brakes and you have the superior stopping power you can rely on.
GOLD-STANDARD SERVICE — New SWAGTRON electric bicycles enjoy a 1-year limited warranty. Our world-class customer support team, fully staffed in the U.S., offers the best customer service in the industry, available via live chat, email or phone.
Buying Guide for Electric Commuter Bikes
Take a look at all of the different factors to consider before purchasing an electric bike. Below we also answer a few of your questions and look at all of the benefits of these items. Take a look.
Different Modes
Electric bikes come with four modes of use: throttle mode, pedal-assist, combo, and unassisted. With the throttle mode, you are letting the motor propel the bike. With pedal-assist, the motor uses power only when you are pedaling. You can also use both in tandem, or you can use neither and use the electric bike as a regular bike (unassisted). Make sure you know which modes you would like before purchasing.
Motor & Battery
The electric motor is the highlight of an electric bike as it powers the vehicle, so you don't have to! Usually, the motor is found on the front or back hub but also can be found under the seat attached to the pole. The battery provides the juice to get the motor going. A battery can keep the motor moving for 20 to 60 miles per a single charge, depending on which mode you use.
As with all batteries, you will need to charge these batteries by plugging them into a wall and charger. Some of the bikes let you keep a spare so you can remove a dead battery put in a charged battery and keep on riding. If you have to drive longer distances, consider picking a model that allows for spare batteries.
Wheels
The best wheels are a little thick for extra tracking and grip on the road. If you want to ride your bike on mountains or trails, you will want thicker or fat tires. Thinner tires help to grip better on roads. You can find a happy medium with 16-inch standard tires that are ready to take on most riding situations.
Drive Train
The drivetrain provides both power and torque to turn the bike wheels manually. It allows the rider to shift gears so they can make it harder or easier to pedal. A drivetrain is found on regular bikes as well as electric bikes.
Questions About Electric Bikes For Commuting
What are the biggest advantages of an electric bike?
Electric bikes are way faster than conventional bikes, which is the main advantage. Even better, you don't get sweaty because you aren't doing the work, meaning you can drive your bike to work without worrying about messing up your business attire even going uphill! These bikes also take up way less space, making them perfect for crowded spaces and cities.
The benefits keep coming, as bikes are a wonderful form of transportation for beautiful open views, they are great as a group activity or even with your children. The elderly and injured can also enjoy electric bikes as there isn't as much bodywork involved in riding the bike. Less pressure on the knees, hips, and other body parts so you can just enjoy the ride. Electric bikes are also great for the environment because they reduce the number of cars on the road and reduce your gas bill!
You can use an electric bike to commute to and from work, taking kids around, running errands, exploring, for leisure, or even for deliveries. The options are endless, and you can even use electric bikes as regular bikes too to cut down on space taken in your garage. You can still exercise with an electric bike and increase your health.
Do I need a license or insurance for my electric bike?
Always check your local law, but in general, most people do not need either a license or insurance for an electric bike. Check with your insurance company to see if your electric bike is covered as they are often easily stolen. Check out more information at https://peopleforbikes.org/.
Are electric bikes safe to ride in crowded spaces?
The answer is mixed. Even if you take a lot of time to practice away from other people and become super proficient at riding, there are always unknown variables about driving, such as finicky pedestrians, people on scooters not paying attention, drivers looking at their phones, trucks stopping abruptly, and so on. Always use the most caution possible and follow all local laws to be as safe as possible for yourself and everyone you are driving around.
Conclusion
Our favorite electric bike choice is the 500 SERIES Electric Bike by Ride 1 Up. Not only does the bike come with all of the best features but also a sleek modern design. Although, its pricy, you get a quality bike with every conceivable feature to improve your electric bike driving experience. Finally, the company has shown themselves committed to taking a great product and improving it over time to continue offering only the best products to their customers.
For more information on what to look for when purchasing an electric bike for commuting, watch this video: