(Last Updated On: August 9, 2022)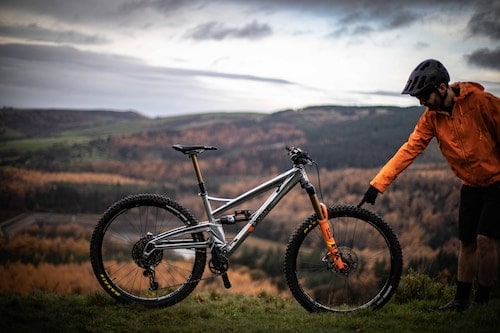 Mountain biking offers a fun and healthy way to increase your health while spending time outdoors, but it opens an entire new line of purchases. One of the most important purchases is a beginner bike to get out on the road trails. Find the right bike here and learn about the different styles.
Currently, there are two types of mountain bikes – a hardtail and a full suspension. The hardtail is the more cost-effective of the two and does not have a suspension in the back but has a suspension fork up front. This style offers maximum power transfer for a smoother, more controlled ride.
A full-suspension has a suspension fork and shock at the rear and cost more because of their complex frames and the additional cost of shocks. The difference is, do you want easier pedaling with a hardtail or better traction with a full suspension? Also, hardtails are lighter and easier to transport.
Another consideration is the wheels with the majority of wheels measuring 26 inches but with various other options, including the new 27.5 for full traction on the road. You also need to decide if you want a lightweight aluminum alloy or carbon frame or a heavy steel frame but the most affordable of the three, and therefore, the best option for beginners is the aluminum alloy.
Find the right bike for your needs, including the best tires, brakes, and drive train. We did all the research and found the best options in a variety of prices with all the features you may be looking for in a mountain bike. Now you simply need to choose from these best ten options to best suit your needs!
Our Favorite Beginner Mountain Bikes
Max4out Mountain Bike 21 Speed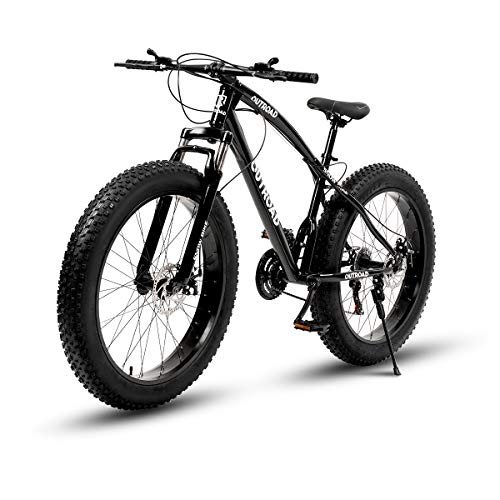 The Max4out Mountain Bike comes with the standard 26-inch tires and a rear suspension for those beginners who want more traction for harder trails. It can hold a bikers up to 440 pounds from 5'3″ to 6-feet tall. Although, the price of this bike comes in rather high, it comes with a high carbon steel frame with excellent welding technology for durability and safety.
A unique disc brake in the rear wheel has a disc brake with seven gears. The front disc brake is made of aluminum alloy so that it won't rust. All this, and you also get 21 speeds with three sets of seven gears to achieve your perfect ride. In the front, you also get powerful shock absorbers to make riding even in rugged terrain easier.
Furthermore, you get 26-inch tires with a width of 4.3 inches to stay on the road no matter what you encounter. Knobby tires stick to the road with light and durable alloy wheels for added stability. Adjust just the seat to keep you comfortable on your bike, no matter your height. Finally, free pedals and a comfortable seat will get you on the road faster without having to make additional purchases.
Diamondback Bicycles Overdrive 27.5 Hardtail Mountain Bike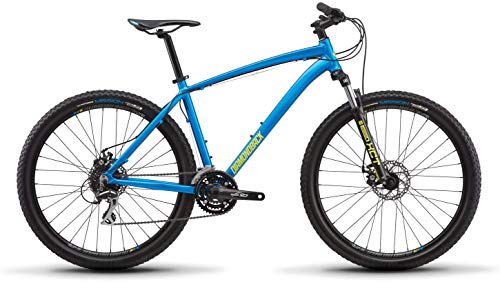 Diamondback creates some of the best mountain bikes available but at a high price. However, this bike offers all the features you could want in a beginner mountain bike, including hardtail suspension and 27.5-inch tires. Note this is an older model, but this allows you to save some money, and it works for both men or women.
The hand-built aluminum alloy hardtail frame offers classic biking with the new standard size tires for better traction and handling while still allowing for plenty of speed. Large knobby tires grip to rocks, roots, leaves, and more to give you confidence that you are in control no matter what your mountain leaves in your wake.
Add in an SR Suntour XCT fork for 80mm of suspension for easy travel and 3 gears in the front with 8 gears in the back for a combined 24 speeds so that you can adapt to any terrain. Powerful disc brakes give you full control to stop without hurting your wheel rims. Finally, the bike comes in either blue or red and comes with pedals and a lifetime warranty for the frame.
SAVADECK DECK300 Carbon Fiber Mountain Bike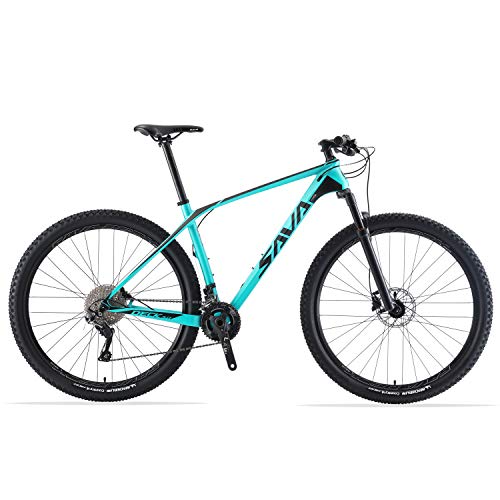 If you don't mind spending a small fortune, the Savadeck Deck300 offers a premium ride to get new mountain bikers in love with biking. It comes with a carbon fiber mountain bike for a quality riding experience with a lightweight and robust bike. This bike also offers 100mm of suspension travel, which is perfect for trail mountains, which is what you will want to start with as a newbie.
To easily operate your bike effectively, the brand comes with a Shimano M6000 Deore 3*10S Derailleur system in both the front and the rear. A Shimano MT200 hidden disc brake system and Continental tires allow you to stop on a dime and drive in any condition. Add in a comfortable saddle seat with breathable memory foam in an ergonomic style for a comfortable ride.
The bike comes in three colors, including blue, green, and white, all with black elements for superior design. A fully internal cable routing system increases the design with clean airflow over the entire bike. It also comes with free pedals to save you a little money until you decide which style pedals you want. The TORAY T800 carbon frame comes designed with the Wind Tunnel for aerodynamic contour and tapered head tube for strength and rigidity for better handling.
Finally, the bike is easy to assemble and with parts already assembled, which beginners will appreciate. It comes with both 27.5 and 29-inch wheels and frame size of 15.5, 17, and 19-inch sizes. Try out all the sizes to see what works best for your needs.
EUROBIKE Full Suspension Mountain Bike 21 Speed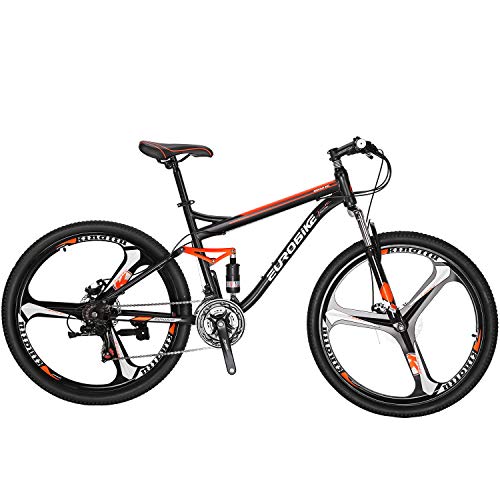 For an affordable price, you can own the EUROBIKE with full suspension and 21 speeds to rock any trail. It comes with an 18-inch frame and an MTB suspension fork with a steel handlebar. With 27.5 inch tires, you get speed and ruggedness to match any trail you find. Even better, the bike arrives 85 percent assembled, so you just need to assemble the pedals, front wheel, handlebars, and air up the tires.
The disc brakes allow you to ride without injuring your wheel rims, which are mag alloy or aluminum. The front suspension is a Shimano TZ 30, and the back is a Shimano TZ-50 with an another Shimano for the shifter (EF-500). Though this bike is for people weighing 300 pounds or less and between the heights of 5'7″ to six feet tall.
As stated in the title, the bike comes with 21 speeds to help you navigate any mountain with comfort. It comes with a sleek design and a comfortable ergonomic seat for comfort and a set of pedals. Finally, this is an excellent bike at an extremely reasonable price to get you on the mountain before investing in a professional bike.
Merax 26-inch Aluminum 24-Speed Mountain Bike with Disc Brakes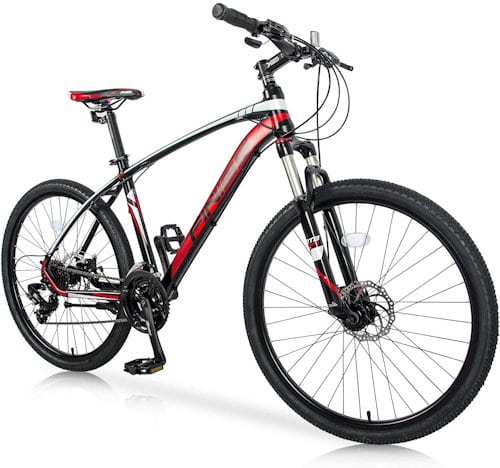 With the Merax bike, you get a well-rounded beginner bike ready to take you out on the trails and introduce you to your new favorite sport. A lightweight heat-treated aluminum 17-inch mountain frame starts out your experience with a sturdy base for riding. Add in traditionally sized 26-inch wheels for a full range of motion and the ability to ride over anything but a fallen tree or a bear.
The bike also includes Shimano 24 speeds Derailleurs and shifters for reliable and fast shifting no matter where you bike. Front mechanical disc breaks let you stop when you need to without worries. Note that the bike works best for people under 330 pounds with the steel frame.
Last of all, the bike comes with pedals and a comfortable, cushioned, and ergonomic seat for long rides. You will need to assemble about 15 percent of the bike, but this is standard to make sure the bike can ship. It also comes with 80 mm travel for suspension to provide a smooth ride on rocky surfaces and increase your control of the bike.
No products found.
SAIGULA Fat Tire Bicycle Fat Mountain Bike 26 Inch 4.0 inch Tire BTM 7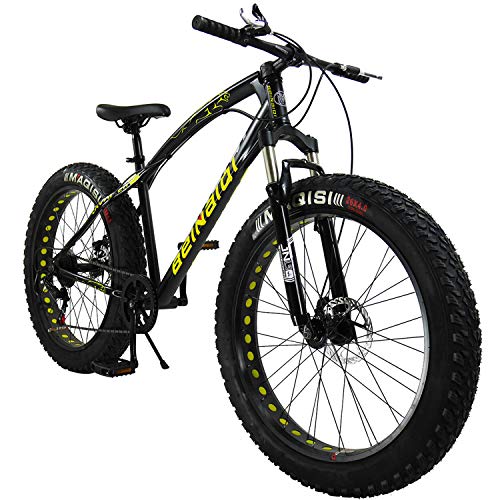 The Saigula Mountain comes with big old fat 4.0 fat tires ready to ride over anything you might encounter on or off the mountain trail. Mind you, the price for these fat tires does come at a higher cost, and you only get 7 speeds to get these tires, but for some people, fat tires are the only way to go for epic traction needs. Beyond fat tires, you also get 26-inch double-walled wheels to hold up the tires and you!
With rear Shimano derailleurs and seven speeds allow bikers to climb his faster and easier with twist shifters for smooth gear changes while riding. You get a dual suspension and dual disc brakes too for complete control when riding and stopping. A steel handlebar with steel stem provides smooth movement for turns.
This bike works best for people up to 330 pounds and over 6 feet tall as it weighs a light 60 pounds. Note that the pick ships from California and may need adjustments because of long-distance transport, but since most bikes require assembly, this won't be an issue. If you want a bike ready to handle mountains, sand, or even snow, then look no further.
No products found.
Schwinn Bonafide Mountain Bike with Front Suspension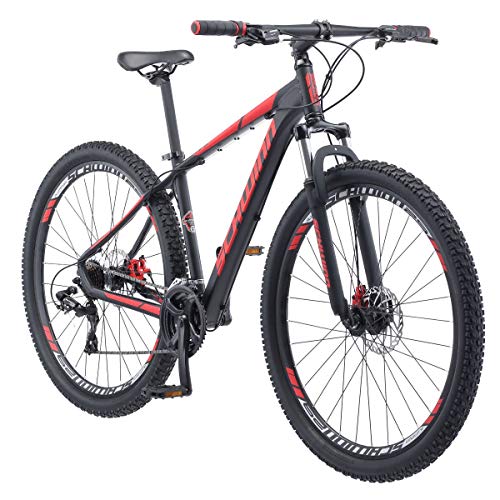 Everyone has heard of Schwinn but may not know they make the Bonafide Mountain Bike. This bike comes with an aluminum mountain frame for ease, low weight, and durability. With front suspension fork, you get a bike ready to go over bumps and divots comfortably.
What's great about this sleek bike is the 24 speed Shimano EZ Fire trigger shifts and front and rear Shimano derailleurs for easy gear changes. Both front and rear mechanical discs brakes provide crisp and clean stops in all conditions. Schwinn also includes alloy cranks to provide steady gearing and reduce maintenance.
Next, the tires come with 2.25-inch wide knobby mountain tires for bumpy terrain and 29-inch wheels for plenty of traction, though you may lose a little speed. Notice this is an older model that will save you a little bit of money on this name brand bike. Finally, like with most bikes, this one requires assembly once it arrives.
2020 Gravity FSX 2.0 Dual Full Suspension Mountain Bike
With the 2020 Gravity FSX, you get a choice of frame sizes to meet your height requirements. Choose 15-inch for up to 5'6″ tall, 17-inch for 5'8″ tall, 19-inch for 6-feet, and 21-inch for 6'1″ and taller. Now that you have a bike perfect for your dimensions, you are ready to ride any mountain.
The Gravity comes with an aluminum frame and 24 speeds. Shimano EF51 offers excellent shifting into gears with ease. Both the front and back Derailleurs are also made by Shimano too. It also comes with 26-inch, 2.1-inch wide double-wall alloy wheels to cover any terrain but also get the speed you want.
Furthermore, the handlebar is made of aluminum riser, a saddle seat for comfort, and Tektro Novela Disc brakes for an optimal bike. As a matter of fact, the whole bike is made out of aluminum to make it lightweight for easy transport of the times you need to walk up a stretch of trail. Finally, the bike comes in three color choices, but only on the wheels, including white, green, and red.
Mongoose Dolomite Fat Tire Mountain Bike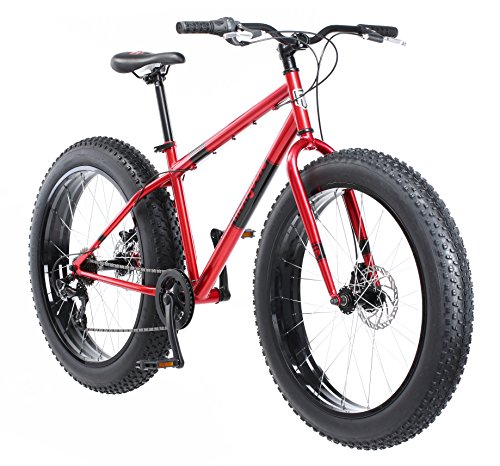 Those looking for a fat tire bike need to take a look at the Mongoose Dolomite Mountain Bike as it comes with tons of valuable features that offer extra gripping on rough terrain. Pick your color first of red, dark blue, or light blue and take a peek at the mid-range price tag. With a 17-inch High Tensile steel frame, this is a fantastic choice for riders between 5'6″ and 6-feet.
The 26-inch wheels are the standard size but certainly not the standard thickness at 4 inches thick and from a name you know and trust. Although, this bike only comes with 7-speeds, it comes with a Shimano rear derailleur for smooth gear shifting. It also includes lightweight alloy rims, a thread-less adjustable headset, front and rear disc brakes, and a three-piece crank for durability.
With the Mongoose, you can go farther and do more over any terrain with a comfortable cushioned saddle. It's also a great option for those who want to spend time off-road who live in snowy climates for winter rides. One of the only downfalls is its kind of heavy at 52 pounds, but it has to be to take you through the roughest terrain and carry you home.
Roadmaster – 26 Inches Granite Peak Men's Mountain Bike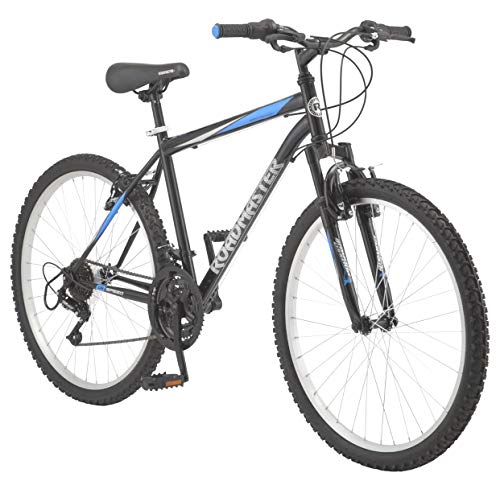 If you want a bargain-basement priced bike, try the Roadmaster Granite Peak bike because it has all the features you need without the massive price tag. For those who aren't sure if they want to get into mountain biking, you can find out if you like the sport before turning it into an investment. Also, you can use this bike for trails or streets if you don't have a ton of space to store multiple bikes.
It comes with suspension on the front fork for a smooth ride, even on rough and bumpy roads. Furthermore, the bike comes with a decent braking system with linear-pull brakes, so you can stop even when descending at massive speeds. Add in an all-steel frame, shock absorbers, a padded seat, and a 3-piece crank for a lot of bang for your buck.
The bike only ways 38.6 pounds meaning its lightweight if you need to carry it up to an apartment or load it in the truck. It even comes with 18-speed gears shifts to find the right speed no matter where you ride. Assembly of this bike is easier than any of the others too. The only downfalls are the bike might scratch easily, you may need to adjust the brakes more often, and the seat isn't super comfortable for long rides, all of which are decent trade-offs for the low price for a beginner bike.
No products found.
Questions About Beginner Mountain Bikes
Should I start out with clipless pedals or flat pedals?
Start out with flat pedals and regular shoes. Once you have gotten used to biking out in open terrain, you can decide to spend more money on a more expensive and professional bike, which will probably have clipless pedals. Flat pedals are what you are used to at the moment, just straight up pedals to use with normal sneakers.
Clipless pedals work with special shoes to keep your feet from running off the pedals but can make getting on and off the bike a challenge, especially in a fall. Get used to riding first, then worry about clipless pedals and high-end shoes. What you should have in the beginning is a decent pair of gripping hiking or running shoes with the laces tucked into the shoe, so they don't get caught in the bike.
Which size bike wheel should I pick?
When it comes to mountain bikes, you have three size options, including 26 inches, 27.5 inches, and 29-inch wheels. A fourth option is 24-inch wheels, but those are for children to accommodate their shorter legs, but it's still a great option for very short adults who want to cycle out in the mountains. Talk to a professional first before deciding if this is a good choice for you if height is an issue.
With the 26 inch tire, you get the oldest style available, which is the standard. The 27.5 inch is the new middle ground and standard that roll over terrain easier than 26s but are more maneuverable than the 29-inch wheels. Finally, the 29-inch wheels are slower to accelerate but move across terrain easier than the other two sizes and more efficient on longer rides like cross-country.
To start, pick either the 26 inches or 27.5 inches to start and move up to the 29-inch once you have more experience under your belt. You could also find a bike shop with rentals and try out both before committing to a purchase. No one wants to find out after spending a couple of hundred dollars on a new bike that they want the other size tire!
What type of brakes should I choose?
Mountain bikes used to have rim brakes, but now the majority of entry-level bikes have disc brakes, and it's the right choice for beginners. These brake pads grip to the brake rotor that is mounted on the wheel hub and come in two different styles, including hydraulic and cable-activated. The hydraulic disc brakes offer progressive and stronger braking with less finger effort, and they can self adjust when worn.
Meanwhile, cable-activated or mechanical brakes need manual adjusting as the pads wear out. It all depends on how much maintenance you want to do. A few bikes still have rim brakes because they are more economical and easy to observe when they are worn out and need to be replaced. However, they can wear out the wheel rim, meaning you need to replace the wheel. They can also make stopping more difficult and less effective in wet and muddy conditions.
What is a derailleur?
This fancy-sounding word refers to the device that changes gears by moving the chain from one sprocket to the next sprocket. Most bikes have a front and a rear derailleur. A couple of other words you may hear are the highest or lowest ratio. The highest refers to when the bike is going fastest, and the lowest refers to when the bike is easiest, like pedaling down hills or going very slowly. Rear derailleurs keep the chain taut and help to switch gears while the move the chain between the three front sprockets and require you to ease off the pedals to shift.
How tp choose a beginner mountain bike?
There are many things to consider when looking to purchase a new MTB as a beginner. This video help answer most questions, and talks about what to looks for in a beginner mountain bike:
Wrapping Up Beginner Mountain Bikes
Still not sure which mountain bike to pick? Go with the Max4out Mountain Bike 21 Speed bike as it has all the features you need and the fattest tires to keep you on the bike. This bike will carry you through snow, sand, mud, and anything else you encounter. Along with the great tires, the bike has 21 speeds to make it up any hill or get a little extra leg workout. Before long, you might even find yourself doing stunts with this fabulous bike with a solid frame and tons of biking advantages.