(Last Updated On: August 9, 2022)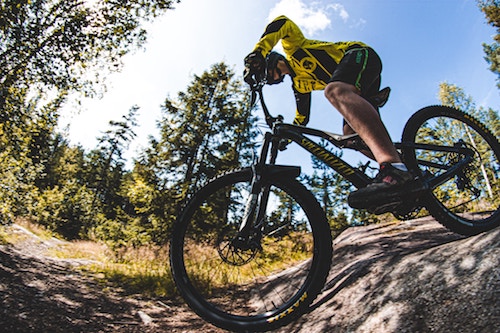 You never really outgrow that nostalgic shiny new bike feeling. Whether you are 9 years old or 99 years old, there really is nothing like a brand-new bicycle.
If you love the crisp air and natural beauty of the great outdoors, a trail mountain bike is the ride for you. Maybe you're looking for something a little better than your current trail mountain bike, but you're not yet ready to spend $1000 to $2000.
These bikes have all of the quality of good entry-level mountain bikes and won't break the bank priced under $500. Do more, ride harder and rip faster on these capable beginner to intermediate use bikes that are itching to hit the trails. That mountain's not so scary anymore, is it?
Our Favorite Mountain Bikes Under $500
1. Diamondback Bicycles Overdrive 27.5 Hardtail Mountain Bike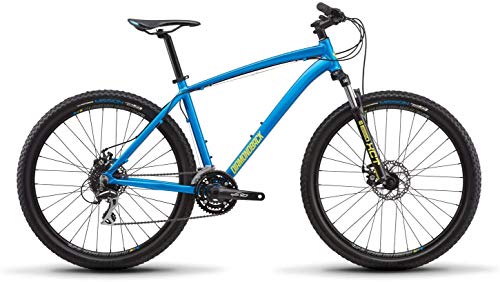 Diamondback has really upped their game with this bike. The Overdrive 27.5 Hardtail Mountain Bike is an entry level to intermediate use bike, meaning it is best suited for normal mountain and trail riding and is purpose-built to cut up the trails.
An aluminum frame and sealed bearings makes this choice lightweight, yet with a very sturdy and durable construction. A female reviewer stated it was so light and easy to lift and handle onto the top of a vehicle bike rack.
The 27.5-inch tires are a very popular size, which makes going faster easier with less effort and easier to traverse rough terrain. The suspension fork increases comfort of ride and control of the bike.
One customer expressed that to his delight the brakes and derailleurs were tuned perfectly on the bike right out of the box. The Acera 8 speed rear derailleur is top line quality. This mountain bike includes Tektro mechanical (manual) disc brakes, a 22-tooth chain ring up front and 32-tooth cassette, which can easily be switched out to a 34-tooth if you'd prefer, and super responsive Shimano shifters that show the gear you're in. All of which are very handy and well-built features.
This mountain bike is easily assembled with tools included in the box, and only involves attaching the handlebars, front tire and seat post. A customer stated that the manual had simple directions and diagrams, making setup a breeze for a non-professional bike mechanic.
Pedals and handlebar grips are included in the box, and there are two color choices for this model: blue or red. There are holes to mount accessories, such as a water bottle holder or lights. However, a reviewer warns that this bike has no lower mounts for a bike rack which makes it almost impossible to mount one.
The Overdrive 27.5 Hardtail Mountain Bike comes with Diamondback Bicycles limited lifetime warranty on the frame for as long as the original retail purchaser owns the bicycle.
A very satisfied customer stated this bike makes for a good first mountain bike. One bicyclist recommends looking on Diamondback's website for a sizing guide to ensure the bike will fit your body size and frame. The only downside is that you may want to look into a comfier seat, as this was the most complained about feature for the Diamondback Overdrive.
2. Schwinn Bonafide 29 Hardtail Mountain Bike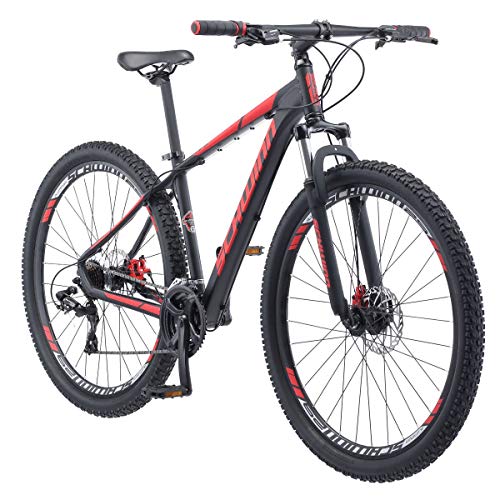 Lightweight, durable, and ready for action, the Schwinn Bonafide 29 Hardtail Mountain Bike is built to handle tough, rocky trails and features an aluminum mountain bike frame and a powerful Schwinn suspension fork that soaks up bumps and thumps to provide you with an enjoyable riding experience. You'll glide through trails and knife through brush with this trail ready bike.
This is an entry-level bike which has been designed for general transportation and recreational use but has not been designed to withstand abuse associated with stunting and jumping. The specs for this bike are impressive. It boasts a 17-inch medium aluminum frame, 24 speed Shimano drivetrain, and mechanical disc brakes. The 29-inch wheels and high-profile alloy rims indicate this hardtail mountain bike is built for the trail. It comes in sharp-looking matte black with red accents.
The effortless 24 speed Shimano EZ Fire trigger shifters and front and rear Shimano derailleurs make gear changes easy and smooth and offer a wide gear range for varying terrain. Front and rear mechanical disc brakes provide crisp all-condition stopping out on the trail, of which one reviewer stated these provided solid stopping power and are less affected by moisture than regular brakes. The durable Schwinn alloy cranks provide steady gearing and less pesky maintenance for the novice mountain biker.
The Schwinn Bonafide 29 Hardtail Mountain Bike has high-profile double wall alloy rims that are light, strong, and durable. With 2.25-inch-wide knobby mountain tires, this bike is ready to take on any rough or uneven terrain you can throw at it.
This mountain bike ships ready to be assembled and a kickstand is included. Schwinn offers a 5-year limited warranty for this bike, and the frame is warranted for the life of the original owner.
Many reviewers stated assembly was simple. Just construct the handlebars, front quick-release wheel and seat, and you're done. If you would like, there are front and rear disc brake adjustment instructions included as well. The box includes a comprehensive assembly/ownership/maintenance manual, though assembly tools are excluded there is a picture list of required tools included.
A satisfied purchaser stated that this bike feels like a much more expensive mountain bike and has a lot of character, rides smooth and is very hardy on the trail. Another said the Schwinn Bonafide 29 Hardtail Mountain Bike is sturdy but not too heavy and was an absolute joy to ride.
A popular wish is that the seat was more comfortable. Moreover, one reviewer recommends cable ties, or some similar attachment device which will work better than the included small u-shaped plastic clips that secure the cable brakes to the frame. These are simple fixes that do not take away from the amazing construction and performance of this mountain bike.
3. Schwinn Traxion 29 Full Dual-Suspension Mountain Bike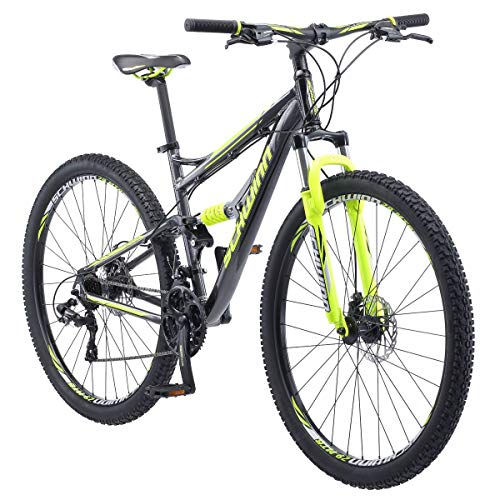 Schwinn continues to be the brand from yesterday that is riding into tomorrow. Over the last century, the bicycles, designs, and riders have evolved, but Schwinn's commitment to their mission has remained strong.
The Schwinn Traxion 29 Full Dual-Suspension Mountain Bike features an 18-inch/medium heavy-duty aluminum frame and quick-release front and back 29-inch wheels with reliable mechanical disc brakes, 24 speed Shimano drivetrain, a powerful Schwinn suspension fork, and is available in matte grey with neon green accents.
Durability is still the name of the game from this Schwinn Traxion Dual-Suspension Mountain Bike thanks to high profile double walled alloy rims and thick, knobby mountain bike tires designed to take a beating. Extra wide double walled alloy rims are light and strong for added durability, and the 2.25-inch-wide knobby mountain bike tires are ready to cushion the turbulence of any terrain. So, put down your phone and experience a ride that never quits.
This mountain bike has a Schwinn aluminum full dual suspension frame and powerful Schwinn suspension fork that absorbs jolts and thuds to provide you a pleasurable riding experience. So, whether you're off-road or boardwalk riding, this bike won't shake you to death or rattle your teeth.
The completely streamlined 24 speed Shimano EZ Fire trigger shifters and front and rear Shimano derailleurs make gear changes comfortable and efficient, making every trail your new playground. The front and rear mechanical disc brakes provide crisp all-condition stopping while on-road or off-road biking.
The durable, reliable Schwinn alloy cranks of the Schwinn Traxion 29 Full Dual-Suspension Mountain Bike provide steady gearing and less pesky maintenance for you. And like all Schwinn bikes, the Traxion comes with a limited lifetime warranty for as long as you own the bike.
Many owners applauded the easy assembly, stating adjusting the gears and brakes was a breeze and you only need a few Allen wrenches to complete assembly. There is a kickstand that is included, but a water bottle holder is not included.
An older gentleman states he has been riding Schwinns his whole life and expected nothing less than good quality and was not disappointed with the Traxion. This just goes to show you what years of innovation and technology bring to the table with this Schwinn mountain bike.
As with just about all of the bikes on this list, customers criticized the super uncomfortable seat. Also, having a professional finish the bike calibration, such as routing brake lines, calibrating the brakes, and rotating the handlebars is highly recommended.
4. Vilano Blackjack 3.0 29er Hard Tail Mountain Bike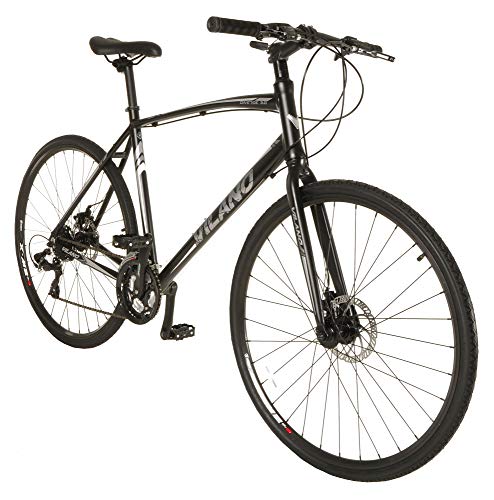 The perennial favorite Vilano Blackjack has been completely updated in the Vilano Blackjack 3.0 29er Hard Tail Mountain Bike. Equally at home on pavement or paths, roads or rail trails, this 29er has lots of features and makes an excellent choice for an entry-level mountain bicyclist.
Vilano bikes has offered affordable, quality bicycles and other products since 2008. Check out their extensive online knowledge base with assembly helps, maintenance tips, product information and more. Many reviewers stated they found the information on Vilano's website extremely helpful for assembly and maintenance of their Blackjack 3.0.
The light, solid frame of the Vilano Blackjack 3.0 is made of hand built butted 6061 hydroformed alloy and is a 29er hard tail mountain bike. The Tektro mechanical disc brakes work well with minimal adjustment needed and comes in black with red and white accents.
The suspension is 80mm travel fork with lockout, making this mountain bike easy to maneuver. With 29-inch double walled alloy rims and 29 x 2.1 tires, the Blackjack 3.0 will easily roll over obstacles and help you cover plenty of ground in a short amount of time.
This mountain bike has a Shimano 8 speed EF-51 integrated shifter/brake lever, Shimano Altus RD-M280 rear derailleur, and Shimano TX50 front derailleur with 24 speeds, and a kickstand is included.
There are straightforward and easy assembly instructions included. First, flip the stem and install the front wheel and brake. Then, install the handlebars, saddle, and pedals making sure the right pedal is installed clockwise and the left counterclockwise. Next, true the wheels, and finally tune the brake and derailleurs. There is also a water bottle mount included in the box.
While assembly is simple, the manufacturer highly recommends bringing the bike to your local shop for a safety check and tuning by a qualified bike mechanic before shredding the trails.
One customer was pleasantly surprised that he could ride this bike on medium difficulty trails, and it performed perfectly, further stating that the brakes stop on a dime and the lockout on the fork is very convenient.
A few bicyclists upgraded the seat and grips, which are relatively inexpensive upgrades for comfort and preference. One complaint from a self-proclaimed expert was that there is no rebound adjustment for the front suspension, and that there is a clear thump as they quickly snap back after lifting off the ground.
5. Kent KZ2600 Dual-Suspension Mountain Bike, 26-Inch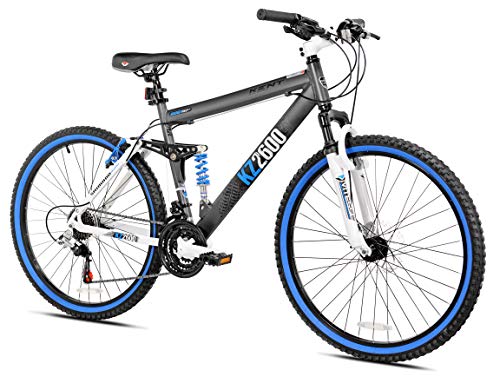 The Kent KZ2600 Mountain Bike is a terrific starter mountain bike that features a 26-inch 6061 aluminum full suspension frame that utilizes a floating beam suspension design that is mated to a suspension fork with 65mm travel. This mountain bike also features 26-inch double walled alloy rims with 36 spokes for strength and durability. It is offered in matte grey with black, blue, and white accents.
This mountain trail bike has Shimano 21 speed shifters with rear Tourney derailleurs and stopping is handled by front disc brakes and rear linear-pull brakes. So, disc brakes move the braking surface away from the rim to a rotor; whereas, linear-pull brakes are a side-pull version of cantilever brakes and mount on the same frame bosses. Linear-pull or v-brakes are a popular style of brake, but disc brakes allow the rider to apply much less force to the lever before the bike stops.
The Kent KZ2600 Mountain Bike is simple to build yourself. Just attach the quick-release seat post glamp and handlebars, then attach the pedals and front wheel. It's that easy, and you'll be out riding the trails or galivanting around the neighborhood like a pro in no time.
Many satisfied buyers state this mountain bike is reliable, sturdy, and very affordable. The overall standard of the parts is not the best quality, but they are functional and work just fine for the price. Customers griped about how the stock seat needs to be replaced, but this seems to be a common issue among all of the bikes on this list and is really an individual comfort preference issue.
Suggestions for Your Perfect Mountain Bike
Keep this in mind when picking out your perfect mountain bike: just getting out of the house and being active is priceless! Mountain bikes share similarities with other bicycles, but incorporate features designed to enhance durability and performance in tough terrain. You don't need a super-expensive mountain bike that will empty your wallet in order to get the features and riding experience you desire.
Remember, a lot of features of mountain bikes are meant to be needs and preferences specific to each individual rider. What fits properly for a man who is 6 feet tall plus will not work so well for a petite 5 feet 2 inches tall woman or a child. As with all mountain bikes, make sure the fit of the bike size will be appropriate for the body size of the primary rider of the bicycle by checking with the manufacturer's sizing specifications before making your purchase.
While hydraulic brakes have better performance, mechanical brakes are inherently more reliable. There is no chance for leaks with mechanical brakes and no need to service the hydraulic fluid, thus saving you time and money. Mechanical disc brakes are solidly good performing brakes and there is no trouble when slowing down or stopping the bike using these types of brakes.
Brake cables and derailleurs take a few adjustments to get their settings just right, so that the indexed shifting is dialed in for your needs and preference correctly. Almost all bicycle manufacturers recommend that you seek the advice of a professional certified bike mechanic when making any adjustments to your bike if you are not confident doing so, as to make sure the bike is 100% safe and dialed in specifically for you before taking it out on the trails for a day of fun and abuse.
If you have any more questions about buying a mountain bike, this video does a good job of explaining what you need to know:
When considering your next mountain bike purchase, keeping all these suggestions in mind will help you when researching and making your final decision. Whether on the trails or riding around the block with the kids, you'll want to find the best bike to do the job. Happy trails and always remember to wear a bike helmet!