The Top 7 Jackets for Bike Commuting Reviewed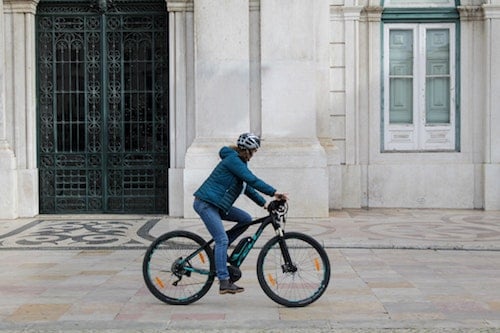 You have a bike to take you to work and all the gear you need, theirs just one problem. The weather never behaves, and you need a jacket for cold mornings and rainy days. Have no fear, we found the best jackets to make your commute to work a more pleasant experience, as in dry and warm.
While a good waterproof jacket will cost you are a sizable amount of money, it can prevent major discomfort and will last for years. We found the best options and prices for both genders and compiled a handy list taking all factors into consideration, including room for you to wear work clothes underneath your jacket.
Take a look at the seven best options for men and women. Stay on after to get answers to your questions and important information about what to look for in a commuting jacket. Now go forth and find your perfect jacket to make your commute to work better and easier.
Best Jackets for Bike Commuting
1. Showers Pass Women's Elite 2.1 Jacket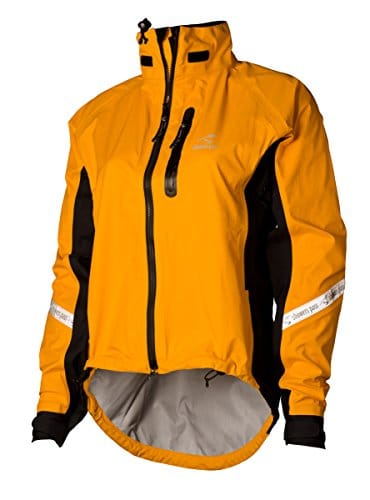 Starting with women, we found the Showers Pass Women's Elite 2.1 Jacket, which comes with an elite price and tons of beneficial features. What makes this jacket so special? It's well thought out and provides a lightweight form of waterproof protection with tons of comfort and softness.
First, though, pick your favorite color from several options, including yellow, pink, or blue. Second, pick your size from a vast variety of x-small to xx-large to suit almost any commuter. If you are planning on wearing over your work clothes, you may want to consider going up a size for a little extra room, although the jacket provides ample space and isn't an overly tight fit.
The jacket offers 3-layers of fabric for added durability and still maintains waterproof protection. Moreover, the jacket provides windproof protection too. Six built-in venting options help to keep you cool and less sweaty with vents in the core, cuff, front zipper, and in the back. Meanwhile, 3M reflective trim keeps you visible even if you have to drive your bike home in the dark.
What you will really love about the jacket is the extra-long back ready to keep your dryer and warm. The jacket also offers a large back pocket and a chest pock with an audio port. Get full wrist cover on the sleeves. It's ready to help you commute to work and designed to work with long-distance cyclers too. Purchase a hood separately if you need a little added warmth or simply use the cinch cord at the collar and hem to lock in heat.
2. BALEAF Women's Cycling Jackets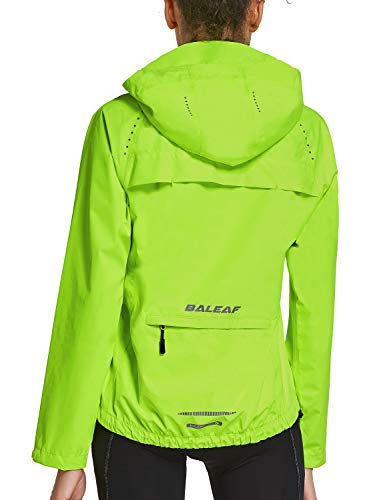 Save some money with the BALEAF Women's Cycling Jackets. You still get a ton of benefits with a much smaller price tag. Pick from fluorescent yellow or black and from sizes small up to 2XL.
While the jacket isn't waterproof, it is water-resistant, breathable, lightweight, and it dries quickly. Pick this jacket if you want one to roll up and stick in your backpack and keep you a little warmer on cold mornings. Reflective elements keep you safe in the dark as doe the bright yellow color.
Also, the jacket is made with 100% polyester to keep heat in and still provide some breathability. Breathable mesh on the back provides added ventilation. Next, anti-slip strips on the bottom keep the jacket from moving around while you ride. Strap the Velcro cuffs into place as tight or as loose as you need for comfort and to trap in heat.
As for pockets, the jacket includes one back pocket, two zippered side pockets, and two inner pockets for more secure storage. A roll-away hood with a bill and an adjustable drawstring helps to keep you dry after you take off your helmet. Finally, the jacket is versatile enough to use for biking, running, hiking, and climbing.
3. Showers Pass Men's IMBA Hard Shell Cycling Jacket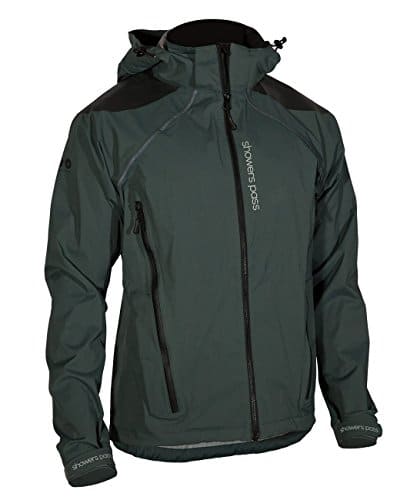 Moving on to men's jackets, we found the Showers Pass Men's IMBA Hard Shell Cycling Jacket. You only get two color options but a ton of attention to detail, ready to help your commute go smoothly. Pick from sizes small to XXL to fit most men and get out on the road. The jacket is ready to take you to work or to the trails and keep you dry.
The jacket is lightweight, with 2.5 layers of hardshell waterproof breathable performance fabric. It provides ventilation and reinforced shoulders for a seamless transition style you can take into the office or even around town for errands. Moreover, the jacket will keep you comfortably warm with extra-long core vents to prevent overheating and sweating as your ride ramps up your heart-rate.
Next, the jacket includes a removable, adjustable hood ready to fit over a helmet. It also stores inside a pocket for when you don't need it. Double toggle hem cinches allow you to adjust the jacket to fit snuggly. Also, a soft, moisture-wicking liner at the collar offers comfort for your neck.
Two pockets on the side with zippers are great for warming your hands or for storage. Velcro cuffs allow you to adjust the temperature of your arms. What's more, the jacket has 360 degrees of 3M Scotch-lite reflective material trim for easy visibility, no matter your driving conditions. It's fully waterproof ready to keep you dry no matter where life takes you.
4. BALEAF Men's Cycling Running Jacket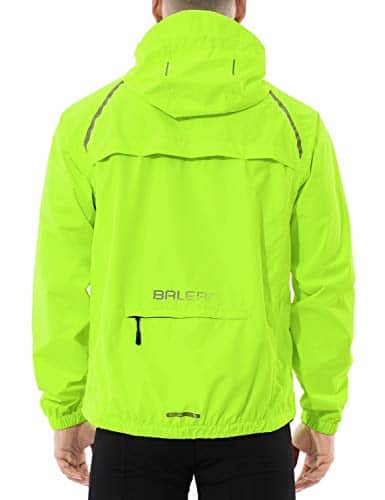 Save some cash and break the wind with the BALEAF Men's Cycling Running Jacket. You don't get as many options as it only comes in size medium to XL. Also, it only comes in fluorescent yellow. However, the jacket keeps you warm while cycling to work or to run errands.
The windbreaker is made of 100% breathable polyester and its water resistance. It comes with a zippered chest pocket and a big back pocket. Moreover, it has elastic cuffs to keep your arms protected too. An adjustable hood can keep you warm as it comes with a bill to help block the sun too.
Furthermore, the jacket offers reflective material to keep you visible if people somehow miss the bright yellow color. It's even more useful with an adjustable drawstring hem, and anti-skid around the hem too to prevent the jacket from riding up. Built-in back ventilation panels help to keep you protected from the wind without sweating on your way to work.
While this may not be the warmest jacket, it's great for short distances or mild weather. Many jackets are overly warm, which, when mixed with heart-pumping exercise, leads to sweat. Instead, protect yourself from wind with a lightweight jacket you can roll up and toss in your bag.
5. Columbia Men's Watertight II Waterproof Rain Jacket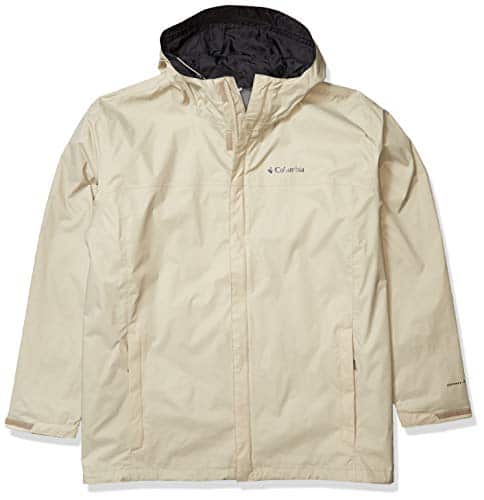 Do you want a jacket ready to walk right into the office with you? You need the Columbia Men's Watertight II Waterproof Rain Jacket because it's not only waterproof but also very sleek and handsome ready to make a great appearance on the road and in the office. Besides, the sheer number of color choices will astound you, although our favorite it Fossil as it looks like a nice pair of khakis ready to blend in at work.
Another great benefit of this high-quality jacket is the size options in small up to 6XL ready to fit any man ready to add commuting to his daily routine. Moreover, the jacket comes with tons of features such as the ability to fold into itself for easy storage. It also has an adjustable hood, cuffs, and hemline to lock in warmth.
More importantly, the jacket is waterproof with a durable nylon shell ready to hand drizzle and even downpour. Advanced Omni-Tech technology ready to keep your jacket safe from the elements and still breathable to prevent sweating. All this with a mesh lining for comfort, making it a great option for trails, cycling, walking, and travel.
Lastly, the jacket comes with useful features such as an adjustable hood, abrasion-resistant chin guard, zippered hand pockets, and adjustable cuffs. Even better, the fit is loose enough to allow you to wear work clothes if you don't have time to change at the office. This is the perfect jacket with high quality a low price tag.
6. Marmot Men's Minimalist Lightweight Waterproof Rain Jacket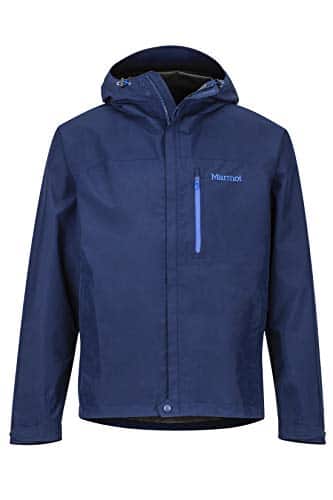 The Marmot men's Minimalist Lightweight Waterproof Rain Jacket comes with a high price tag and just enough detail for a quick ride to work. It's designed to keep you warm without a ton of fussy extras. Although, you do have several color options, including a few bright options along with some neutral color choices.
As it's a lightweight rain jacket, it's perfect for hiking, backpacking, biking, commuting, and other light travel needs. It can combat harsh weather so you can do what you enjoy without concerning yourself over a little rain. With 100% polyester and a single front pocket, you get a jacket ready to withstand rain with GORETEX Paclite technology.
The jacket has an attached adjustable hood with zippered hand pockets and a storm flap over the zipper. Elastic drawcord on the hem allows you to adjust the fit. Increase airflow using Pitzips for improved comfort and block out the wind. Take it on the trail, the bike, on your way to work, or even to run errands and get back to life without worry about the weather.
7. Under Armour Men's Storm Bora Jacket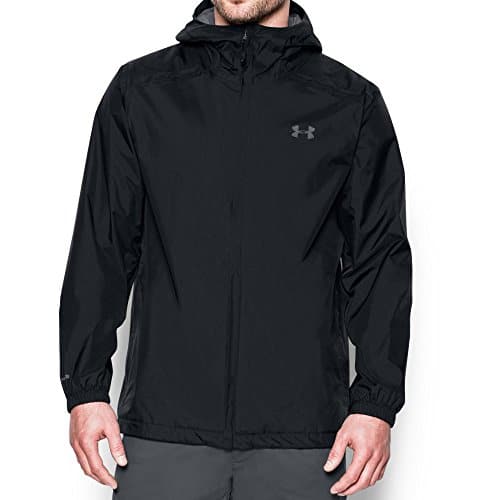 Pick the Under Armour Men's Storm Bora Jacket to make your commute drier and windproof. The company uses UA Storm technology to repel water and keep the jacket breathable. Choose from black, gray, blues, red, or even yellow to be as visible as you want or blend into your surroundings.
The jacket comes in sizes small up to 3XL to fit as tight or as loose as you want in case you need to wear your work clothes on your bike commute. The jacket comes with a hood and a minimalist design to focus on keeping you dry and warm. They use two layers of bonded fabric with a durable and smooth exterior with a full mesh lining for added breathability.
Both the hem and the hood are adjustable, and the sleeves are loose to allow room for your clothing underneath. You may want to go a size up if you need your clothes to stay office read. Otherwise, store your necessities in the secure zippered hand pockets. Enjoy this sleek modern jacket for any outdoor activities where you need to stay dry and warm from wind. Do note that the jacket does not have any reflective material and pick your color accordingly.
Buying Guide for Jackets for Bike Commuting
Before you pick a commuting jacket for your bike, take a look at the important factors to consider.
Material
The most important detail in a commuting jacket is water-resistant or waterproof fabric ready to keep you dry in any weather conditions. Waterproofing is measured in the amount of pressure it can withstand in 1,000mm without leaking. The higher the number, the better it works to keep you dry. Mind you, jacket construction plays a large role, which is why we only choose high-quality options for this list.
Also, look for taping on the inside. This isn't like duct tape, but a seal to keep the waterproofing on the inside of the jacket. Expect a mesh lining too for comfort and to improve airflow.
Breathability
If a jacket can keep you dry, can it keep you from sweating and dry? Why, yes, it can! No need to worry about switching your water source when most jackets are both ready to keep water out and keep you from creating water of your own with the right fabric or strategically placed ventilation. Make sure ventilation is covered by fabric flaps to still keep water out.
Wash & Care
Machines may not be the best friend to your waterproof jacket. Read the label of your jacket carefully and follow instructions carefully to ensure the longevity of your commuting jacket. Each company suggests different care, and as most of these jackets are a bit of an investment, it behooves you to follow instructions. Remember, not all fabrics can go in either the washing machine or the dryer.
Features
Picking a jacket requires thinking about where you are going and what you will need. Only you know if you will have a backpack or bag or if you need a jacket loaded down with pockets. Also, consider if you need a hood to keep you dry and if you need one that goes over or under your helmet.
Furthermore, consider where you will store your jacket. Some jackets can roll into themselves for easy storage while others require hanging up. Finally, consider if the jacket has reflective material built-in to keep you visible when biking in heavy traffic areas.
Questions About Jackets for Bike Commuting
Do I need reflective tape or panels on my cycling jacket?
Reflective tape is a safety measure to make sure you are visible to others on the road. Some jackets have reflective panels built into the jacket to make less work for you. You can also buy a reflective belt if you don't want to wear reflective tape or if your jacket is not extra visible. You really only need this element of protection for low visibility settings like nighttime or if you work in low light conditions.
Should I look for waterproof or water-resistance in my jacket?
Water-resistant means it will not immediately soak you, but eventually, you will be soaked. Waterproof means you aren't going to get soaked if it rains. More importantly, waterproof jackets usually mean windproof and weatherproof making it a good way to stay dry and warm even on windy or snowy days.
For more information about the difference between hardshell and softshell jackets, watch this video:
Would a cycling jacket be a better bet than a commuting jacket?
Cycling jackets are fabulous but are often skin tight to create less resistance and make driving your bike easier for long treks. Commuting isn't a sport but a method of transporting, and you usually have to wear specific clothing to work, not biking gear. You need a jacket ready to fit over your uniform, suit, or polo shirt.
It would also be helpful to have a jacket you can roll up in a pinch to put in your backpack or locker, depending on where you work. Honestly, if you need specific work clothing, it may be best to wear cycling clothes and change into work clothes once you get to work, depending on your circumstances. Cycling can definitely increase the creases and sweat on your clothing, so consider bringing your work clothes or having at set at the office.
Conclusion
If you want the best jacket for your bike commute, pick either the men's or women's Shower Pass Jacket. The jackets are made with biking in mind and provide room for commuting with generous room and extra pockets. Their jackets are rated for both waterproof and breathability with adjustability and support where you need for comfort. Now you can bike to work comfortably no matter the weather.
Related Articles