The 5 Best Bike Panniers for Commuting Reviewed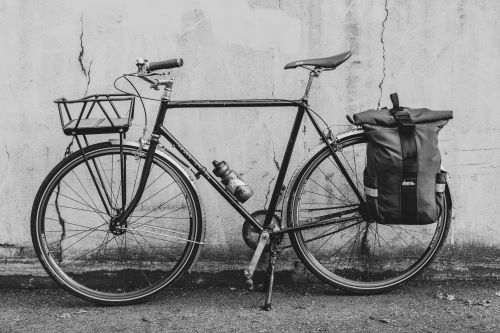 Cycling is increasing in popularity across the country, especially in urban areas. Not only are people getting on their bikes to improve their health and keep fit, but it's also becoming more common for people to commute to work too. It's a great way to stay healthy, save money and reduce pollution by making less car journeys.
In order to further encourage people to get moving, cities are investing a lot of money in cycling routes and incentives for reduced price bikes and safety equipment.
If you're going get serious about cycling, you're going to need to get the right gear. You'll need a suitable bike, helmet, safety equipment and clothing. If you're going to be commuting to work, or cycling long distances, then you're going to need something to hold all of your stuff. Ome people use specialist backpacks, but these aren't suitable for everyone. If you have a lot of things to carry, they can cause you to feel off balance and uncomfortable.
A great alternative is to buy some panniers. These are specially designed to sit neatly over your bike's rack. There are many different designs to choose from and they are spacious, stylish and built to withstand most weather conditions. They are easy to remove so you can take your belongings with you.
We have looked at a range of panniers on the market and rounded up the best bike panniers for commuting to suit a range of styles and budgets.
What to look for in a pannier
When choosing a bike pannier, there are a number of things you have to take into account when buying. First, you need to set your budget. Prices can vary quite a bit and more expensive doesn't always mean the best.
Next, you need to work out how much you're going to need to carry when commuting back and forth. If you're commuting to work, you will likely need your work clothes, shoes, laptop and personal items such as toiletries, phone, keys and wallet. You don't want to be stuffing things into a pannier that is too small, ruining your clothes and your bag.
Once you know how big a bag you need, you need to think about what kind of protection the bag will need to have. Most bags are splash proof and will protect your belongings from light rain and puddle splashes. However, if you live somewhere that has changeable weather conditions, you'll need to find a bag that is fully waterproof, or comes with a separate waterproof cover.
If you are planning on using your pannier bag as a bag throughout the day, you might want something that look a bit more stylish or professional. There are many bags that convert effortlessly into a shoulder bag. Most people won't even be able to tell that you are carrying a bag designed for a bike.
You may also want to look at additional features such as reflective strips and easy release connectors that let you attach and detach the panniers easily.
Best Bike Panniers for Commuting
Timbuk2 Tandem Pannier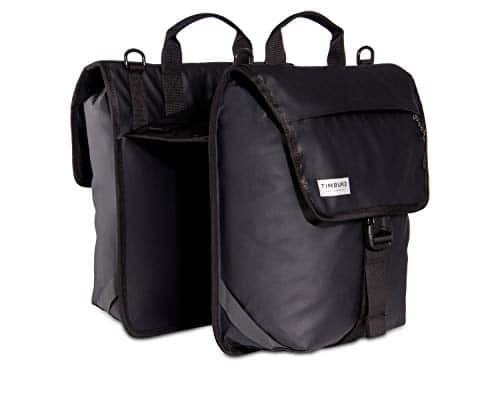 The Timbuk2 range has an excellent cycling pedigree. The brand was founded by Rob Honeycutt. He spent many years working as a bike messenger in the busy city of San Francisco, so he knows exactly what cyclists are looking for when it comes to practicality and style.
Their range of cycling bags and accessories are known for being stylish and use sustainable manufacturing practices wherever possible.
This is the perfect bike pannier for commuting around in the city. It has multiple sections, including smaller zip pockets for smaller items and can easily fit a full sized laptop (up to 15").
It's understated, stylish design sees this pannier transform into an everyday bag thanks to it's handy shoulder strap. The clever design means that people won't know you're carrying a pannier, it looks like a standard bag.
There are a host of nifty extras such as reflective safety strips, extra loops for attaching bike safety lights and is waterproof, protecting your special items in the harshest of downpours.
Timbuk2 are so confident in their workmanship of their bags that they offer a lifetime warranty for materials and defects.
Online customers reviews are overwhelmingly positive, with many loving the ability to be able to pack their clothes, shoes, laptops and other essentials with ease and without having to force items into the bags.
Ibera Bicycle Bag
For those looking for a sporty, versatile pannier, then the Ibera Bicycle Pag is what you're looking for. The panniers can be used together or individually, each one holding 19.8lbs each. More than enough room for everything you need to take with you. They are one of the most spacious pannier sets on the market.
The bags feature a quick release latch system. Attach and remove the bags in seconds without having to mess around with multiple straps and clips. It's three point interlocking system is not only fast, but secure, preventing annoying side swing. A comfortable hand carry strap makes carrying the Ibera around with you easy.
The Ibera is shower proof but also comes with an additional rain cover to protect your items when the weather gets really bad. It also features additional reflective trim for extra safety when cycling at night or in low light.
The Ibera has a host of great reviews from satisfied customers who have put this bag through it's paces.
3. Rhinowalk Bike Pannier Bag Set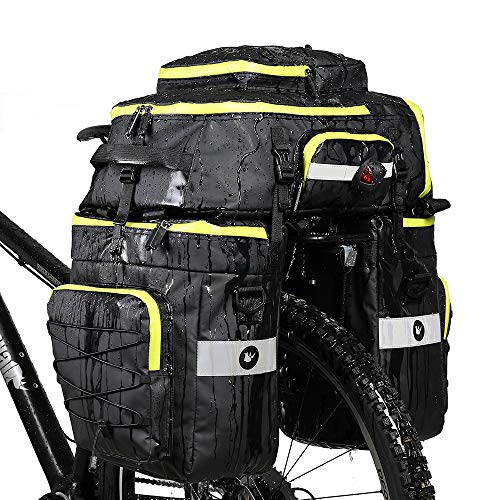 If you're looking for extra space at a great price, the Rhinowalk 3 in 1 bag set is worth a look. In addition to the two side panniers, there is also a removable section that turns into a backpack. Each side pannier carries 22 liters and the backpack holds 31 liters, giving you a huge 75 liters of storage on your commute. The backpack can extend even further for more storage.
To keep your items safe, the Rhinowalk is waterproof, cold proof and heat resistant, taking whatever the elements can throw at it. For extra peace of mind, you also receive a separate rain cover to protect your items during extreme weather conditions.
The side panniers have a carry strap for easy transport when off the bike.
Roswheel 3 in 1 Multifunction Bicycle Expedition Touring Cam Pannier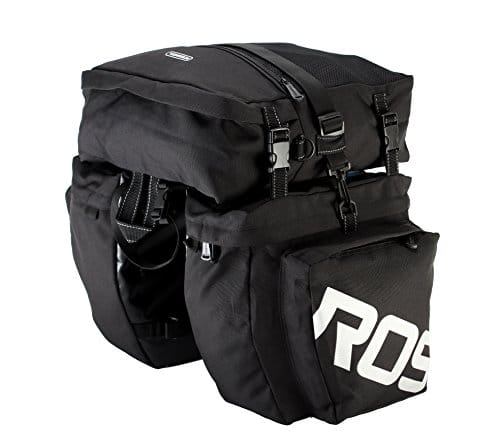 Roswheel has a well earned reputation in the cycling business for producing great quality, good looking bike bags that are excellent value for money.
With two side panniers and an extra top compartment, you get a spacious 37 liters of storage. It's also big enough to fit a 17 inch laptop. It is made of a durable canvas material that is splash resistant. A built in PE board will keep your panniers looking great, but keeping it's shape.
The Roswheel has an innovative angled design to prevent you catching the bag with your pedals. Large compartoments and smaller zip compartments give you enough space for all your clothes and equipment. When you need to take your Roswheel with you, it detaches easily and is carried comfortable with a shoulder strap.
Safety features include reflective loops and handles for better visibility at night.
Customers are thrilled with the Roswheel. It is spacious and stylish with a lot of design features that are comparable to much more expensive brands.
Rhinowalk Waterproof Bike Bag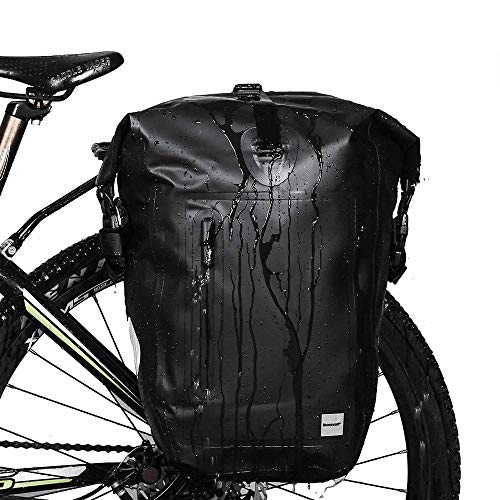 Another entry from the great Rhinowalk range makes it into our list of the best bike panniers for commuting. This particular bag is a single pannier (though you can buy another for extra storage). It holds up to 25 liters with the option to expand this when fully expanded.
Like all Rhinowalk items, it is extremely stylish and converts to a everyday work bag via it's padded handles and strap. You can use is as a hand held bag, shoulder bag or wear it across your body.
The Rhinowalk looks after your possessions too. The 1000D material is fully waterproof and extremely durable due to its anti tear, heat and cold resistant materials.
Installing and removing the bag is a cinch. Rhinowalk has improved the buckles on it's quick release fastening system.
You won't be disappointed with this pannier, and there are many glowing five star reviews to prove it, with one saying 'Wow! These pannier bags from Rhinowalk are the BEST I have ever owned.'
Backpack vs. bike panniers for commuting
While each option has its pros and cons, one of these two is faster. To find out which, watch the video below:
Conclusion
There you have it, our round up of some of the best bike panniers for commuting on the market. They have been chosen for their quality, style, spaciousness, safety features and customer reviews. Choosing the right one can make your cycling commute far more comfortable, without having to try and fit all of your essential items into a small backpack. When you get where you're going, you'll have everything you need.
Related Articles