The 7 Best Bike Repair Stands Reviewed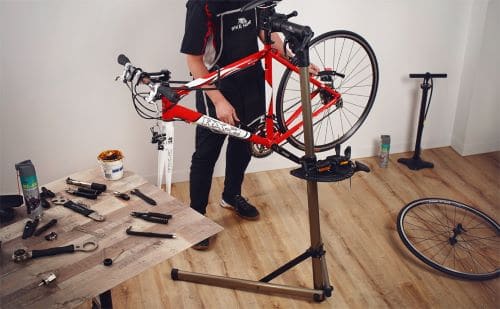 Work on your bike with ease using the best bike repair stand. Finding the right one can seem like a challenge as you need an option that is sturdy, holds enough weight and width, is adjustable, and is made of the right material. With the right equipment, you can drag out those tools you both for your bike and fix it on your own instead of spending hundreds of dollars getting the bike repair professionally.
Bike stands come in two styles, those with a clamping mechanism to attach to your bike and the European style that secures to the bike using a bottom bracket. Either style will help you to lube chains, change tires, adjust derailleurs, and work on cables. We did the work for you by finding the seven best options so you can focus on fixing your bike and not finding the right bike stand. Take a look at the best choices in a variety of styles and prices to suit anyone.
Best Bike Repair Stands
Park Tool PCS-10.2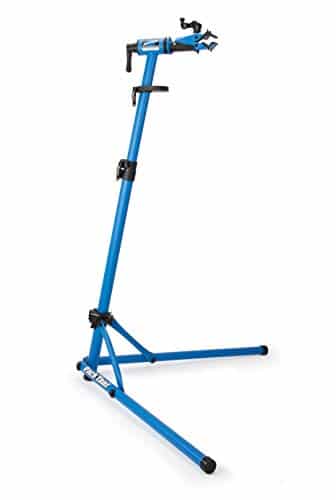 The Park Tool PCS-10.2 Deluxe Home Mechanic Bicycle Repair Stand offers the best value and effectiveness. Like with all bike stands, this one requires some assembly, but that's nothing compared to your bike repairs and should be an extremely achievable task. The instructions for assembly could not be easier either.
Use the PCS-10.2 to hold bikes up to 80 pounds off the ground for easier access to the undercarriage. Furthermore, adjust the height from 39-inches up to 57-inches along with 360 degrees of clamp rotation. This means you can have the bike as high as you need and in any position you need to get work done.
The clamp makes easy work of securing your bike to specific specifications. Moreover, the clam can hold tubes from 1-inch thick up to 3-inches thick. An integrated saddle pad allows for easy adjustments. A small work tray attaches to the frame allowing for tools and accessories at your fingertips. Add on other accessories as needed with pre-drilled holes.
All this, and you can even fold the stand up for storage or travel. Also, it has an all-steel structure with teardrop-shaped tubing for added strength. Add on to the unique bi-fold with a third leg for rigidity, stiffness, and durability. Overall, the product measures 36 x 38 x 48 inches at the base and weighs 17 pounds.
Park Tool PCS-9.2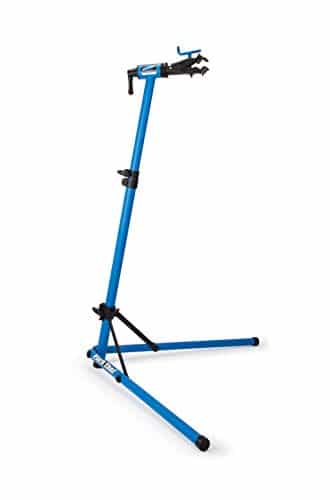 Park Tools makes the cut again with yet another exceptional product. The PCS-9.2 Home Mechanic Bicycle Repair Stand looks very similar to our favorite options above but with a smaller price tag and fewer options. If price is your biggest factor and you still want the best, then definitely consider the PCS-9.2. It's perfect for home repairs, especially if you already have tools close by and do not need the added accessories.
While the above 10.2 model is the deluxe, this option does exactly what you need without extravagance. However, you still get a frame capable of holding up to 80 pounds that folds up for easy storage and travel. The clamp holds 1 to 3-inches while the height adjusts from 39 to 57 inches. You even get the same great blue color that's easy to spot.
Get a robust glass-filled nylon composite fittings and top tube internals for smooth rotations and to secure the bike position. It's slightly lighter than its deluxe counterpart at just 16 pounds but still measures 36 x 36 x 48 inches. Even better, it can rotate 360 degrees thanks to the all-steel structure too. It's everything you need and nothing you do not need.
Bikehand Bike Repair Stand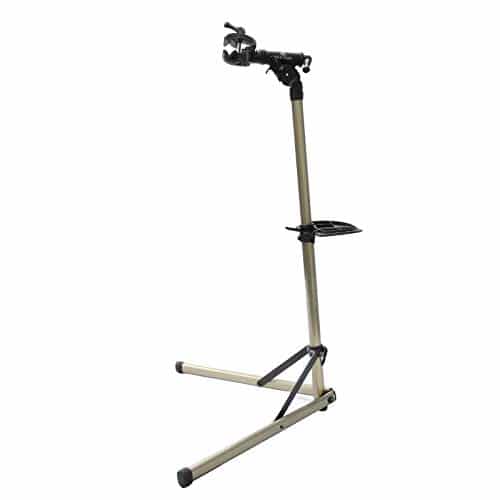 If you have a lightweight bike, the very affordable Bikehand Bike Repair Stand. The only reason it's lower on our list is the weight limit of 55 pounds. Otherwise, it's about a third of the cost of our favorite option and includes a work tray too. Moreover, it's lightweight, sturdy, and foldable for travel or storage. If working on your bike is a passing hobby, definitely choose this budget-friendly bike stand.
Adjust the height on this stand within an extensive range of 39 to 59-inches. Moreover, you can tilt, angle, and quick release the skewers for more usability. What good is a bike stand if you cannot get the bike in the perfect position? The bike head rotates to a full 360 degrees. Also, the clamp is heavy-duty and well-made, so it can support up to 55 pounds. As the average bike is around 30 pounds, this is more than sufficient.
The tool plate makes this repair stand even better. Not only is it useful, but it's foldable and magnetic. Attach it on a whim for easy access to your tools. Do note the tray does not include tools, and you will need to purchase those separately. However, the clamp can only hold bike frames as thick as 2.4 inches which is a little bit less than the other options above.
Finally, assembly takes about half a minute or less as this bike comes folded and ready to go. The gold design blends into most decor but still makes it easy to find in a pinch. It even comes with a five-year warranty, and the company promises they keep spare parts for repairs in stock.
CyclingDeal Full Aluminum Bike Repair Stand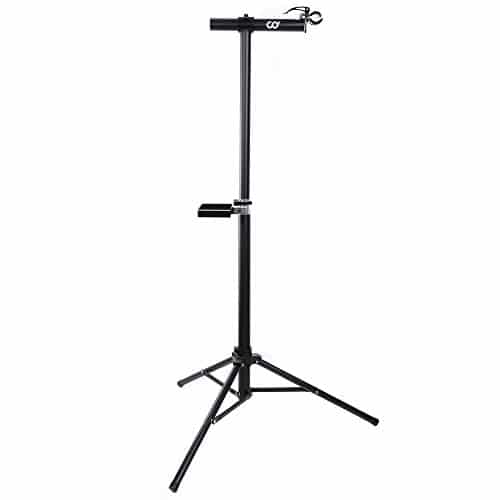 If the L-shaped frame doesn't work for you, try the CyclingDeal Full Aluminum Bike Repair Stand as it has a tripod style. This low-cost option will work for most bikes as it can support 48 pounds, but this is significantly lower than our favorite option; then again, so is the price! Get tons of usefulness out of this repair stand that's even capable of supporting a large mountain bike with ease.
The strong alloy design allows for support, while the adjustable head clamp provides 360 degrees of rotation. Adjust the length, too, for the perfect position and room to fix whatever part you need on the bike. Furthermore, the aluminum body allows the stand to be both ultra-stable and still stay lightweight. It's still portable, too, as it's foldable, so you can take it on the road.
Once folded, the stand only measures 90 cm to free up your garage for other items or projects. Also, the tripod shape allows for easier support and takes up less space. The device even comes with a large work tray for easy storage and access to necessary tools.
Lastly, the product includes a two-year warranty to ensure your purchase. Simply clamp the bike on the seat post and get to work. Overall, the product is 9.7 pounds making it the lightest option yet. It also measures 36.22 x 7.48 x 5.51 inches. Even the assembly is easy, making this a fantastic option for home bike repair.
Topeakmart Portable Mechanic Bicycle Repair Stand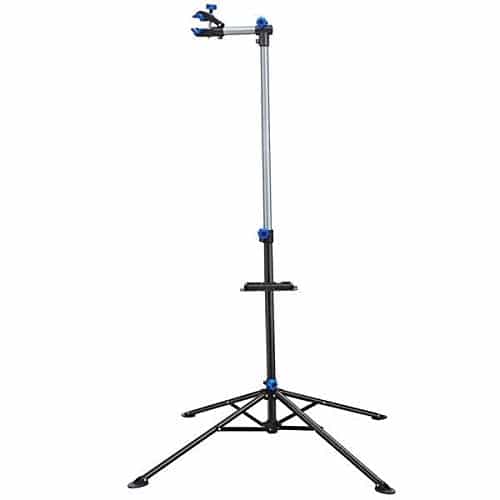 The Topeakmart Portable Mechanic Bicycle Repair Stand offers a bargain price and tons of usability. Even with the low cost, this item comes with all the features you need. Even the feet on this model are ready to work better with bendable feet with pre-drilled holes if you wish to secure this option further. It also makes storing this foldable bike repair stand easier. Let's take a look.
First, you can adjust the height of the stand from 42.5 inches up to 74.8 inches making it a great option for taller people. Second, it comes with balance bars to keep the frame fixed and ready for action with rubber bands at the ends. Also, it can support an impressive 66.1 pounds of weight, meaning it can even support heavier steel-framed bikes. However, the tube diameter for the clamp cannot exceed 1.6 inches which may not be thick enough for all bikes.
The bike stand is easy to install, too, with clear instructions and hardware. It folds to make transport easy as well as storage. You get a tool shelf too on the telescoping bar stand and a front-wheel stabilizer. Finally, the head rotates 360 degrees to get the bike angle to your specifications. Save money and get your bike fixed with ease.
SONGMICS Bike Repair Stand Rack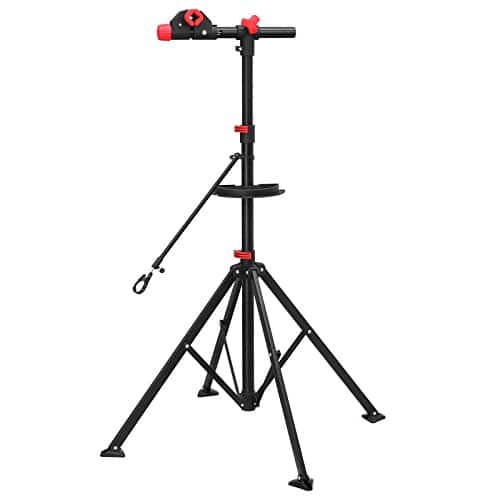 The price goes down even further with the SONGMICS Bike Repair Stand Rack. You still get a quality performing stand rack but of a lower quality than the options above, which is fine for a mid-range bike stand. If repairs to your bikes are just a hobby, then you will be just fine with this option. Those who are extremely serious about bike repairs may want a higher quality option.
Using premium steel tubing, this four-leg stand is ready to work. It includes a quick-release telescoping frame with a soft plastic clamp. Despite the soft clamp, the stand can hold 66 pounds. However, you sacrifice tube range size as it can only support 1 inch to 1.6 inches in tube thickness. Make sure you measure your bike before purchasing, as it would be very frustrating to get it home and find out it will not work for your bike.
However, the height adjusts with an impressive range from 44.9 inches to 76.8 inches. This is great for taller individuals who need a higher workspace. The clamp rotates to a full 360-degrees. When you are done, pack it up into a small portable size as this folds up to a size suitable for storage or travel. It also meets all Tüv Süd health and safety requirements (German standard).
Last of all, the stand includes a rounded tool tray that will stay out of your way but still keep your tools in reach. Moreover, we love this option because of the handlebar rod for extra stability. The product weighs just under 15 pounds and measures 55.7 x 55.7 inches, and it's easy to assemble too.
Sportneer Bike Repair Stand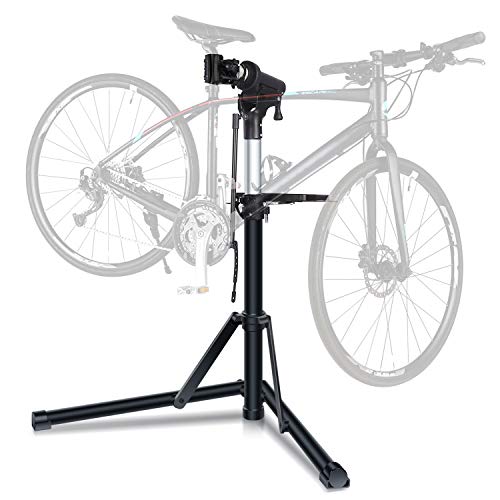 With the Sportneer Bike Repair Stand, you get everything you need to repair your bike for a mid-range price. What you will love about this option is the top-quality reinforced aluminum, which makes it lightweight, extremely stable, and ready to hold a ton of weight. It comes with a three-leg design with supports on the side to keep the shape. However, it does not go quite as high in height, but the clamp is more forgiving than some of the others on this list.
The bike stand can adjust from 40 to 63 inches, meaning it can only go up to 5.3 inches which is excellent for shorter individuals but not so great for taller people. Next, the clamp can support bike frame thickness of 1 to 2 inches, and the head clamp can rotate a full 360 degrees. Work on the frame while standing or sitting, which can make this a better choice for many.
Moreover, the stand folds down to a very small size making it perfect for on-the-go repairs or for packing away for later use. It even folds flat, making it easier to store. Another fantastic feature of this bike repair stand is it has foam support on the jaw to grip without scratching your paint. Get a magnetic tool tray and handlebar rod, too, to keep the bike stable and have all your tools close by.
Buying Guide for Bike Repair Stands
Before your make your final decision, you need to consider a few factors other than just your budget. Take a look at some keep factors to help you make the right choice.
Weight & Size Allowance
The average bike weighs around 30 pounds but with a wider range possible between 17 to 80 pounds. It's best to weigh your bike before picking a stand as you don't want the bike falling on your head! All of the stands on this list can hold the standard weight, but not all can hold heavier bikes.
As for the size allowance, measure the frame width to see if it's the right size for the clamp on the stand you prefer. Again, you may have to increase the budget if the clamp needs to hold a thicker frame. You do not want the clamp to only cover a portion of the frame but fully surround it for proper support. Also, consider what material you want the clamp to be made of, as some of the more sturdy options may chip paint.
Tool Tray
Most of the options on this list include a tool tray. While it's not a necessity, it's certainly a nice addition to any bike stand. The stands often come with holes to hold L-wrenches along with a large open space for other tools. If you don't need the tray, you can usually take it off to get it out of the way. However, most people love this feature, and if nothing else, it can hold your coffee if all your tools are already close by.
Stand Style
All the options on the list come in two styles – an L-shape with a stabilizing leg in the center or a tripod style. One option comes with four legs in a tripod style. All of these options work very well, and it comes down to preference. Many people seem to prefer the tripod stand, although all the options work very similarly. If you want a third option, you can purchase a mount still, which can go on the wall, bench, or the floor.
Questions About Bike Repair Stands
Can I use a bike repair stand for an electric bike?
Absolutely as e-bikes are very similar in shape to mechanical bikes, so you can use the same stand. Keep the weight in mind, though, as electric bikes are often significantly heavier than mechanical bikes. Do not skimp out on a quality stand for an electric bike, as that weight can cause significant issues.
Will the bike repair stand also serve as bike storage?
Yes, you can, in fact, use the bike repair stand to hold your bike. It's a great way to keep pressure off the tires for longer periods of time and make regular maintenance easier too. Most of the clamps are designed to not cause damage to the bike. However, if you use the bike daily, using the stand as storage can be frustrating to remove daily.
Do all bike stands fold?
The vast majority of the options do fold these days. If you want a bike stand that stays in place, you will need to get a sturdier frame that's always open, choose a more professional model. Most of these options can support more weight, but remember, they will take up more space.
What other bike repair tools do I need?
After you have your bike repair stand, you will need a quality set of bike tools so you can work on your bike. Check out this video for a great list of bike tools that every rider should have:
Final Thoughts About Bike Repair Stands
We love the Park Tool PCS-10.2 Deluxe Home Mechanic Bicycle Repair Stand because it can hold the most weight and offers a micro-adjustable clamp. No other clamp offers a larger diameter or as functional. Set your tools up on the attached tool bench and start fixing your bike at home.