(Last Updated On: August 9, 2022)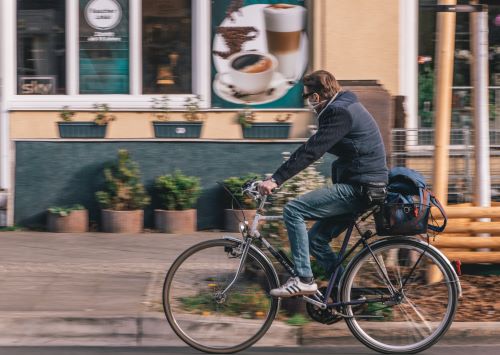 Biking for fun or sport requires completely different clothing than biking to work. If you have the option of bringing your work clothes or even leaving a couple of outfits at work, then you may not need work pants you can bike in as well. Otherwise, save time and effort with pants you can wear on the bike and in the office.
The best bike commuting pants won't wrinkle, have some stretch, resist water and stains, and won't get caught in your chain. We found the seven best options for men and women to make commuting to work or even just to run errands, more fashionable and flexible. Step right of the bike, remove your helmet, and away you go.
Technology has brought forth new fabrics capable of making your life easier, and we found the best option in multiple price ranges to give you an edge over other bikers. Stay on after and take a look at some important factors to consider and get answers to your questions. Don't spend your time searching for the perfect pants; spend it biking instead.
Our Favorite Pants for Bike Commuting
1. Rhone Commuter Pants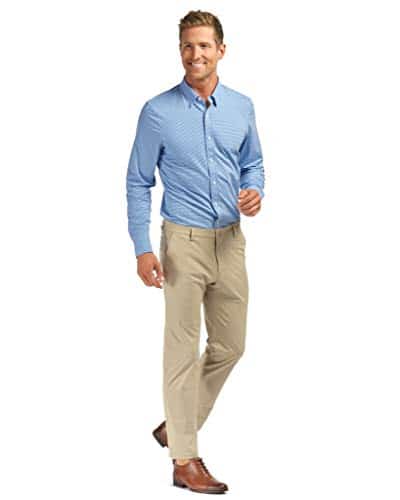 If you are looking for the perfect commuter pants, look no further than the Rhone Commuter Pants. These are slim men's pants with moisture-wicking, breathability, and stretch fabric. More importantly, the pants look like the khakis you already where to work, and even your boss will approve.
Let's start with the basics. The pants come in multiple colors including khaki, navy, two shades of gray, black, and stone. You can pick from tons of sizes too from 28-inch waist to 40 inches, and most come in a 33-inch inseam, or you can pick your length. If you need other options, then you can also pick a slim or straight leg.
What's so great about these pants? The Flex-Knit fabric from Japan because it allows for exceptional four-way stretch and recovery. Also, the pants come with media pockets with both stretch and durability built-in to allow your phone and valuables to stay in place while you bike. Next, you also get a security zipper pocket for organization on the back for your wallet or keys.
The pants also include gussets for comfort and mobility built right into the seams to allow breathing room and to improve the overall shape and fit. These pants are meant to function on the go and keep your items from falling out of your pockets. You don't have to iron, steam, or dry clean, just toss them in the machine and lay them flat to dry. Get back to living without changing clothes multiple times a day. Finally, look business ready with these sleek and modern pants.
2. Columbia Men's Royce Peak II Pant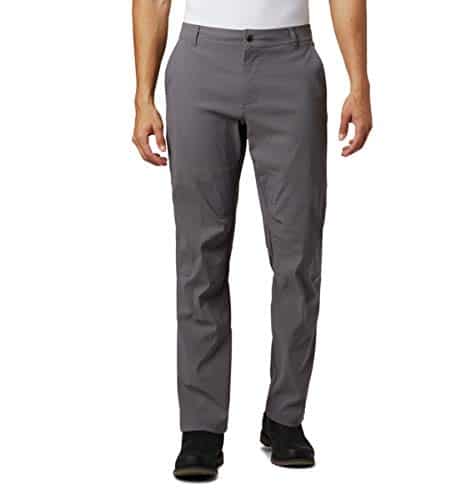 Need a good pair of all-purpose pants ready for work, errands, and commuting? Try the Columbia Men's Royce Peak II Pant because they are ready for all your activities. Pick from three colors, including city grey, new olive, and crouton (a dark khaki). Also, pick your size from 28W x 28L up to 44W x 36L and every size between.
What makes these the perfect pants for commuting is their all-purpose fabric. Columbia uses Omni-Shield advanced repellency to protect from rain and dirt. They also use Omni-Shade to provide UPF 50 sun protection. Extra fabric at the knees blends in and adds added comfort, warmth, and durability to the pants.
Add in zipper pockets for security and comfort stretch to make these the ultimate functional pants. However, they don't look quite like the typical khakis you wear to work but close enough for most jobs to make these a fantastic option to avoid taking a change of clothes to work. They are even versatile enough to take on the trails too.
Finally, the pants use 96 percent nylon and 4 percent elastane. This translates to no ironing and easy care. The pants include two back seamless pockets and belt loops, making them a fantastic choice for storage. You can still wear a belt too, thanks to surrounding belt loops.
3. Dockers Men's Straight Fit Original Khaki All Seasons Tech Pants D2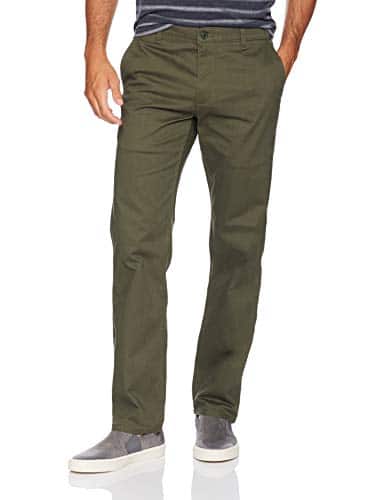 For those with budgetary concerns, consider the Dockers Men's Straight Fit Original Khaki All Seasons Tech Pants D2. Not only are the affordable but come with smart fabric ready to enhance your life and improve your bike commute. Moreover, the pants come in sizes 29W x 30L up to 42W x 32L. Sorry tall men may need to look elsewhere, but some sizes do come in 34 lengths.
You also get a ton of color choices, including a khaki green, tan, navy, brown, gray, and black, all of which will fit seamlessly into your wardrobe. As for fabric, the pants are made of 57 percent cotton, 41 percent polyester, and 2 percent elastane. They provide comfort, stretch, less care, and adjustability.
A smart zipper makes putting the pants on easier. What's truly special is unique thermoregulation material that keeps your warm when it's cold and cooler when it's warm to make these great for protecting you from mild wind. The elastane means you can enjoy no ironing and comfort stretch for room to move.
The fit offers room in the thigh, sits at the waist, and a straight leg opening. Toss them in the machine to wash with no worries about the material shrinking. Enjoy everything you love about khakis with a fabric designed to move with you no matter the weather.
4. Lee Men's Performance Series Extreme Comfort Straight-Fit Pant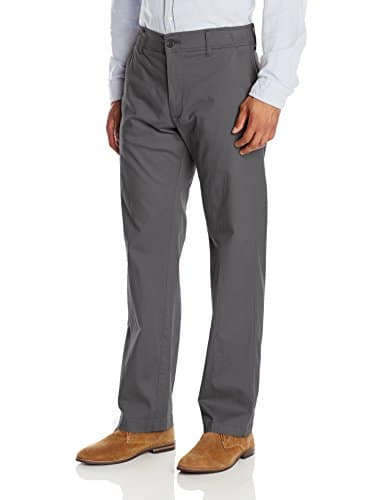 For those mean looking for the ultimate comfort pants you can wear to work, you need the Lee Men's Performance Series Extreme Comfort Straight-Fit Pant. Start from a plethora of color options, including browns, grays, and lighter colors too. As for sizes, the pants come in 30W x 30L up to 42W x 34L, providing a large size base to suit almost any man's needs.
The pants are made with 97 percent cotton and 3 percent spandex for fabulous comfort and wear. An athletic-style waistband moves with ease making it a great option for commuting by bike. Also, the fabric can stretch with you, whether moving your legs, bending, stretching, or even crouching.
Furthermore, the spandex provides wrinkle resistance meaning they won't look all creased and lined before you get to work. It also means easy care to last all day. Hidden gussets built into the pants provide extra man room right where they need it the most.
Lastly, the pants are mid-rise and straight fit with a flat front and straight legs at the bottom that won't get caught on the bike chains. They look great on with a modern elegance and a zip-fly. Now, if only it had some built-in zipper pockets instead of the standard four pockets. It would also be nice to have some built-in water resistance, but the price is right!
5. Haggar Men's Iron Free Premium Khaki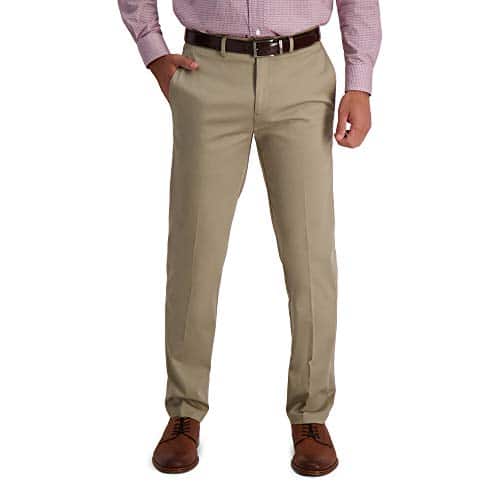 Haggar makes premium pants for men, including the Men's Iron Free Premium Khaki and the benefit of these pants in the title. The pants hold another secret too, hidden expandable waistbands that can expand up to three inches. This means you can give yourself a little more room while biking and cinch back in for work.
The pants are made of 61 percent cotton, 37 percent polyester, and 2 percent spandex. You get durability, comfort, warmth, and flexibility. Moreover, the pants come with a sharp line down the front for great business appeal, making these your go-to option for work.
Next, the pants offer a zipper closure, classic fit, flat front pair of casual work pants. They also offer a straight leg, so you don't have to worry about the pants getting caught on your bike chains. Toss them in the machine for a quick wash and get back on your bike.
Of course, the best benefit is not ironing. Also, if these aren't the perfect fit for you, then try from a wide range of pants from Haggar, including big and tall, classic fit, pleated, and so many more. Commute in style with comfort and quality for an affordable price. Lastly, the pants include a shirt grip to keep your shirt from untucking while you bike, making these extra beneficial.
6. Lee Women's Flex Motion Regular Fit Straight Leg Pant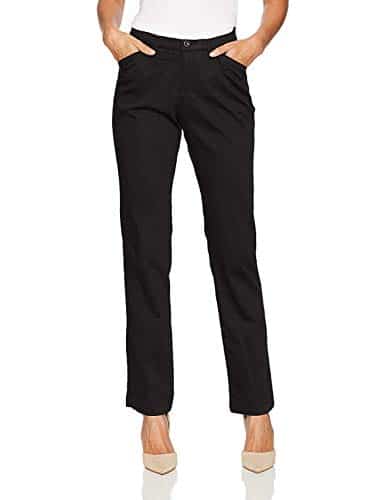 Lee makes tons of clothing for women but not as fantastic for commuting on a bike as the Women's Flex Motion Regular Fit Straight Leg Pant. These pants are ready to go on the bike and head straight into the office. They offer a straight leg perfect for work and for biking. Pair with a blouse of your choice, and you are work-ready.
Pick from sizes 2 to 18, including regular, short, or tall length options to fit any woman. You can also choose from a variety of color options, including neutrals like grays, browns, and black, with a few more festive colors to perk up your day and outfit. The fit is relaxed with a mid-rise ready to work with the vast majority of your tops.
Each pair of pants comes with five pockets giving you storage space if you don't want to bring a purse or back with you on the bike. Mind you, the pockets aren't ultra-secure, but they are functional. Let's face it, most women bring a bag because full pockets just don't work for us.
Last of all, the fabric is a mix of 67 percent cotton, 31 percent polyester, and 2 percent spandex. The mix offers durability, warmth, and flexible stretch. You can also pick colors you love with lines down the leg for added business style. Now you can bike to work without concern about ironing or dealing with wrinkles thanks to the stretch. These pants offer ultimate style, comfort, and the ability to bike.
7. Columbia Women's Bonehead Stretch Pant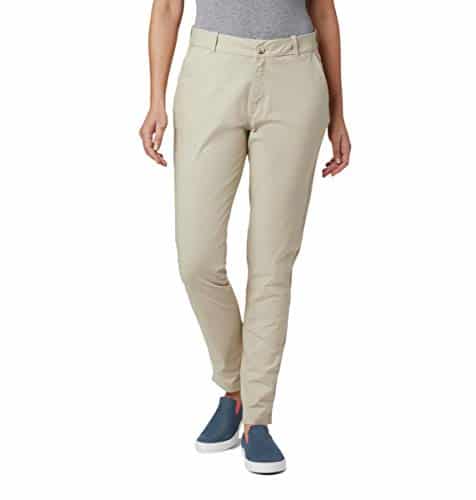 Columbia makes great pants for women who commute too, including the Columbia Women's Bonehead Stretch Pant with a modern cut. Pick from several neutral colors, including tans, browns, grays, and a few fun colors like polka dot or bright blue. The straight-leg pants offer a form-fitting leg with room to move for comfort.
Whether on your bike headed to work, or out to sea, these pants will go with you and provide extreme comfort and versatility. Thanks to 97 percent cotton and 3 percent elastane, the pants provide an ease of movement and stretch you need on a bike. Also, the elastane means you don't need to worry about wrinkles or ironing, no matter how much you move.
The khaki style pants include both hand and back pockets. Next, the pants include a button closure and belt loops ready to give you a work-ready look. Pick from several sizes, including 2 to 16, with a regular length. Sorry, ladies, if you are short or tall, these pants won't work for you. However, they offer comfort and make you look beautiful without effort, and even after a bike ride, no less!
Buying Guide for Pants for Bike Commuting
Before you make a decision, take a look at some key factors to help you make the right decision for your commute and work situation.
Fabric
The key to pants for a bike commute is the stretchy fabric like elastane or spandex as these fabrics prevent wrinkles and provide additional flexibility. Otherwise, try to find a cotton blend for durability. Avoid rayon and modal as these fabrics require more work and fall apart faster. Pick a polyester blend if you want added warmth as polyester doesn't breathe as well as cotton.
Resistance
Finding work pants that are resistant to water and stains isn't and an easy task as most pants function for one purpose. Pants with spandex tend to be a little better at repelling water and stains. A better bet is to choose dark pants on the day you commute and try to avoid large puddles.
Functionality
Pants with zipper pockets provide fantastic functionality to make sure nothing slips out while you bike. Otherwise, you may want to consider putting your important items in a bag. The more functional pants offer stretchy fabric to offer flexibility in movement and prevent wrinkling. Finally, the most functional commuting pants do not require ironing as they don't wrinkle, again because of the additional stretchy fabric mixed in with cotton or polyester.
Style
The style you pick needs to work for your office or work location. We chose pants that work for most work settings, from sales to in the office. Before picking a pair of pants, find out if your office has a specific dress code and if any styles or fabrics are off-limits. Also, some fabrics are less dressy, those without cotton usually, and may change the effect of your outfit.
Questions About Pants for Bike Commuting
How do I wash commuting pants?
Always follow the washing instructions on the label to keep your pants around for years. For the vast majority of pants, wash on a gentle cold cycle, and skip the dryer. If you do use the dryer, make sure it's on low heat to avoid shrinkage.
Will commuting pants keep me warm?
Most of the pants are designed to provide flexibility and reduce wrinkles. Only the Columbia Men's Royce Peak II Pant provides additional warmth, but they aren't the most office-ready pair of pants. If you have a cold commute, you may want to consider packing work pants or leaving a pair at the office.
Is there a way to prevent sweating with commuter pants?
Most commuter pants cannot prevent seating. You will need actual biking pants for that purpose. However, even biker pants have their limitations. Hopefully, in the not too far away, future fabric will catch up with people's busy lifestyles and provide incredible options that function better.
What else should I wear while commuting?
Besides pants, you will need a few other articles of clothing for commuting. To find out more about what you should wear, watch this video:
Final Thoughts About Pants for Bike Commuting
Work pants have made some fantastic improvements over the last few decades but still have a way to go in improving your commute from rain, sweat, and dirt. That being said, a few surprising options are available to improve your life and prevent you from changing clothes multiple times per day.
Our favorite option is the Rhone Commuter Pants. The pants come in multiple sizes, colors, and styles ready to help you enjoy biking without changing when you get to work. The pants come with tons of useful pockets and a sleek, modern style ready to take you from the bike to work seamlessly. No other pair of commuter pants provide a breathable fabric with 4-way stretch and tons of durability to last for years.