(Last Updated On: October 17, 2022)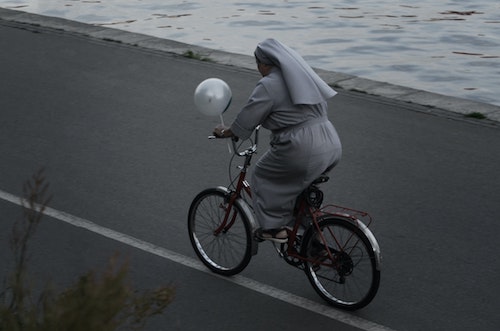 Biking offers one of the best forms of transportation and a great way to stay in shape. However, most have a weight limit of about 200 to 275 pounds despite the fact that people come in all shapes and sizes. If you are one of those people, have no fear. You still have options; they are just harder to find.
We did all the legwork for you to help you get out biking instead of searching for a bike ready to accommodate heavier riders. From electric bikes to fat-tire bikes and even cruiser bikes, you will have six fantastic options ready to improve your health and get you outside. Moreover, all of the options are for 300 pounds or more.
Lastly, we found bikes in several price ranges to work for any budget. Stay on after and get some important buying information and answers to your questions. It's time to get out on the road with the right equipment ready to support you as you exercise.
Our Favorite Bikes for Heavy Riders
Cyrusher makes several electric bikes capable of holding 330 pounds, including the XF650 Motorcycle Style Electric Bike 750W. While the bike costs a pretty penny, it offers so many benefits it worth the cost and then some. It's a fat tire bike, which is one of the reasons it can support more weight comfortably and lasts longer.
The fat tires also mean it's an off-road bike geared for nature riding and not street riding. Traditional flat tire bikes are better for traction than speed or but as this is an electric bike, you won't have to work as hard to get a little speed if that's your desire. However, this particular bike allows for more movement and can accommodate biking on mountains, snow, roads, the beach, and more.
As for specs, the bike comes with a 48-volt battery with 16AH capacity. It can reach top speeds of 30 miles per hour, has a range of up to 50 miles, and charges in 4 to 6 hours. The bike also includes headlamps, water-resistant connectors, Shimano 7-speed freewheel, and an aluminum frame. You can also check all the pertinent information on the built-in LCD screen to keep track of your speed and power levels. Also, it comes with 26 x 4-inch fat-tired with puncture-resistance built-in.
Choose this all-terrain bike because of the modern design. You can adjust the handlebar and seat to fit multiple heights as well, which is great for men who are big and tall from 5 foot 5 inches up to 6 foot 6.7 inches. Simple buttons on the handle make using the bike ultra-easy. Enjoy a powerful rear geared motor, hydraulic brakes, Shimano rear derailleur, and rear shocks ready to give you a smooth ride along with an ergonomic seat. It's time to hit the open road.
No products found.
If you want an electric bike capable of transporting both you and anything else you need to transport, consider the RadWagon 4 Electric Cargo Bike. What makes this bike special is it can support 350 pounds and can go up to 45 miles per charge. One minor problem with this bike is it's only available for preorder until October 2020 due to the current economic situation.
While you have to wait, the bike will more than serve your needs as its an EBR Choice Product winner in seven different categories! Enjoy great features like, a lithium-Ion battery with 48 volts and 14 A, and 750 watts geared hub motor. Furthermore, the bike has a heavy-duty back storage rack that can hold bags, equipment, and even child seats for up to two kids!
The bike uses smaller, wider tires to carry the bike and make it functional with a low center of gravity with a custom tread pattern. Use the 22 inches by 3-inch tires to Smoot over roads, bumps, uneven surfaces, and even handle the weather with ease. The seat and handlebars adjust to accommodate riders from 5'1″ up to 6'4″. It also has an integrated bike light, reflective sidewall stripping, seven speeds, twist-grip throttle, and 180 mm mechanical disc brakes.
Finally, view everything you need on the front screen to make your commute a little easier. Pick from several colors, including orange, black, or white, all for the same mid-range price. Charging takes 5 to 6 hours, and you can travel the whole city in that time frame. Enjoy a high-quality ride ready to provide support and comfort with a sleek new design.
The Rosco 8 by Trek is a hardcore hardtail trail bike ready to hit the dirt. As it can support up to 300 pounds, it can support most people with ease. It's a great option for people looking for taller semi-fat tires or are looking for a mountain trail bike with high-quality specs. The bike is beautiful too in dark aquatic and metallic gunmetal or red and black for a fiery appearance.
Although it's not an electric bike, it provides everything you need to get out on the road. A strong aluminum frame with 27.5-inch wheels and gripping tires keep you on the road comfortably. The Roscoe 8 even comes in a woman's bike with all the same great features.
You can be a better rider with intuitive handling made for beginners and biking veterans alike even for longer treks. The bike provides incredible traction, and the high-tech frame provides precision handling on the front end. Moreover, an air spring fork allows you to adjust the air pressure to your weight. The rims are tubeless-ready rims if you want better traction, your choice.
Next, a dropper post allows you to lower the saddle to keep it out of your way when going around corners or down a hill. You can increase peddling with a lockout suspension too. The bike even includes internal cable routing, rack mounts, and a rear kickstand mount all to make this bike ultra-functional. If you are serious about biking, this is the option for you, especially because you can choose sizes to match your height from small to XXL to fit men over six feet tall and under.
4. Merax FT323 Mountain Bike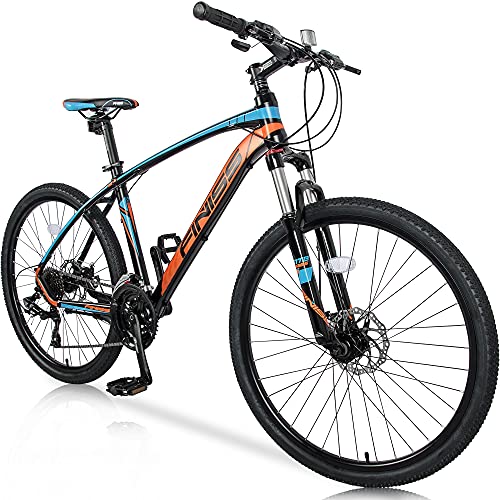 Riders looking to save some money should try out the Merax FT323 Mountain Bike because its a budget bargain ready to help you get on the road. It can support up to 330 pounds, which is fantastic as most bikes – even high-end bikes – climb over 300 or even 250. Also, the only downside of this affordable option is it requires some assembly.
Otherwise, the bike offers reliable front suspension, dual-disk brakes, a 24-speed Shimano gear shifter, a sturdy aluminum frame, and 26-inch tires. It can handle bumps in the road and turns to provide a smooth ride even in uneven terrain. Next, it comes with a comfortable seat ready to hold you along with two disc brakes to stop when you need, a feature usually only found in more expensive bikes.
The handlebar is big and durable with blinking lights for nighttime or low visibility drives. Although the tires are thin, it supports the 40-pound bike weight and still remains portable. Last of all, the bike operates above its class with full Shimano derailleurs and shifters with dual suspension. It's ready to go, the question is, are you?
While most of the heavy rider bikes are for men, the sixthreezero Around The Block Women's Beach Cruiser Bicycle is for the ladies and ready to roll. The first thing you will notice about the bike is the vintage style ready to drive you across a boardwalk or cruise around town. Next, you will notice the extremely affordable price tag.
Women will love having multiple color options, including mint green, coral, yellow, white and brown, and even a few purple options too. The bike also comes in a few different speed styles, including 1, 3, 7, or 21 speed, although all the options come with a 26-inch tire. What makes this bike special, though, is the curvy lines and 17-inch durable steel frame.
Another great feature of the bike is it can support up to 300 pounds, which is significantly more than other bikes, and it's lightweight, only weighing in at 34 pounds itself! Women will also love that the bike can accommodate riders from 5 feet to 6 feet 4 inches tall. Shorter women may want to look for the 24-inch bike option instead.
The bike is low maintenance, comfortable, and ready to ride. It has enough gears to climb hills and go for miles. Add in twist grip shifter on the handlebars, front and rear handbrakes, and a deluxe cushioned saddle seat, and you have an extremely comfortable and easy to ride a bike. While you can't really take this bike on the trails, it is perfect for commuting or running errands as it has a built-in back rack for storage.
Sale
sixthreezero Around The Block Women's Beach Cruiser Bike, 7 Speed Step-Through Hybrid Bicycle with Rear Rack, 26 Inch Wheels, Mint Green
Classic, curvy women's beach cruiser bicycle with 17-inch durable steel frame; ideal for casual, comfortable riding around the neighborhood
Upright riding style keeps your back and shoulders comfortable; dual-spring saddle and wide cruiser handlebar with foam grips
7-speed Shimano external hub allows for a wide range of riding – from leisure to long distance commutes; front and rear handbrakes
26-inch, 2.125-inch wide aluminum wheels with large waffle tread tires provide a cushioned ride for easy rolling
Blacked-out components for added style; includes rear rack for optional baskets and panniers
Another fabulous electric bike is the 700 SERIES by Ride1Up with tons of features, a sleek design, and a midrange price. It's only at the bottom of our list for two reasons. First, its max capacity is only 275 pounds despite the fact that the bike itself weighs 62 pounds. Most bikes cannot support more than 250 pounds, though, making this a strong contender.
Second, the bike is back-ordered due to the current economy, and you may have to wait a couple of weeks for the bike. Problems aside, the bike is amazing, with an incredible set of features you will crave. Also, you can pick from two frame types and colors. Moreover, it's comfortable with smart frame geometry so you can ride for hours.
What makes this bike special is it's a class 3 electric bike with 28 miles per hour pedal assist and 20 miles per hour throttle. It also comes with a powerful 800 watt geared motor with 56nm torque and a range of 30 to 50 miles per charge. The bike is made with a lightweight alloy frame with internal protected and locked electronics for safety. Lastly, the bike comes with tons of smart details like a back rack, front and rear light, color display, and Shimano parts.
Buying Guide for Bikes For Heavy Riders
Before you pick a bike, take a look at a few important factors to help you make the best decision for your needs.
Features to Look For
Tires – If possible, choose fat tires as they hold the most weight but can make the bike heavier.
Wheels – Look for a double-walled tire with extra cushioning if possible. Also, try and find 26 inches or higher tires too for additional weight support.
Seat – Look for a large wide seat if possible. However, these are one of the easiest things to change on a bike if you love everything else about the bike.
Frame – steel alloy and aluminum alloy tend to be the strongest bike material while still staying lightweight.
What to Avoid
With bikes for heavier riders, you want to avoid unisex bikes and models made for both teenagers and adults. These one-size-fits-all bikes rarely fit all sizes. Lightweight bikes often cannot support the weight of heavier riders and neither can folding bikes. Also, avoid single-speed cruisers as it's harder to pedal and can put more pressure on the tires.
Questions About Bikes For Heavy Riders
Which style of bike is best for heavy riders?
Road bikes or fat-tire bikes are usually the best options as they are ready to carry extra weight because of fatter tires. Electric bikes are storming the market and make another great option because of premium materials. Also, consider bikes meant to carry heavier loads on the bike rack.
Will a mountain bike function as well on the road as it does on all-terrain?
Mountain bikes can ride on the road, but the extra traction may slow you down a little. Honestly, the biggest worry for beginners is finding out if you enjoy biking. An all-terrain or mountain bike will get you out on the road and exercising so you can find out if this is the right form of exercise for you. After a few weeks, you will start to learn what features are more important to you, and it can lead you to your second bike. And, yes, most avid bikers have a collection of bikes, not a single bike.
What accessories do I need for my new bike?
You don't need any accessories except for a helmet, backpack, and a water bottle holder. However, want is a different factor. Take a few rides with just your backpack and water bottle, and you will soon learn what else you may want. Unless you live in cold weather, then you are going to need gloves and possibly warmer clothing too.
Am I too heavy to ride a bike?
For more information about being overweight and riding a bike, watch this video:
Final Thoughts About Bikes For Heavy Riders
If you like the idea of an electric bike, we suggest you try the Cyrusher XF690 Motorcycle Style Electric Bike 750W. It's affordable for an e-bike and comes with fat tires, gripping tires ready to help you cruise with a little extra power for tough spots. The bike offers quick charging, smart batteries, and a comfortable design. Finally, the seat offers smart features and high-quality parts ready to give you the best ride so you will continue riding.