(Last Updated On: August 9, 2022)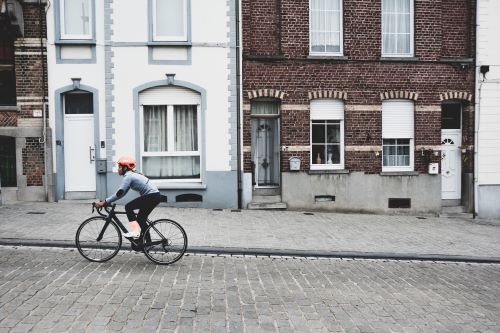 Commuting to work by bike keeps you in shape and reduces parking issues too. However, some of the commuter bikes cost a small fortune and defeat the purpose of saving money. Instead, pick a budget bike ready to perform and get you to work comfortably and quickly.
From hybrid, road, and commuter bikes, find the right style for your ride. Not all commuter bikes are built the same, and you need the best available for as little money as possible. We found the seven best options under five hundred dollars to get you on the road and start helping yourself and the environment, too, no matter how far your ride takes each day.
After, stay on and read the buyers guide to help you figure out which features make the most sense for you. Also, get answers to your question to make shopping for a commuter bike easier. It's time to get biking without hurting your wallet.
Our Favorite Budget Commuter Bikes
1. Schwinn Discover Hybrid Bike for Men and Women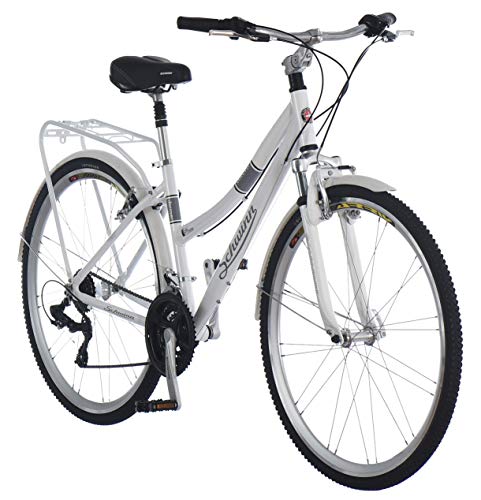 Let's start with a brand name, you know, and love. With the Schwinn Discover Hybrid Bike for Men and Women, you get a bike ready to save you some bucks and get you to work on time. The bike comes with a 16-inch frame better for shorter people but comes in an 18-inch frame as well for taller individuals.
With an aluminum frame, the bike is sturdy and ready to go. Add in the Schwinn suspension fork to absorb shock, and the bike can handle anything you ride over. It's the perfect choice for commuting or a leisurely drive down a bike path.
Next, the Discover offers comfort with an upright sitting position. The bike also includes 21 speeds to get you to work as fast or as slow as you need. It also includes easy gear changes with a Shimano TX-31 rear derailleur. Along with a Schwinn alloy crank, Promax alloy linear-pull brakes, fenders, and adjustable steam, you can find the speed and function you need.
With the trendy design, you get form and function. As the bike includes a rear carrier rack, taking bags to work couldn't be easier. Both men and women can use the bike to reduce their carbon footprint and fit exercise even with a busy work schedule.
2. Vilano R2 Commuter Aluminum Road Bike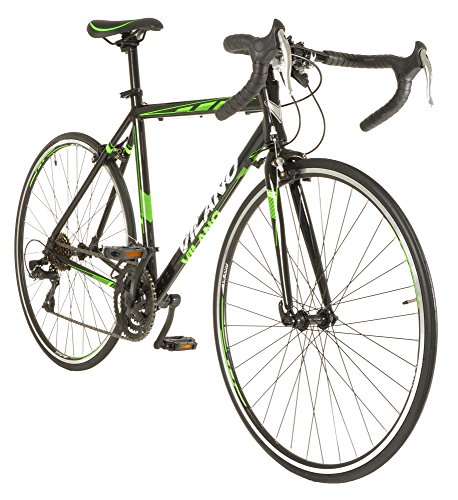 Florida company Vilano offers a series of bikes ready to save you money with quality bikes ready to make life easier. With the Vilano R2 Commuter Aluminum Road Bike, get a bike ready to provide both quality and function. Also, pick from two sizes to work for most heights.
While the R2 Commuter offers a simple bike, you get a ton for this entry-level model. Moreover, the bike saves money too! It's a great option for beginner cycles to head to work or out on the town. The sleek design works for any situation, and it comes with drop handles ready to let you drive sitting up or over for more speed.
Novice cyclers can enjoy the easy installation, too, with just a little effort to get on the road. Furthermore, the bike offers 21 speeds to give more options. Both the front and the back derailleur are Shimano, with the latter a Shimano Tourney. It also includes Shimano shifters.
Finally, the wheels are 700c double-walled and ready to drive. Add in alloy caliper brakes for easy stopping. It's the ideal option for both comfort and safety. The only reason the bike is lower on the list is it doesn't come with a rear rack for storage, although this could be preferable to many new bikers.
3. FX 1 Hybrid Bike by Trek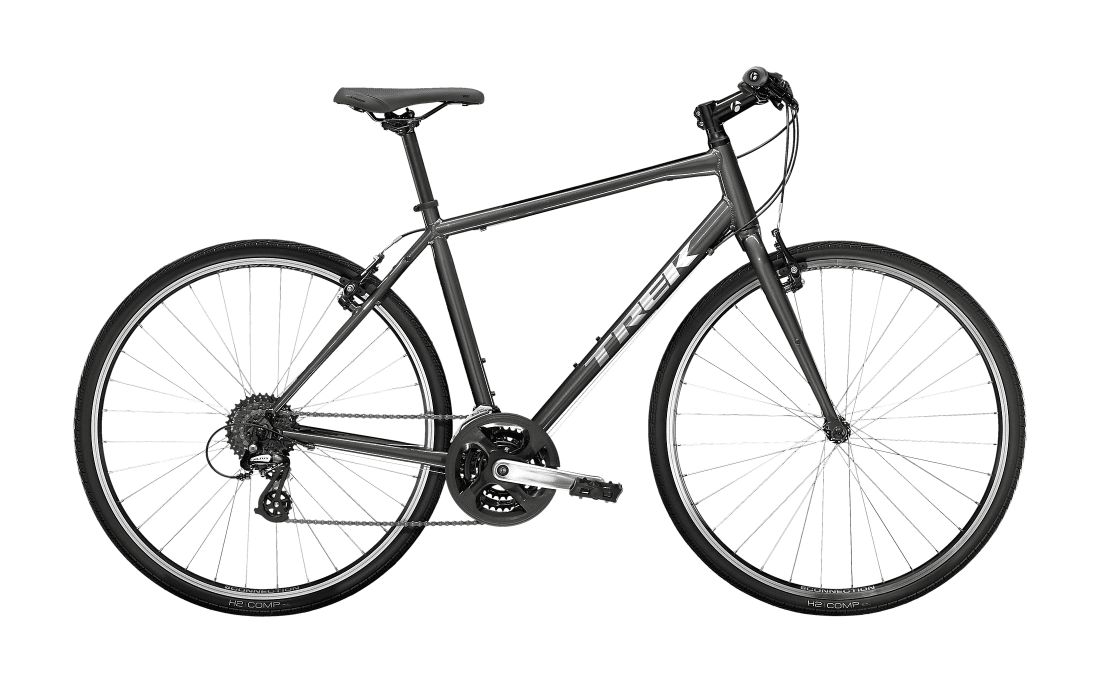 Still staying just under five hundred dollars, the FX 1 Hybrid Bike by Trek gives you the best bike money can buy. Although the price is the highest on this list, the bike is worth your spare change thanks to the lightweight aluminum frame and quality parts. It's ready to work as the main bike for exercise and commute without clogging up your garage with multiple bikes.
The truly fantastic benefit to this bike is it comes in four sizes allowing you to get a custom fit. Next, the bike includes built-in mounts so you can add a rack, fenders, or both when you are ready. It's also DuoTrap S compatible if you eventually want to add all the newest technology to your bike. With the DuoTrap S, you can add a mini-computer to track your routs and fitness progress straight to your smart device without an external sensor.
Get all Shimano parts for the shifter and derailleurs, all while staying within your budget. While the bike comes with a set of pedals, it's ready to upgrade to a newer, better set whenever you want. Moreover, the bike is lightweight at under 30 pounds, meaning you can navigate and move the bike as needed even when not on the seat.
If you want a versatile bike, you need this option as it's still top quality but on a budget. You get the option to upgrade different parts when you can afford a shift in pieces. It's also easy to accessorize and get exactly what you want. More importantly, the bike comes with a lifetime warranty guaranteeing your purchase.
4. Hiland 700c Road Bike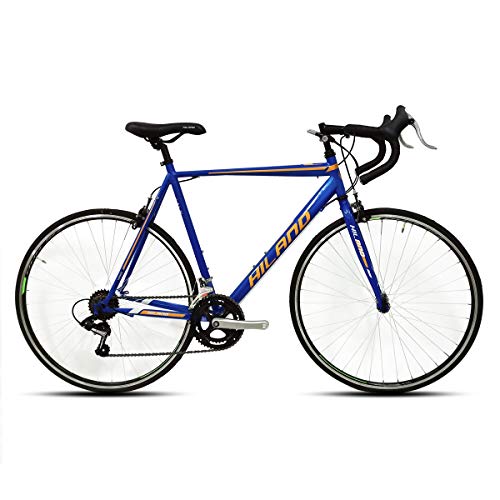 The Hiland 700c Road Bike offers everything you need at a low price. However, it does only come with 14 speeds instead of 21, which is the standard. As a road bike, it can travel on roads but hand a little off-road too and variations in terrain, making it more versatile for commuters.
First, pick from three colors, including black, dark gray, or silver, for a trendy ride, you can distinguish from other bikes parked in front of your office. Second, pick your size from 50, 54, or 58 centimeters for a custom fit. Add in drop bar handles for two ways to ride so you can increase speed when the clock shows your about to be late for your shift.
Another difference between this bike and the others above is this one comes with a steel frame instead of aluminum as not everyone wants aluminum and want the more durable steel design. It's still a lightweight option at just under 27 pounds too. Moreover, the bike comes 85 percent assembled, cutting your workload.
Lastly, you get aluminum rims, Shimano thumb shifters, and 700c wheels. The bike also allows for up to 275 pounds. However, it doesn't come with a bike rack or mount, and you will need to add these later if you desire. With the low price, you can start with this bike and find out if commuting is the right fit for your life and later upgrade to a more professional bike ready to serve all your needs when your budget allows.
5. Outroad Road Bike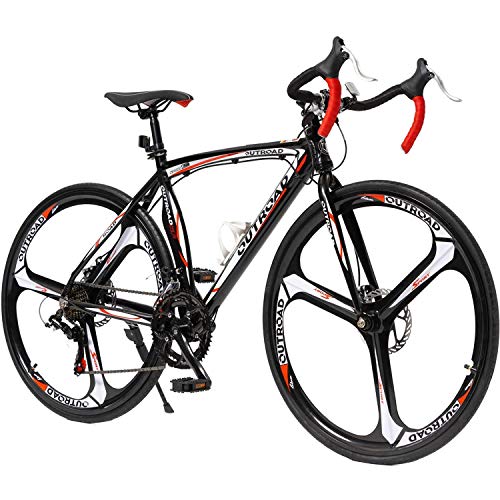 Get color options with the Outroad Road Bike. Not only is it an affordable option but a smart one too, with tons of attention to detail. The unique tires cut out resistance, allowing you for higher speed and a fun style ready to impress.
Before you buy, choose from three different color options, including red and white, black and red, or black and blue. After, pick your speed as you can pick either 14 speeds or 21 speeds to get a little more bang for your buck. The options come on a bike made of lightweight aluminum with 26-inch wheels.
Furthermore, you get 700c tires and a max weight of 330 pounds making this a better option for larger commuters. Furthermore, the bike is easy to assemble and includes all of the tools you need for both building and maintaining the bike, which saves you money. Safety is a priority, too, with reduced resistance and anti-slip wear-resistant tires.
Choose this bike for a solid bike, ready to get you to work with less effort and more safety. It's a fabulous option for novice riders trying out commuting before committing to a dedicated bike. However, the bike is heavy at over forty pounds, making it harder to maneuver when not on the seat.
No products found.
6. Vilano Step-Through City Bike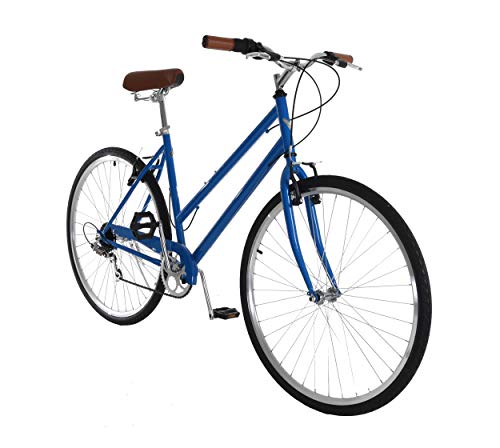 Another Vilano bike makes the list because of its fabulous price point and unique features. If you want a bike that looks ready to cruise the city with a vintage style. The Vilano Step-Through City Bike looks great but only comes with seven speeds, which is why it's lower on the list.
Mind you, only choose this bike for shorter commutes with few variations in the terrain. Seven speeds can only go so far, but it's so affordable. It's the perfect addition to your garage if you are new to commuting and imagine a picturesque experience, then you have the right bike right here.
The bike doesn't come with a lot of options as it only comes in one size of 50 cm. Also, the only color option is blue, but you do get leatherette trim on the seat and the handles. Next, the bike comes with platform pedals and a locking kickstand. However, you will have some assembly, although it is a simple process.
Whether running errands, going to work, or hitting some light trails, this hybrid bike wants to take you around in style. If only the city bike had a rear rack or mount for a little luxury storage, it would be the perfect option. Finally, the bike is a little heavy too, at 32 pounds, but it can support up to 250 pounds.
7. Schwinn Folding-Bicycles Loop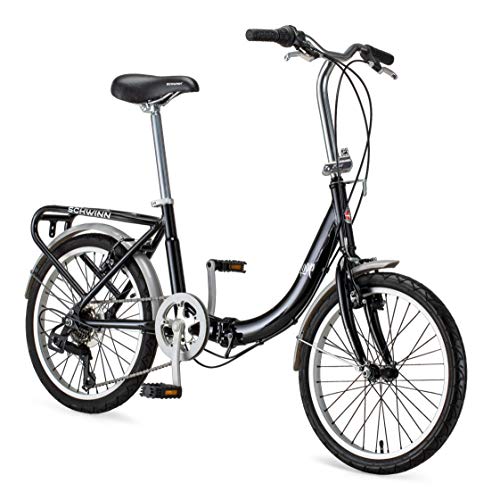 Schwinn makes the cut again with a folding bike ready to go inside with you once you get to work. That's right, the Schwinn Folding-Bicycles Loop folds up so you can put it in the corner of the office instead of leaving it outside in bad weather or neighborhoods. The price is right, too, at well under four hundred dollars.
The urban bike features a steel frame that durable and convenient, too, when storage space is limited. Despite the folding frame, the bike offers seven speeds and a Shimano derailleur team for smooth gear changing. Also, the front and rear linear-pull brakes stop securely to help you fight traffic.
However, the wheels are smaller at 20 inches, which allows for folding, but they do offer smooth-rolling for your commute. A rear carrier comes with the bike as well, and the company even threw in a heavy-gauge nylon back to haul your work stuff. When you get to work, simply fold the bike up and take I in for ultra-compact storage.
Last of all, the bike comes with a limited lifetime warranty for a long as you own the bike. The bike offers freedom the others don't of being able to keep it safely with you no matter where you go. One problem you should know about is the steel makes it heavier at 33 pounds, which isn't as functional for a folding bike.
Buying Guide for Budget Commuter Bikes
Before you buy your budget commuter bike, take a look at some key features you may need to make the commute a better experience.
Comfort
While comfort is important, it's not a guarantee with a bike. However, if the bike you want comes with a less than ideal seat, you can replace it in just minutes for very little money. The bigger factor to consider is the handlebars. Do you want bars designed for sitting up or for leaning down so you can go faster? Both are useful, but both are not comfortable for every driver.
Size and Fit
Before you can commute to work, you need a bike that works for you. Most commuter bikes come in multiple sizes to work for a variety of heights. While most bikes allow for adjustments in the handles and the seat, it won't make a difference if you cannot get on the bike or if it's too low! Make sure to check the size of any bike you choose before purchasing.
Most bikes come with average sizing. Commuters should choose a 50cm bike if they are 5'3 to 5'5, 52 cm for 5'5 to 5'7, 54 cm for 5'7 to 5'9, 56cm for 5'9 to 5'11, 58cm for 5'11 to 6'2, and 60cm for 6'1 to 6'3. Not all entry-level bikes allow for this many sizes, though, and if you are extra short or extra tall, you may need to go to a mid-class bike.
Bike Styles
Commuter bikes come in three styles – commuter, hybrid, and road. All three styles can work for your commute but depend on what environment you need to commute to work and home. Road bikes allow for more speed so long as the roads are in great condition. Hybrid bikes are a cross between mountain and touring bikes, and they can go off-road with more ease. Commuter bikes are basically a hybrid but with storage or the ability to handle a little off-road driving comfortably.
Questions About Budget Commuter Bikes
What accessories do I need for commuting?
One accessory you really should get is a helmet for safety. You should also consider getting mirrors, reflectors, and lights, depending on what time you work. For comfort, you may consider a water bottle holder, too, unless you plan to carry a backpack. Gloves can also make the ride more comfortable for gripping and to keep your hands warm in colder climates.
What is 700C referring to when talking about bikes?
Biking comes with its own language, and many of the words and phrases may seem confusing. Don't worry because 700C is easy to understand. 700C refers to a measurement of the tires diameter. Most bikes come with either 26-inch or 700C, which is the modern standard for road bikes and hybrids.
Seven hundred is the rough outer diameter of the tire, although the actual diameter can vary depending on tire and tread patterns. In the past, the C referred to one of four tire sizes, but that method has since been eliminated except the 700C, and it kept the name.
I'm new to biking, what are derailleurs?
Derailleurs describe the gears that make up the transmission system. They consist of chains, gears, sprockets, and other mechanisms to propel the bike into motion. The derailleur is the part that changes gears so you can get the speed you want. All bikes include both front and rear derailleurs to move the tires together.
How can I save money when buying a commuter bike?
Unfortunately buying a quality bicycle is not an inexpensive endeavor. However, there are a few ways you can save money. Watch this video for a few tips on how to buy a bike on a budget:
Conclusion
If you are still having trouble deciding which commuter bike is right for you, consider the Schwinn Discover Hybrid Bike for Men and Women as it saves you money and offers a ton of options. With 21 speeds and a classic design, you can get to work with both comfort and storage. It's time to take your commute into your own hands to improve the environment and your health too!