(Last Updated On: September 8, 2022)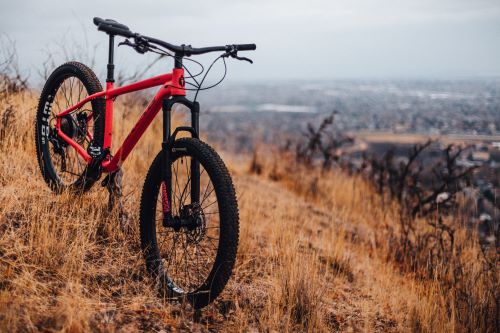 Most people don't think of mountain bikes when they think of a quality commuter bicycle, but they're potentially missing out on one of the best commuting options for those looking to cut down on their environmental impact. The perks of having a mountain bike for commuting are incredible and include things like being able to take on almost any hill in your path, having the tough-grip tires to take on almost any terrain, and of course, having the durable shock absorbers to keep your ride smoother than ever on almost any surface. Another bonus to having a mountain bike for commuting is you can use your bike for recreational purposes when not making your way to and from work, allowing you to get the most out of your purchase. For those looking to save the environment while also getting the most out of their new bike, a mountain bike is an incredible investment that will help take some of the stress out of your morning commute. But how can you choose the right mountain bike for your unique needs?
The first thing to consider is how portable you need your commuting bike to be. While there are countless sturdy mountain bikes available on the market today, they can sometimes come with heavier frames, which adds a certain level of difficulty in transporting your bike. If you have to carry your bike up and down stairs or are looking to easily bring your bike to and from work, you may want to invest in a bike with a lightweight aluminum frame, to cut down on the potential back pain. You also want to take into consideration the overall tire size of your bike of choice, as larger tires offer more grip on the road due to an increase in the tread, but they can also make your bike feel bulky when it comes time to transport it. However, in most cases, the additional weight is well worth the benefits of a mountain bike when commuting.
Another thing to keep in mind is the number of hills you'll take on in your commute. If you find yourself biking up the equivalent of the Andes mountain range, you may be better served to invest in a mountain bike with plenty of speed and gear options to choose from, to help you maximize your power output every time you hit the road. If, however, you find yourself biking through Kansas or another flat area, you can probably get away with having fewer speeds on your mountain bike, though a good set of shifters can make a real difference when biking on less-than-ideal surfaces like dirt roads or cracked pavement.
Once you have a general idea of the kind of mountain bike you're looking for, you should also take into consideration things like the kind of shock absorbers you're working with, as well as the overall comfort of the seat. These things can make a real difference in the quality of your commute and can help you avoid dreading those morning bike rides.
Now that you know what to look for in a mountain bike for commuting, let's get into the best mountain bikes available on the market today. We know it can be overwhelming to be faced down with hundreds of bike choices, which is why we've done the leg work for you and narrowed things down to our top choices for commuter mountain bikes. We take into consideration things like overall weight, construction, durability, gear and speed options, price, and of course, user reviews, so you can rest easy knowing you're making a worthwhile investment. Without further ado, here are the top mountain bikes for commuting.
Our Favorite Mountain Bikes for Commuting
1. Schwinn High Timber Youth/Adult Mountain Bike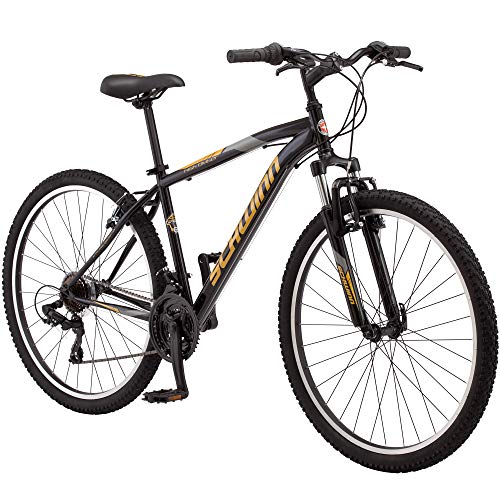 If you're looking for one of the best mountain bikes on the market for commuting, you're looking for the Schwinn High Timber Mountain Bike. Don't let the youth/adult range fool you, this bike is made for commuters of almost all heights, with a frame and wheel sizing system that is customized to fit your unique needs. This bike features pull brakes, an east-to-use 21-speed shifting system made to take on even the toughest of hills, and a steel frame made to take the wear-and-tear of daily use, without breaking down or buckling.
While the steel frame is heavier than the aluminum option, thankfully this bike offers both styles in order to offer you one of the best mountain bikes on the market today. The shock absorption system is made to take whatever your morning commute throws at you, and then some in the form of off-roading. This bike thrives on and off the pavement, and the adaptability of a mountain bike shines true with the Schwinn High Timber Bike. While you may be tempted to look at street bikes for commuting, this mountain bike offers exceptional tire grip, a streamlined design, and overwhelming durability, everything you could ever ask for out of a commuter bike. If you go no further in this article, know this: you can't go wrong with this bike.
Schwinn High Timber Youth/Adult Mountain Bike for Men and Women, 27.5-Inch Wheels, 21-Speed, Steel Frame, Black
Lightweight 16-inch steel frame is the perfect bike for rides around your neighborhood or trails. The 24-inch wheel frame fit riders 5'5" to 6'0" inches tall
Bicycle comes with an alloy crank that provides steady gear changes that cause less maintenance
Mountain bike has twist shifters with a rear derailleur to make gear changes quick and easy
Wide knobby mountain tires sit on a lightweight and durable alloy wheel that adds stability and balance to the rider for all weather and terrain types
Front and rear alloy linear pull brakes provide secure stopping power and speed control so you can ride with confidence in a variety of conditions.
2. Slash 7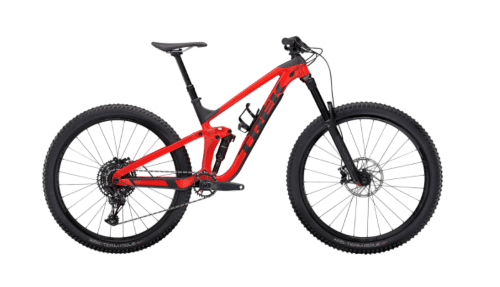 If you were picking a mountain bike for commuting by appearance alone, the Slash 7 is the winner hands-down. This bike has been engineered to a T, featuring a sleek frame made to minimize resistance, a gorgeous combination of matte black and glossy red coloration, and of course, a lightweight but resistant aluminum frame that can take the rough riding of off-roading, as well as a couple of bumps on your morning commute.
There are so many things to love about this bike, it's hard to choose just one to focus on. The threaded bottom bracket, dual downtube guards, Knock Block 2.0, and 160mm of travel with a RockShox Select+ shock and 170mm Yari RC fork make the suspension on this bike one-of-a-kind. For those who could care less about technical terms, this means the bike can stand up to the wear-and-tear life throws at it, without making you take all of its hard knocks. While finding a great commuter bike can be difficult, seeing the true value of the Slash 7 is easy as pie. If you're looking for a mountain bike that will have you riding high on every trip to the office, this is the right bike for you.
3. X-Caliber 9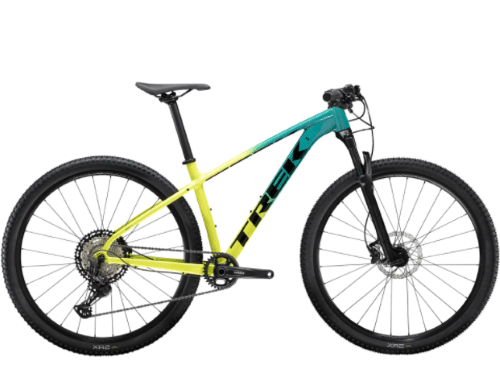 Did someone say race-ready mountain bike? Meet the X-Caliber 9, a bike that lives up to its mythological name. This mountain bike was made for speed, style, and to take on the toughest trails out there, including your bike to work. The lightweight Alpha Gold aluminum frame is made to take a hit, while still being light enough to carry with you up and down stairs or slide in next to you on public transport. This bike features a sturdy suspension system as well as a shifter that was made to take on everything from a fast-paced race to a bike through the park. The ergonomic design of this bike is made to help you reduce friction and get the most power out of each and every pedal, helping you cut down on your commute time without burning yourself out before you even reach your desk.
The only downside to this bike is it is overwhelmingly made for the serious biker, and while the average commuter may picture themselves falling in love with this bike, if you are looking for a mountain bike to only ever use for commuting, you may find it hard to justify relegating this beauty to your weekly trek. Still, if you're looking for a bike that can take on the world and barely break a sweat, the X-Caliber 9 will have you feeling like the stuff of legends.
4. Huffy Hardtail Mountain Bike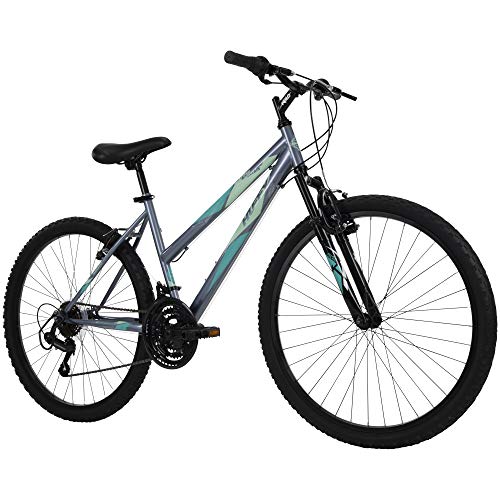 We know the average person sees the name "Huffy" and thinks of children's bikes, but with the Huffy Hardtail Mountain Bike that couldn't be further from the truth. This steel-framed bike is made to take a pounding, with a suspension system made to last. The 21-speed shifters are made to help you power through almost any commute, whether you're facing the plains of Kansas or the hills of San Francisco. This bike features fun colors and a sturdy design, as well as an easy-to-follow assembly plan so you can spend less time fighting with wrenches and more time flying down the road.
It is worth noting that some customers have found the seat on this bike to be uncomfortable but noted the easy-release system for the seat made swapping it out for a more comfortable seat easier than ever. Some noted they found the gear system to be a tad on the touchy side, but others noted that they found this bike met their mountain biking needs tenfold, especially for the price range. Overall, the Huffy Hardtail Mountain Bike is a great entry-level mountain bike for anyone looking to take their morning commute to the next level, without investing in a street bike or other specialized bike that can only be used on pavement.
Huffy Stone Mountain Women's Mountain Bike, Gray, 26 Inch Wheels/17 Inch Frame
Assembly tutorial video located beside the images; with a charcoal gloss hardtail frame and 21 speeds to conquer the trails, the Stone Mountain is ready for outdoor adventures; just follow the steps in our product manual
An exclusive: Ideal for ages 13 and up and a minimum rider height of 5 feet; durable steel frame backed by our limited lifetime warranty (see owner's manual); suspension fork handles bumps and dips for a smoother-feeling ride
The indexed Shimano rear derailleur combines with the micro-shift twist shifter to deliver 21 speeds on-demand for uphill climbing, downhill riding, or pure acceleration; removable rear derailleur guard ensures consistent gear operation
Knobby tires tear into dirt bike paths with ease; linear pull hand brakes deliver consistent stopping action; premium padded ATB saddle has stitched sides for lasting quality; alloy quick release provides easy seat height adjustment
Kraton grips are comfortable to the touch; alloy wheels in matte black; kickstand included
5. Roadmaster – 26 Inches Granite Peak Men's Mountain Bike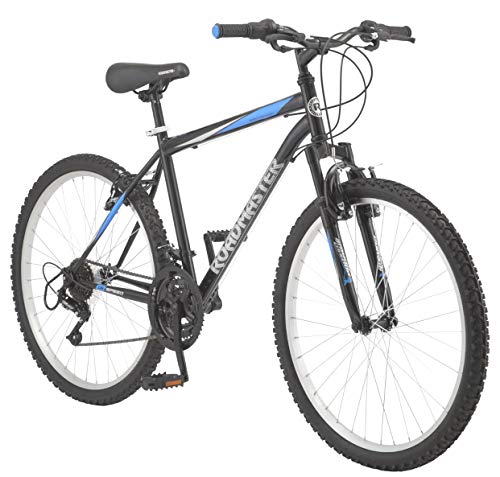 If you're looking for an all-around mountain bike that gets you there reliably, the Roadmaster Granite Peak Mountain Bike is the choice for you. This is a no-frills mountain bike that's made to work on and off the road and can handle a little roughhousing. This bike features a sturdy steel frame that can take the one-two punch of daily use. The only downside to a solid steel frame is the added weight, but overall the sturdy construction of this bike is a point in its favor. If you're looking for a good bike that's made to take a few curveballs without focusing too heavily on extra flare, this bike is a great option for your morning commute.
Reviewers noted that the bike was easy to assemble, with one reviewer saying "it is basically put together in the box…Sturdy bike all is great with this purchase." If you're looking for a high-quality, reliable bike, you can't go wrong with the Roadmaster Granite Peak Mountain Bike.
No products found.
Mountain Bike vs. Gravel Bike
If you are interested in how gravel bikes stack up against mountain bikes for commuting, watch this video:
Conclusion
No matter if you're looking for a beginner bike to take on your morning commute, or are a veteran biker looking for an all-around bike that can go from your commute to the trails, a great commuter mountain bike can make the difference between dreading your morning commute and living for the wind in your hair and the pedals under your feet. With sturdy frames, reliable shock absorbers, and added gears to adjust to the terrain, you'll feel like you're flying with the right mountain bike at your side.