(Last Updated On: September 8, 2022)
If you don't want to be paying for and taking public transport then a great option for you is cycling to work. This will allow you to get to work under your own steam and also get some exercise at the same time. There are lots of choices when it comes to bikes and they can vary in price quite dramatically, however if you are only just starting to ride a bike and you are looking to just use it to commute then you can find great bikes that are built for the commute and cost under $300.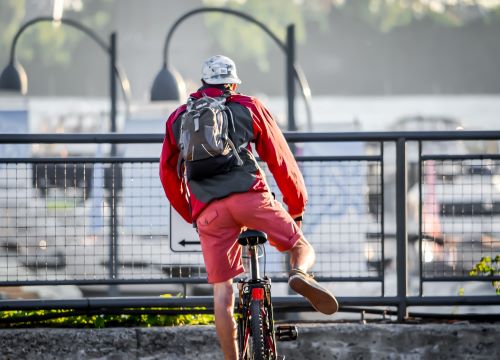 The great thing about commuter bikes specifically is that they have been designed for commuting so they will do what you need them to do, no matter what your spending. A lot of commuter bikes will come with built-in extras as well, which will save you money in the long run. Commuter bikes are ultimately built for comfort so you can get from point a to b as comfortably as possible. The last thing you want is to get to work all tired and sweaty, this is why the commuter bike was created to make sure you can commute easily without breaking a sweat.
If you are in need of a commuter bike and want to spend under $300, then this is a great place to look. If your budget is a little larger you might want to look at these higher-end commuter bicycles instead. But here we have put together a list of great commuter bikes under $300 for you to get an idea of what commuter specific designs are available to choose from at an affordable price.
Our Favorite Commuter Bikes Under $300
The Schwinn Loop is a great commuter bike design due to the fact it is a folding bike, this means that storage, when you arrive at work, is a lot easier due to its compactness when folded down. Also with the fact it can fold, this means you could even take this bike design when commuting on a train as it folds down quickly and easily, so you can store it on the train with you. Once you get off the train at the other end, you can quickly pop the bike up and you have your transport ready to go.
The Schwinn Loop is made of a light alloy folding frame with front and rear v brakes these are great brakes that work well in most conditions so if you do happen to be caught in the rain you can stop easily and quickly. It has 20-inch alloy wheels with a 7-speed shift twist gear system. It comes as standard with front and rear fenders, as well as a rear carrying rack for attaching panniers. Although this bike may seem small if you are taller then this should not stop you as mentioned in multiple reviews you can adjust the seat height enough to allow someone that's 6ft to 6ft2 to be able to ride this bike comfortably.
The Vilano City Bike is the bike is the perfect bike for anyone who is looking to ride around town on paved bike paths or rail trails and look stylish while doing so. The stylish retro-looking steel frame offers great comfort and stability, the steel frame is also very sturdy so it can take a few bumps and dinks while in use. It is a very comfortable bike as it allows you to ride upright with the hybrid upright handlebars, so you don't have to worry about leaning over while riding and hurting your back. It comes with a matching suspension saddle and grips for added comfort. The fact the saddle has suspension within it allows for it to soak up any small bumps you may come across to make the ride as comfortable as possible.
The Vilano City Bike comes with eyelets for waterbottle mounts and racks to allow you to attach these to carry items on your bike. It has 700c wheels so they are large enough to help with rollover on bumps and keep some comfort, it has a 7 speed twist shift gear system as well so there is enough range to allow you to get over hills if you come across any on your commute. The linear v type pull brakes included have great stopping power should you need to stop quickly, making this bike design extremely safe to use. As standard with this bike, it comes with flat top pedals and a kickstand to make sure you can lock it up and not have to lean it on anything that may damage or scratch it.
The Euro Mini ZiZZO is another great folding bike that allows you to store and travel with the bike easily. It is a lightweight aluminum frame that makes it easier to transport and carry – it is ideal for storing in the boot of your car or for use as part of a train commute. It has a 7-speed gear system allowing you the range to deal with any hills you may come across; the gear shifter is a Twist shift grip which allows for easy gear changes without having to take any part of your hands off the handlebars.
It has a single folding aluminum stem to fold the bike, the handlebars are fully adjustable to allow you to twist them to a position that suits your riding style, it also comes with an adjustable seat post which allows you to ride this bike more easily regardless of your height. While the frame itself is quite small, which could put off the taller rider, but the adjustable seat post will allow you to set it to your preferred position. The Euro Mini ZiZZO comes with both front and rear V-brakes which fit the 20-inch wheels although these are standard brakes, they are made for a hybrid commuter meaning they would withstand most conditions thrown at them. As well as the folding stem you can also fold in the pedals to stop them from catching or being damaged when transporting the bike. The frame design also comes with a strong magnetic catch to stop the bike from swinging open when being carried so that you can transport it more easily.
The Schwinn Wayfarer is a hybrid commuter that is great for going around towns and on paved cycle routes. This bike comes in two stylish steel frames, one step over and one step-through which makes it suitable for both men and women. The steel frame adds durability and comfort to your commute. The Schwinn Wayfarer has a 7-speed gear system with a twist-shift grip gear changer, it also comes with front and back pull v-brakes. The Schwinn Wayfarer comes with attached front and rear mudguards to help with any rainy and muddy commutes, these come as standard also, which saves you money on having to buy them separately as extras.
As well as the front and rear mudguards it also comes with a rear carrier to allow you to attach panniers for carrying anything you may need on the bike. Another great feature of the Wayfarer is the cushioned saddle, it is sprung which will allow for more of a comfortable and enjoyable ride. This saddle design is also ideal for if you come across any bumps in the road while you're travelling to work. The handlebars that are fitted also allow for a more upright posture while riding the bike which helps to stop back pain and discomfort when riding for a long period of time. The wheels on the bike are 700cc which allows for heights around 5ft 4 to 6ft 2, the seat post is fully adjustable up and down to allow for changes in height also.
The Hiland Coollin is a classic and retro style bike; it is ideal for any city commuters looking for a stylish but comfortable ride. It comes in multiple design choices for frame size depending on how tall you are, ranging from 5ft2 to 5ft 6 on the 50cm, 5ft 6 to 5ft 10 on the 54cm, and 5ft 10 to 6ft 2 on the 58cm, you can also adjust the seat height to allow for a more comfortable ride if you are between sizes. It comes with a 6-speed gear system making it more at home in city centers than when going up hills as the range will be lower with 6 gears, the gear system uses a twist grip to change gears on the handlebars which makes it easier and quicker to change gear.
With the 700c wheels on the Hiland Coollin it gives you a road bike feel on a hybrid, offering you great rollover and speed on the roads; the only drawback of this would be that they would not absorb bumps as well as they are thinner on the Hiland Coollin than some hybrid designs. The Hiland comes with front and back breaks which are a standard v style brake. The frames are made from steel which makes them stronger but also heavier than the aluminum hybrids.
Upgrades for your commuter bike
At under $300, the commuter bikes above may not have everything you would want on your bike. Here are a few upgrades that will make your commuter a lot easier: