(Last Updated On: August 29, 2022)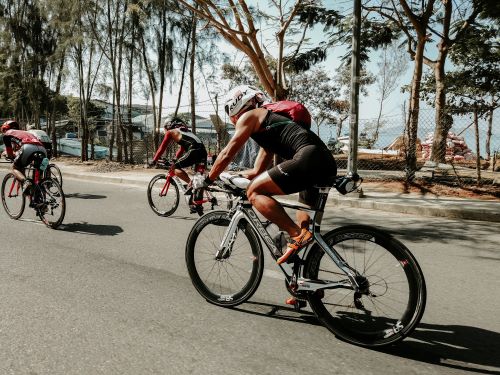 A buddy of mine once told me that the only way to get better at any craft is not just practice but perfect practice. He was and remains one of the most technically superb surgeons with whom I have thus far had the privilege of operating, and his advice is applicable to so many aspects of life, including cycling.
I have personally suffered from this situation, and to the reader, please mentally acknowledge if this has not happened to you already:
I am riding a new route that is longer than what I am used to, and by the end of the ride, I am feeling fatigued. However, over the next week the ride gets easier and easier. until the 8th or 9th day and I feel like I have hit a plateau. From there on out, it feels like the same ride every day, some days feeling stronger, and other days feeling weaker. This continues until I switch up the route again, and the whole process repeats itself.
So what do my buddy's aphorism and this situation have to do with each other? It's the notion that commuting to work, while an excellent form of exercise, is not necessarily a consistent form of training. Sam Shaw wrote a good piece on this topic, 'Riding your bike and training are two different things.' The title of the article pretty much says it all, and Sam goes on to describe his thoughts on riding with a 'specific focus' of training in mind and sticking to that plan unwavering.
I do acknowledge that not all bike commuters are trying to train. But I have yet to meet a bike commuter who didn't want the commute to get easier, faster, and stronger feeling. Some people will make their ride easier by getting an electric bike for commuting, but others will embrace the training. While I am a big proponent of technology, I feel that as a society, we have become ever more reliant on technology to improve our lives… I suppose rightly so, given that were it not for our advancements, we might never have made it out of the Stone Age. But the spark of these advancements was our desire to improve, an energy that came from within, a will for self improvement.
So how can we improve ourselves in the bike commuting department?
1. As the scenario (italicized) above illustrates, something as simple as switching up your route every so often not only freshens up things mentally, it can also freshen the activity of the muscle groups firing during your commute. Granted, depending on where you commute, changing the route might make zero difference in terms of the number of hills you encounter, the number of traffic stops etc. etc.
2. Interval training has become a popular concept, and its use is illustrated in the 'Cross Fit' craze. Interval training can be incorporated into your daily commute, as long as it is safe!!! Part of the difficulty in training during your bike commute is that often the tempo and rhythm of the ride is punctuated by the fickleness of traffic lights. But if you have the luxury of a stretch of safe road and have warmed up, you can try an 'on' 'off' interval scheme, e.g. 90 second high intensity sprint, 30 seconds low intensity pedaling, for 4 sets, or as long and as safe as the stretch of road will allow. Adjust the intervals based on your own level of comfort, but as a general rule, start with something doable.  
3. Personally, I keep my bike commute a bike commute and focus on getting to my destination quickly, efficiently, and above all, safely. However, I do train off the bicycle in the form of circuit training using free-weights. Here is my routine most recently.
a. Monday and Thursday (total training time 30 minutes each of those days)
i. Squats, 10 reps, low weight
ii. 10 crunches, 10 leg lifts
iii. Bent over rows, 8 reps
iv. Powerclean and standing military press, 4 reps
v. Squats, 5 reps, higher weight
vi. Same
vii. Same
viii. Same
ix. Squats, 2 reps, max weight
x. Same
xi. Same
xii. Same
xiii. Squat jumps (6 reps, 4 sets, low weight, 30 second rest in between sets)
xiv. Same
xv. Same
xvi. Same
b. Tuesday and Friday (total exercise time 30 minutes)
i. Bench press, 10 reps
ii. 10 crunches, 10 leg lifts
iii. Weighted, pronated pull ups, 20 reps, low weight
iv. Bench press, 6 reps
v. Same
vi. Weighted, pronated pull ups, 8 reps, high weight
vii. Bench press, 2 reps
viii. Same
ix. Weighted, pronated pull ups, 8 reps, high weight
x. Bench press, 10-12 reps
xi. Same
xii. Non weighted, pronated pull ups, about 10 reps.
A few notes: I choose to lift alone without a spotter (saves me time). Therefore, the weight and rep count I choose is such that I go to failure threshold; that is, my last rep of any given set is the one such that any other rep done after that would probably not be possible for me to lift. I have developed this sense of my limits and currently "max out" my bench press and squat weight each at 215lbs (For reference, I currently weigh 165lbs)
You might ask what military press, pull ups, and bench press have anything to do with cycling, a very valid question. First of all, my routine incorporates the standard 'power lifts,' namely squat, bench, and dead lift (powerclean includes a dead lift). The addition of pull ups and military press helps activate some of the antagonistic muscle groups. The end focus: core. A strong core means an all-in-all stronger more resilient person. Added benefits with core strengthening pertinent to cyclists include balance and stability, among other benefits, and the geeks at Harvard agree.
The key is that whatever strength training, interval training etc. that you do, KEEP IT CONSISTENT, BUT DON'T KEEP IT THE SAME. Overall, with this supplemental training for the past 6 months, I have definitely noticed that my commute has become even easier than before. But I feel that I may be due for a change…
As with any physical activity, consult  your personal physician before embarking on a new routine.
Please post with your own training routines, or if you feel that training is bogus and a waste of time, let us know your opinion as to why.
Do good and ride well.