(Last Updated On: August 9, 2022)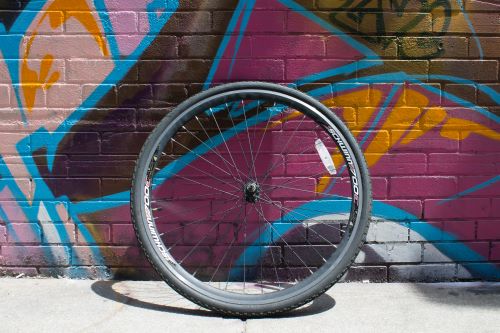 Cycling to work is good for both your health and the environment. It's a great way to exercise and can help you shed the pounds and boost your mental wellbeing, and whilst you are getting fitter and healthier, you are also reducing your carbon footprint. Although bicycle production does have an impact on CO2 emissions, riding your bike to work is still a better option than driving a car or taking public transport.
Avoiding public transport in these current times is probably sensible due to the sharp rise in COVID-19 numbers, so if you are still having to head into the workplace each day and you are not cycling in already, you may want to consider this as an option. You will save yourself time and money and you are taking that extra precaution to stop the spread of coronavirus.
If you have been cycle commuting daily, you will know how tough it can be on your bike and especially the tires, which is why it is important to upgrade to commuter bike tires. Depending on the route you take, there can be sharp pieces of debris on the roads like bits of broken glass which can puncture your tires. Switching to commuter bike tires is beneficial as they are made specifically with higher volume to endure the uneven roads encountered on the daily commute and have increased puncture protection compared to standard road tires.
To find out which are the top commuter bike tires that you should consider upgrading to that offer grip and low rolling resistance on your commute, keep reading as we discuss five of the very best.
Our Favorite Commuter Bike Tires
The Continental GatorSkin tires are well-made and instantly minimize flats by using the latest bespoke technologies. Thanks to the PolyX Breaker technology, the tires are pretty tough and offer enhanced puncture resistance which means they can withstand any weather conditions and bits of sharp debris on the road. They also use a Duraskin sidewall protection which is an anti-cut fabric that is built in to prevent cuts.
The widths vary from 23mm and 25mm and with their low rolling resistance, these make the GatorSkins go-to tires for commuting. They are durable and reliable tires and are comfortable for commutes. Although they are thinner compared to others, they do offer more grip even with less tread, and because of this, they are pretty quiet tires.
These Continental tires will make your commute feel a lot faster and smoother, and change how you ride. They absorb the street's rough surfaces, so you don't feel the vibrations as much. For a reasonable price, you end up with durable, tough tires.
For durable tires that roll effortlessly with great acceleration and excellent grip around corners, the Kwest tires are ideal for city cycling. Underneath the smooth tread design is a layer of aramid and ceramic particles, which help prevent the tires from getting punctures. This is ideal as it means you are less likely to have to either repair a puncture on the side of the road or having to purchase new tires. With this lowered risk you are more likely to get to work on time.
In the ever-changing climate, you are going to want tires that can deal with all weather conditions, from rain to shine. The Kwest tires are perfect in wet conditions as they have deep water grooves that help channel any water, this lessens the risk of aquaplaning increasing the safety of the rider.
As the tires are much narrower, the need to turn the wheels is reduced. The Kenda K193 tires allow you to go a lot faster and make going uphill a lot easier. These tires are extremely durable and affordable for the price, which makes them a great choice for commuter bike tires.
Continental Ride Tour Replacement tires are versatile and offer excellent reliability. They are not just a good tire for commuting, but they can also great for leisure cycling. So if you go for a weekend bike ride, these are perfect for you. The tread is extremely durable and the rolling resistance is low, which gives excellent straight-line speed. This combined with the ample traction that the edges offer means that in wet conditions or on a dirt track you know that you will have a good grip.
These tires have a puncture-resistant belt which assists in the reduction of the rider getting a flat. The tread is also versatile enough to work on asphalt and dirt roads, so whatever surface you are riding on you know that these tires are capable of giving a strong performance. This ability to function well on different surfaces means that these tires are highly recommended.
Available in a wide range of sizes from 12" to 27" you will be able to find a set of Continental Ride Tour Replacement tires that will fit your bike easily. If you're looking for affordable tires to make your commute easier, you can't go wrong with Continental.
The Serfas Drifter is one of the most popular commuter bike tires because it gives you the best of both worlds. Whether you are looking to ride on pavement or gravel this tire will function perfectly whatever surface you're riding on and offers excellent levels of traction. The Serfas Drifter Tire is a perfect choice for a range of different bikes, from mountain bikes to hybrid comfort bikes.
The smart inverted tread on these tires means that the rolling resistance is low which gives you a much smoother ride and high levels of grip. The Serfas Drifter is made from multiple compounds of rubber. They also contain woven Balistic Nylon, which creates an extremely strong shield between you and the road. This makes the tire very durable and gives an enhanced performance.
The Drifter is among the best value for money tires that you can buy due to their ability to work well in a range of areas. If you need a great all-round tire that will make your ride comfortable, you should consider the Serfas Drifter tire.
The main focus of the Continental Contact Plus tire is the durability that it offers. Manufactured from rugged rubber along with the reinforced sidewalls of the tire, when you use these you know that you are going to get a long-lasting tire. This combined with the low rolling resistance means that the rider is unlikely to encounter any premature wear.
Another benefit of these tires is the SafetyPlus Breaker and the sidewalls of them are reflective, so that passing motorists will be able to see you better should you be cycling in lower lighting. The Contact Plus tires are also compatible with e-bikes, meeting their high-speed demands.
If you are looking for a tire that is suitable for all types of touring bike, you can't go wrong with the Contact Plus. Its tread pattern is well balanced and will have you riding effortlessly down roads and paths alike. Should you be unlucky enough to get caught in a rainstorm the tread also helps to clear standing water, so you know that you will still get a good level of performance whatever the weather throws at you.
How To Change A Commuter Bike Tire
While getting a high quality tire will reduce the chances of getting a flat, chances are you will eventually need to change it. Here is a great video that shows how to change a bike tire:
Conclusion
This post has looked at some of the best tire options that are available to cyclists who use their bikes to commute to and from work. Most of the commuter bike tires that we have mentioned are highly recommended as they don't just offer excellent performance on the road, but they also function equally as well on other surfaces. This means that should you want to take your bike on a dirt path you can be assured that these tires discussed will offer the grip and durability that you require to match all your cycling needs.
If you are the kind of cyclist who is going to be using your bike in different situations, the durability of the Continental Contact Plus Bike Tire is probably a good place to start, but all the tires mentioned offer very good durability.
All of the tires mentioned offer an extremely good grip on the road, which is essential for the commuter. Having tires that have enhanced puncture protection is also a must, as the last thing that you would want is to get a puncture at an inconvenient time. All five tires offer this, so you can't go wrong.
It is also important to look into the wet weather performance of the tires, as you don't know when you will get caught up in a downpour. The Kenda K193 Kwest Bike Tire is one of the best tires to use if you are more likely to be cycling in temperamental conditions due to its ability to quickly siphon away any surface water.
So if you are considering upgrading your bike tires for something that will improve your commute and make it that much easier, we hope that this post has helped you in narrowing down your choice.