(Last Updated On: October 17, 2022)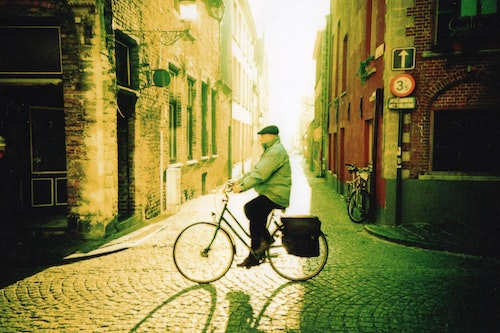 If you are a senior ready to get out on the open road, then you need a bike ready to work for you. Biking has a ton of benefits such as improving your mood, great physical activity, they are good for the environment, and safer with more and more places providing bike trails. Seniors have different needs than the average biker though
Step-thru bikes make an excellent option and improve your safety. Electric bikes provide an incredible option too, as they can do the work for you when you want, like on hills. Another great option is the adult tricycle, ready to provide storage space too, and stability.
We found all the seven best options available to help you get moving with comfort and support. Mind you, the current economic situation has reduced shopping options, including bikes, and some of the options may not ship quickly. However, they offer less maintenance, easy to get into bikes ready to improve your retirement. Stay on after to learn some valuable information about bikes and get answers to your questions too.
Our Favorite Bikes for Seniors
The first bike we love with a passion is the RadCity Step-Thru 3 because it's everything you want from an electric bike. It's also a winner of the EBR Choice Product award for the best city and affordable ebike. Moreover, it's powered so you can choose who powers the bike, you, or the battery.
It comes with a 750-watt direct-drive hub motor that can go up to 45 miles distance per charger. A 48 volt ah lithium-ion rechargeable battery charges in just a few hours to get you going. Also, the bike can support 275 pounds making it a sturdy bike.
As for the basics, the bike comes in one size and in two colors – black or white. The bike includes a rack in the back to provide a storage space too. Front light and rear reflectors keep you visible on the road. Also, a screen on the front keeps you up to date on your bikes stats.
What you will really love about this mid-price-range bike is the puncture-resistant tires, seven speeds, reflective sidewall stripping, integrated brake light, and twist gear throttle. Furthermore, the bike offers a step-through frame, so you don't have to swing your legs over a high frame. It even comes with an intelligent 5 level pedal assist in helping you when you want. It's time to get active with the incredible RadCity bike.
If you want a traditional bike, try the Loft 7i Step-Thru by Trek because it offers a step-thru with a vintage feel ready to entice anyone drive. You will fall in love with the style of the bike with leather accessories, a simple frame, and wider wheels; the bike is essentially a work of art. You can even choose between three colors, including blue, green, and brown.
A few key features include a shock-absorbing comfort seat, a foot-forward upright riding position, and it's customizable. It's the perfect lightweight commuter bike ready to keep you company around town. It even comes with flat foot technology with two patents to improve comfort and control with an upright, relaxed seating position with proper leg extension. This keeps your legs and back from hurting as you can plant your feet on the ground whenever you need.
Next, the bike includes an internal gear system to keep all the gears from rusting with bad weather. They also provide more gear ratios so you can have more options. Moreover, it makes the bike low-maintenance, easy-to-use, and means you can change the gears without pedaling or even standing still!!!
Finally, the bike comes with standard 700c wheels and all Shimano parts to create a high-quality bike you will love. Add in a basket and a bell for a truly joyful experience. No other bike offers unique features like support, comfort, and style like this high-end bike with an affordable price tag.
Trek makes many wonderful bikes like the Verve+ 3 Lowstep electric bike ready to get you on the road with ease. First, the bike comes in a festive teal color or black and a modern style with a low step-thru to make getting on the bike easy. Second, it's a hybrid bike perfect for cruising, commuting, and working out.
The bike comes with a Bosch pedal-assist system that's both powerful and reliable. Moreover, the battery is fully encased in the frame to protect it from the weather and create better balance. Even better, you don't need any tools to remove the battery to charge it or replace it. More importantly, the bike makes comfort and safety a priority with a suspension seat post, wide tires for stability, and lights in the front and the rear.
While the price is high, you get a bike that will keep you stable and safe. It's the bike to choose if you want to have fun on every ride without worrying about logistics as it's so user friendly. You can go farther at the speed you are comfortable with using all the right gear. The bike can go up to 20 miles per hour – or less depending on where you are comfortable – and comes with a 9-speed Shimano drivetrain, hydraulic brakes, and more.
It's weatherproof and can even stop in the rain if you are gutsy enough to bike in the rain. Moreover, it comes with ergonomic grips, lights in the front and back, a rack for storage, and fenders. Get the adventure you are looking for with suspension and a 250-watt motor ready to go without the danger. Make sure to keep track of all your states on the easy to read screen on the handles.
If you like the Trek Verve 3 above but want a traditional bike, look no further than the Verve 3 Disc Lowstep. The bike isn't electric and is instead an easy-riding hybrid bike made for comfort on streets and paths. It offers a step-through frame making it easy to get on the bike, so you can worry about moving, not logistics.
Next, the bike offers the highest-end parts with puncture-resistant tires, vibration-reducing handlebars and grips, and a comfortable padded seat for the best ride available. You can even pick from a feisty purple or subdued gray to get the exact bike you want. However, the focus is on comfort so you can ride longer farther. You can use the bike for commuting of fitness or just for roaming the streets for leisure.
The bike offers everything you need including a lightweight, sturdy aluminum frame with mounts for a rack and fender. It comes with puncture-resistant tires for comfort and stability, along with suspension on the seat post and handlebars designed to absorb bumps. A wide-range Shimano 18-speed drivetrain and powerful disc brakes help the bike to perform well in any weather.
While the bike is built for comfort, it's also built to last with a lifetime warranty and top quality parts. You can customize the bike to your specifications, but the real reason you will love the bike is the low-step geometry so you can stand with ease whenever you need. Also, all the cables are internal; however, the gears are not, which is the only reason this incredible bike is lower on our list as this could mean a little more maintenance. It's a great option for taller individuals too!
Women seniors should check out the Cyrusher XF200 City Electric Bike as it's made with ladies in mind with step-thru for easy on and off. The price is reasonable at the mid-range point, and you get tons of wonderful benefits for the money. Furthermore, the bike comes in four colors, ready to meet almost anyone's style.
Enjoy adjustable seats and handle, a mounted rack, lights on the front and back, fenders, and a sleek, beautiful frame. The smart bike also includes an integrated controls with a large LCD screen to give you all the stats for your bike. It also comes with a high-speed motor with 48 volt and 500-watt motor ready to go up to 26 miles per hour.
You can also benefit from rear and front gear transmission and all Shimano parts ready to provide a smart ride. Moreover, the bike comes with a double suspension seat with an extra-large and ergonomic design. Safety is the priority with tons of added features like charging your phone while riding!
Finally, the bike is lightweight and comes with tires wide enough to provide support. The tires can work on many terrains making this good for cruising, commuting, exercising, and light terrain. Mind you, you cannot use this bike for trails, and the quality isn't quite up to the same standard as the other electric bikes above, but it does offer a good option perfect for women.
Cyrusher XF650 Hardtail Moutain Ebike 750W Motor 48V 16Ah Integrated Battery Chaoyang All Terrain Fat Tires Electric Bike for Adults Shimano 7-Speed Front Fork Suspension Smart Display (XF650,Red)
[Powerful Rear Hub Motor] — Our Entry Level XF650 Fat Tire Electric Bike Series includes the reliable, updated, high-performance brushless motor. Delivering 750W LKS Motor of nominal power and 80 N.m of torque, with maximum speed of 26+mph, while still providing low end torque to take off quickly and climb moderate hills. Strong power, high efficiency quieter, lighter, smoother
[Stable and Stronger Frame] — Updated 6061 Aluminum Frame to give the bike unparalleled durability, High Step but in lower frame is more friendly to women or seniors less flexible. An Ideal Gift for somebody
[48V 16Ah Battery] — Made of premium L.G 18650 cells, which are renowned for their long lifespans and excellent performance. Covering a range of 30-48+ miles per full charge, will maintain 80% capacity after 1000 charges. Features a keyed lock for extra security and is fully removable for charging and storage off the bike
[Speed and Range] — Max Speed: 26+MPH by PAS | 20 MPH by throttle----Range: 30 to 50+ Mile by PAS | 35+ Mile by Throttle (Depending on the rider's weight and road conditions. etc)
[Brand Advantages] — Cyrusher is a strong team of 50+ employees. We are committed to manufacturing professional eletric bikes and future motor vehicles and updating our product. Our bikes are international quality tested and comply with CE, UL, Rhos, and FCC standards. Selling by factory directly. Cyrusher is definitely committed and well-positioned to meet our customers' needs now and in the future
Although not the typical option for a bike, the VANELL Adult Tricycle offers a unique set of benefits you cannot find on a traditional bike. First, this bike offers a seat with a back, which is great for those with back issues, along with step-thru for easy on and off. Second, the bike has three whiles that automatically provides more stability and support. Third, you can pick from a ton of colors and enjoy an excessively large built-in storage basket.
While the bike isn't an electric bike, it does come with seven speeds that can help you to go up hills with a little more ease. Also, the bike offers a retro style sure to appeal to many people, all for a very reasonable price. The bike even comes with a few accessories like a bottle holder and tools.
However, the bike is lower on our list because it requires assembly, but you can find instructions for assembly online in video format. The comfortable design is low maintenance with the ability to hold up to 350 pounds, which is far more than the average bike. Also, everything is adjustable, including the quick release seat, swept-back handlebars, and the basket, all with high-quality parts ready to help you get around town.
No products found.
Buying Guide for Bikes for Seniors
Take a look at some key features to look for in a bike for seniors to get the most for your money. Make sure to read the question section below too.
Step-Thru Frame
One of the most difficult aspects of standard bikes for seniors is they come with high frames you need to straddle. The best and most important feature in a bike for seniors is a bike you can easily get on and off with a step-thru frame. This allows you to stand up when needed for better balance.
Comfortable Seat
Make sure to look for a bike with a seat with quality features. Your seat should offer comfort, shock absorption, and an ergonomic design. If, however, you don't like the seat but love everything else about the bike, you can easily find upgraded seats ready to improve your ride. Just make sure to pick a seat that will keep your upright for better posture and less back pain.
Safety
The best bikes for seniors ofter stability and support for safety. This is another reason for the step-thru frame. Make sure you can put your feet on the floor, and the bike fits you well, too, with a sturdy but lightweight feel for the best benefits. Also, a low-maintenance bike can help prevent injury with less manual effort needed.
Questions About Bikes for Seniors
Is biking good for seniors?
Absolutely, the more active you keep your body, the healthier you will be and feel. As long as you practice proper safety and are considerate of your body, biking can improve your overall health. More importantly, biking can promote a healthy mood and mindset, which can definitely help you feel good.
Do I really need a step-thru frame instead of a traditional frame?
Only you know your body, but the truth is, as people age, their bodies function less, and your hips may betray you. A step-thru offers a vintage style that's catching to the eye and helps to prevent issues for aging backs, hips, legs, knees, and ankles. More importantly, it helps you to keep your feet on the ground when not actively riding, which also helps to keep you safe and stable.
What speed should I try to achieve?
Most young adults try to achieve speeds of 10 to 20 miles per hour, but for seniors with lower activity levels, do not try to push yourself over 6 to 9 miles per hour. If you want to go faster speeds, definitely consider one of the electric bikes above.
How to start biking as a senior?
Regardless of what you may think, you can start bicycling at any age. Here are some tips for riders that are getting started over the age of 50:
Final Thoughts About Bikes for Seniors
A bike is a fantastic way to enjoy life and add some leisurely activity. The best option for seniors is an electric bike that can do some of the work for them like the RadCity Step-Thru 3 Electric Commuter Bike. It offers a step-thru frame, comfort seat with suspension, and a sturdy design ready to make integrating biking into your life easy, fun, and affordable!