(Last Updated On: September 8, 2022)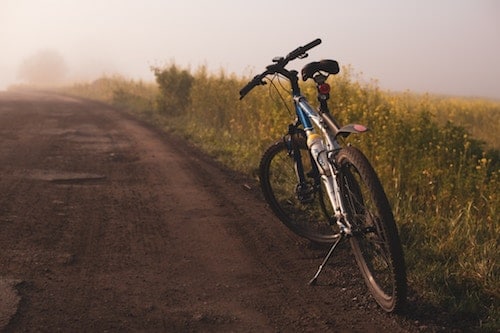 Hybrid bikes are popular, and there is a good reason: they're incredibly functional. In theory, a hybrid should be able to tackle any kind of environment with ease. Whether you're looking to commute on the roads or go off-road, the best hybrid bikes handle them all. Of course, the cost is off-putting; not everyone can afford to spend a thousand bucks on a bicycle.
That's where this post comes in handy. Here, you can find out all you need to know about the most popular bikes under $500 that are on the market right now. If you're looking to tell whether a hybrid is a dud or a stud, then you've come to the right place.
Let's get started.
Why Do You Need One?
Hybrid bikes provide a plethora of advantages to casual and more committed riders. The most prominent feature that buyers love is the fact it is multi-purpose. The handlebars are upright, similar to a common bike, but they have a large, padded seat and thicker tires. As a result, a hybrid is just as at home on a bumpy, muddy bike path as it is on asphalt. So, getting around is straightforward, which often saves people time, money, and energy, three resources we could all do to protect!
It's also perfect for people who aren't fully passionate about biking, but who want to dip their toe in the water. A road bike is faster, a mountain bike is better off-road, yet a hybrid does both well enough to encourage you to cycle and go on routes you wouldn't usually. There are two benefits to this: exercise and the environment.
Cycling is an excellent form of exercise and a fantastic way to stay fit and healthy. With a hybrid, there is no excuse to take the car because your bike can go anywhere and do it as quickly. Of course, leaving the car on the drive is a neat way to reduce your CO2 emissions and save the planet.
The Importance Of A Quality Hybrid
What the above doesn't mean is that you should go out and buy the first hybrid that catches your eye. Yes, they are great additions to your lifestyle, but only when you choose correctly. Without a decent hybrid, you won't be able to ride on the road or off it as effectively. And, if it becomes stressful, then you'll stop cycling altogether. Inevitably, your wellbeing will take a hit, as will your bank account – driving less means spending less on fuel and parking.
With that in mind, let's turn our focus to the best hybrid bikes on the market for the money.
Our Favorite Hybrid Bikes Under $500
Schwinn is one of the most famous names in cycling, so it's not a surprise to see the Discover make this list. In fact, this isn't the only product from the manufacturer that you will read about in this post, such is their expertise. Schwinn aims to produce bikes that make cycling easier for their customers, and they have hit their goal with the Discover. To start with, it doesn't look like anything out of the ordinary – the aluminum frame and anatomic grips are pretty standard. However, the quality of the manufacturing means it's very pretty and easy on the eye.
The real Easter eggs appear when you look under the hood. It has 21-speed SRAM grip shifters, and a Shimano rear derailleur, as well as alloy twist shifters and four-finger brake levers. What does this mean? The answer is simple – it's excellent at tackling terrain that would faze a standard road bike. To get up a big hill, for instance, you only need to shift between the various gears and pedal accordingly.
However, Schwinn doesn't sacrifice comfort with the Discover, thanks to the suspension fork and alloy crank. But, it's the adjustable stem that adds the most comfort as it uses handlebars that sweep back to provide a more stable and less comfy ride.
2. Sixthreezero Reach Your Destination Men's Hybrid Bike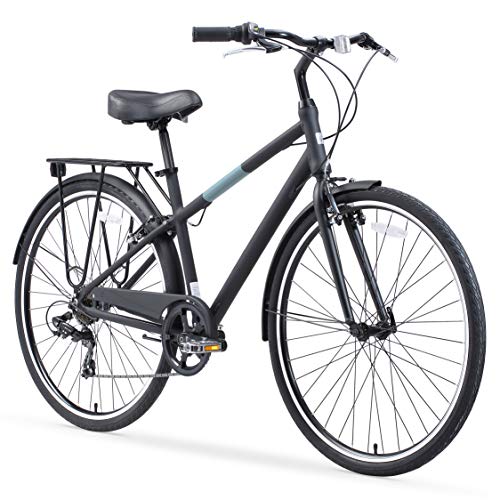 Do you want comfort among everything else? Then the Sixthreezero 'Reach Your Destination' hybrid bike is the bicycle for you as all its features are fitted with comfort in mind. As soon as you see it, you will notice the slimline frame that is incredibly sleek. That's because the ergonomic, aluminum frame is made to be lightweight, as well as to offer easy entry. Even getting on the saddle is straightforward and comfortable! The handlebars are excellent from a comfort perspective as they encourage riders to sit upright and avoid putting too much pressure on the lower back. That's the case whether you're cruising along or trying to get to work on time.
The Sixthreezero takes the small details seriously, too, which is great because the little things can make the biggest difference. Probably the best example is the space leftover on the back of the bike – the rack allows for additional baskets and panniers, both of which let the rider carry bulky items and accessories. Although there are features for all types of cycling, there is no doubt it is more style over substance; the brakes are handbrakes and not discs, and the gear shifter is only a 7-speed.
Still, if you want to look and feel good on your ride to work or the store, and that's what lots of people expect from a hybrid, then this is the bike to buy.
The Raleigh Detour 2 is certainly eye-catching. Once you see it, you can ignore the rather space-like design of the frame – it's called a True Comfort frame, and it dips in the middle for accessibility purposes. And, while you might not think it's the best-looking bicycle on the list, you can't argue with the comfort, which is good because the word is in the name!
The grips and saddle are comfy while encouraging riders to sit upright for the sake of their posture during long rides. There is also a lot of emphasis put on efficiency. As a result, the tires are narrower and thinner than most hybrids, yet the rims are larger. According to Raleigh, this allows their customers to cycle longer without sacrificing time or comfort. The fact it is lightweight does add to their claim.
Raleigh might be right about, but they aren't telling the whole truth when it comes to the Detour 2. After all, it's not a true hybrid bike as the ergonomic features aren't designed to perform effectively once it leaves the roads. But, if you like to sprint into the office or town, and you want to enjoy your journey, the Raleigh Detour 2 might offer the quickest and most fun ride.
No products found.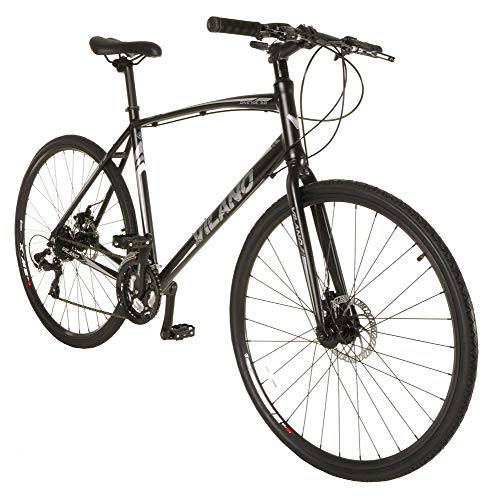 Vilano is making a name for itself in the industry, and Diverse collection is undoubtedly the reason why. Seemingly like the majority of hybrids nowadays, it's made primarily for the road and urban environments rather than true off-road use. But, that's not to say it doesn't have any bite or grit and determination. The tires are Kenda Kwick Trax paired with double-wall alloys, making them larger than a typical road bike. As a result, the Vilano will fly through muddy, park tracks, or up a sizeable hill.
Plus, there is a lot of control for the rider due to the disc brakes and hydroformed alloy frame. So, there is no need to fret about picking up speed and not being able to stop. The combination of sensitive brakes and durable frame will keep you safe and secure. In an urban landscape, the Vilano comes into its own as the Shimano Tourney derailleurs and EF integrated shifters let you go through the gears with ease.
Although it might not be able to handle the rigors of real off-roading, the Diverse is well put together and holds up in most environments. Therefore, there's no doubt it a top hybrid bike for the money.
Kent Springdale doesn't try and hide the fact that this hybrid is made for comfortable journeys and average commutes. But, that doesn't mean it isn't a well-liked bike without any bells and whistles. To begin with, it has a beautiful and very stylish minimal design. The brown saddle contrasts nicely against the all-black frame.
However, to say it is prettier than it is functional would be a lie. Although the frame is sturdy and robust, it's not uncomfortable. The ride itself is accessible as it handles very well and is responsive when you turn the handlebars. This is, in part, down to the 60mm front suspension fork that helps the bike perform on a variety of surfaces. Aside from looks and comfort, you should be able to deal with low to medium difficulty terrain as it is a 21-speed. The pull brakes don't provide the most control, yet they are quite responsive.
All in all, the Kent Springdale is a perfectly acceptable hybrid for anyone who wants an economical product. It isn't exceptional and it isn't poor, either – it's good for what it offers.
No products found.
The Wayfarer is certainly not as useful in as many situations as the Siro or Discover. Essentially, it's Schwinn's leisurely model that is made for people who don't want a half-and-half mix of road and mountain biking. This is more of a road bike. But, because it's Schwinn, it gets the same star treatment as any other make or model it releases.
That means there is a combo of practical and ergonomic features. For example, the brakes aren't the disc variety, yet the pull brakes are as crisp and responsive as you would imagine. The fact the Wayfarer uses 700c/28″ wheels means it's quite good at offering stability and control to its riders, too. What sets this Schwinn out from its brothers and sisters is the attention to detail for urban riding. While you might not be going off-road, that doesn't mean you can't get dirty or muddy. However, the full-wrap fenders help to keep you and the bike clean regardless of the weather or conditions.
The Wayfarer is undoubtedly one of the more stylish models in Schwinn's collection. Utilizing a minimalist design, the simplicity is contrasted by the glossy, vivid colors. You might not get the same performance out of this bike from a hybrid perspective, yet you will find city-riding far less hassle.
The GTX is about as multi-purpose as it gets regarding hybrids. Whether you want to cruise with friends or commute to the office, the GTX offers a comfortable and efficient ride. But, where is differs from other bikes is that you can use this model for sports. If you cycle or cardio or like to go on long journeys on uneven surfaces, this 21-speed won't let you down. The tires help in this respect as the narrowness and extra treads reduce the risk of skidding, slipping, or punctures. Schwinn uses puncture-resistant technology to prevent the latter.
Plus, you get customized features that are designed for comfort and long-lasting without the hassle of putting it together. Yes, that's right – it comes pre-assembled!
How To Choose A Hybrid Bike
Picking out a hybrid bike is no easy task. With a wide variety of styles that land anywhere in between road and mountain bikes, the options can seem endless. This Video by Trek should help make your decision easier:
Which hybrid bike will you choose with your $500?