(Last Updated On: September 5, 2022)
Here's one from our friends at Express Solicitors, a UK-based law firm. It's geared toward someone "on the fence" about starting to bike commute: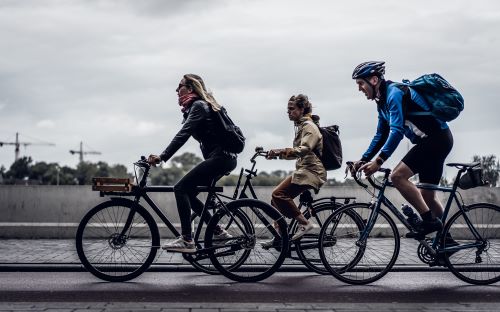 Getting to and from work is always a topic is in the news. Not only are there various options, there's also debates over which is the best way to do it. While the majority of people will probably stick with their cars and swear blind that they're superior, the cycling scene is actually gaining continuous popularity. According to Express Solicitors' new infographic, since 2003 over three quarters of a million more people in the UK have decide to get out their bikes and cycle their way to work. That is a dramatic and impressive increase in people altering their normal routine for an apparently faster, healthier and cheaper way to work.

Although the health benefits are widely known by many, there are numerous other reasons for people to opt for a bike instead of their car. For example, the costs of travelling using this mode of transport are a lot cheaper in comparison. Not only do you save on the cost of the commute, but you also save on the cost of owning and using your car in general – you could roughly save up to $1350 ( £900) per year, especially if you opt for a budget commuter bike. Moreover, if you decided to get rid of the car completely and just rely on your bike, you could save a further $8950 ( £6,000) per year! In such times of financial struggle, those numbers really can't be easily ignored.

The infographic also makes a point of reinforcing just how helpful cycling to work is in regards to the environment and your carbon footprint. The example used to really set it into perspective is a daily bike ride: a daily ride that adds up to over 12 miles worth of travel could save nearly 'one stone' of pollution. This is a very surprising amount when you consider just how much green topics are discussed and addressed on a daily basis. Moreover, there is arguably no doubt that knowing you're helping look after the planet is a wonderful feeling every time you travel to and from work.

There are so many more benefits if you choose a bike over your car for work, so why not take a look at the infographic for even more powerful and surprising percentages to help give you that added boost for dusting off your bicycle.
Tools like this may just help undecided would-be commuters to give that bicycle a try. What do you think?