(Last Updated On: August 29, 2022)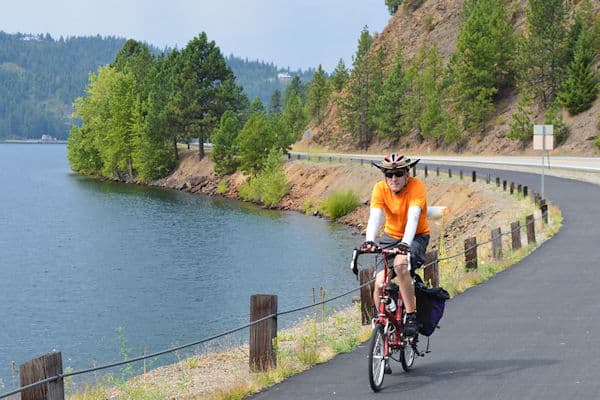 Note: We're pleased to offer an intro to Bruce Wright, one of the leading advocates for better bicycling facilities, policies, and education in the greater Washington, D.C. area (and specifically Fairfax County, VA). Bruce's advocacy work on the board of WABA and as chairman of FABB is very nearly a full-time job at this point, so we appreciate him taking the time to answer some questions for us!
How long have you been a bike commuter?
I started commuting by bike on a regular basis in 1979 and have been doing so almost daily since then (34 years).
Why did you start riding your bike to work and how long is/was your commute?
There were several reasons why I started to bike to work. I understood the health, economic, and environmental benefits of biking and since I had a short, 3 mile commute, I decided to bike instead of buying a second car and driving. I could commute by bus when necessary, which was very rare, maybe 3 or 4 times a year.
How does Bike Commuting help you with your lifestyle (economics, health, relationships)?
Since I retired from working full time my bike commuting to work has transformed to using a bike for almost all other local trips. I'm 64 years old and have been able to maintain the same weight as when I was in high school. I take no prescription drugs other than for minor medical procedures and usually only visit the doctor once a year for a physical. I think I'm a happier, more well-adjusted person because I get regular exercise by riding. My wife and I enjoy riding together as well. One caveat; I now use sunscreen whenever I go outside. Bike commuters are exposed to the sun more than others and we need to protect ourselves from the harmful effects of UV rays.
What do you do for a living and in what city/town do you bike commute?
When I worked full time I was a geographer with the U.S. Geological Survey in Reston, VA. Since I left the Survey in 1999 I've worked part time in several different jobs: as a legislative aide to a local politician, as a bike shop employee (at bikes@vienna), as a bicycle skills teacher, and now as the head of a local bicycle advocacy non-profit (volunteer). I've made a conscious decision to work in places where I can easily bike.
What kind(s) of bike do you have?
Lately I've been mostly using a Brompton folding bike. It has six gears, fenders and a rack and a front carrier block that holds a large bag. The bike is great for taking on Metrorail and bus and is a fun way to get around. For longer commutes or trips where I need to haul more stuff I use a Bruce Gordon touring bike outfitted with fenders, front (occasionally) and rear rack, and large panniers. I used that bike to travel cross country in 1999. I also own a recumbent tandem that I ride with my wife, an inexpensive beater bike for parking at Metro, and a short wheelbase recumbent that doesn't get much use these days.
Any funny or interesting commuting story that you may want to share?
I've helped many motorists who have car problems. When traveling on a bike it's harder to pass by someone in need.
What do people (coworkers, friends) say when you tell them that you are a bike commuter?
Most people have never tried riding a bike to work so the concept is foreign to them. I tell them that it's easier than they think and that they should try it one day. It takes a little planning but most people can easily ride farther than they think. Bike to Work Day is a great time to encourage co-workers to try biking. I know many people who rode for the first time on Bike to Work Day and have continued to bike commute at least some of the time since then.
How about bicycling advocacy? Are you active in any local or regional advocacy groups?
I'm on the Board of Directors of the Washington Area Bicyclist Association and chair of their advocacy committee. I'm also one of the founders and now chairman of Fairfax Advocates for Better Bicycling (FABB), a local volunteer non-profit advocating for better bike conditions and policies in Fairfax County, VA. I'm also a member of the League of American Bicyclists and a League Cycling Instructor.
Anything else that you want to share with us?
The world would be a healthier, happier place if more people took short trips by bike.