(Last Updated On: September 7, 2022)
Happy Aloha Friday everybody!  Sometimes I make tiny mental lists of the tiny awesome things about bike commuting that I love including tips, hidden moments on the commute, commuter-specific nuances, and ultimate randomness.  Let's get all loosey-goosey and see what we can come up with.  P.S. – some of these things are shared from others, so be sure to comment and fill in yours too.  Let's roll out the red carpet for the little things we love about Bike Commuting: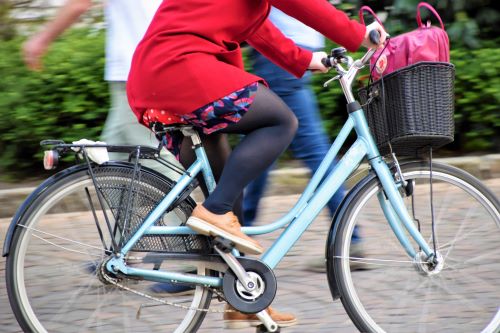 Front light/Front flip: One out of three of my commuter stallions has had the problem of anorexic handlebars!  What this means is that in ideal spot to mount my front light, the tube diameter is too small for thesmallest grippy-diameter of my Planet Bike Blaze front mount (even with piling up those rubber fillers).  The front light would tip forward after every big bump in the road, resulting in half my commute flashing a front-light strobe party pointing straight down at my tires!  So much for being seen!… Instinctively, each time Bumblebee and I rode over a lumpy-hump, I would reach for the front light and prop it back up.  It wasn't until this past year that my co-worker spotted a neat trick on someone else's ride: flip the light upside down so gravity is on your side!  Now my front light hangs underneath the bars, and I never have to readjust after humps and bumps!  Yay! No more front light push-up like pointdexter adjusting my glasses.
Smell factor: This can be something good or something bad depending on where you are in your commute!  Two awesome smells I've been recording on my brain are ripe mangoes at Hotel and Maunakea St. and cinnamon rolls baking at the enormous warehouse-style bakery a block from my office!  I love the smell of my bike commute, better than the smell of the inside of the bus on a rainy day, or that weird Crayola smell in Volkswagen Jettas.  I'll take "fresh" bike air any day…
Helmet Basket:  No shame in this, a quick trip to the grocery store to grab the makings for a FlufferNutter – why grab a plastic shopping basket when you can use your helmet upside down! I do this all the time at the grocery!  I also use this trick while locking up: I clip the helmet so it hangs from my top tube, and toss the flat bar with key of my U-lock into the helmet as I thread the cable through my wheels and line everything up for the final lock down.  I love dual purpose of helmets: stores my brains and knowledge, or Fluff and U-locks!  Elizabeth has her own trick for carrying groceries home.
Nightride Karaoke Solo: Whenever I work late and am riding alone on the streets, I love to sing really embarrassing pop songs like Katy Perry's "Teenage Dream" out loud for no one to hear!  The streets are mine, and no one is around to give me the stink eye, so I enjoy it!
Left-Turn Signal Habit: I know I've posted this before to the  BikeCommuters.com facebook, but to any new readers who didn't catch it; you know you are a bike commuter when you left turn signal while walking back from lunch to your office.  NERD ALERT!  Another good one I heard from a reader is when you try to do a mirror check while walking in the hallway at the office.
Anyway guys, enjoy your Aloha Friday, Bike Commuters! Don't be ashamed of nerding out, enjoy those tiny moments on your ride home this weekend.  What other awesome randomness do you enjoy on your commute!? Share it in the comments box puh-leeze!