(Last Updated On: September 7, 2022)
This article was submitted by Miriam Gee, our homie over in Hawaii. You remember Miriam, don't you? Well, she's brought her brand of humor to bear on a topic of great interest to many of us: encouraging more women to join us as we ride our bikes to work. Take a look at Miriam's irreverent, yet eminently useful, advice:
All my Cycle Ladies, all my Cycle Ladies! Why is it that members of the better half of humanity are less likely to make commuter trips by bikes than those possessing Y chromosomes? Perhaps it is our aversion to tight-fitting clothing, getting a tan, and the hot pink bike jersey. (Whoops! Wrong kind of Jersey…) By politely barraging the inboxes of my female co-workers, family, and friends, I uncovered the three top reasons why (some) women (I know) in America might PUNK OUT of bike commuting! From Seattle, Honolulu, Sacramento, New York City, Washington D.C., San Francisco, Columbus, Vancouver B.C., and San Clemente: meet me at the mall… it's going DOWN.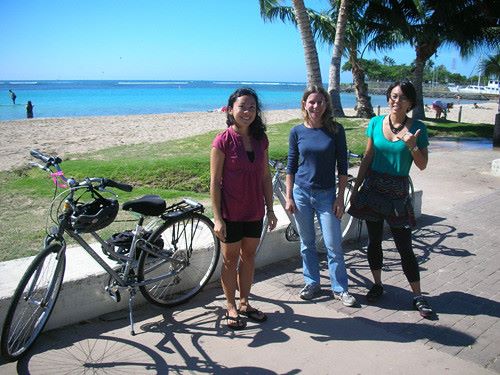 Armed with science, nonsense, and bribery, this post is inspired by Alan Snel's original Top Ten Bike Commuting Myths – BUSTED posted last year. Let's bust some mythical creatures.
1. Nasty Girl – stringy hair, red in the face, swampy crotch, changing clothes, pit stains, and all around fear of unlady-like stank. Seems that males and females alike both fear the ultimate sweaty walk of shame in the morning in front of your coworkers. Take this response from Emily S. in Columbus, OH: 'My office mates are too immature and the male officemates are too gross for me to ever consider allowing them to see me in sweaty riding apparel. Seriously, I don't even wear skinny jeans around these sickos.' But the bike commuter 'Nasty Girl' walk of shame can actually better your career and attract a mate! Consider this wonky logic: sweaty face, glowing skin, and pit stains are signs of a good work out and a healthy lifestyle! Why else would human anatomy continue to spray pheromones out of your armpits!? You will be considered the most fit, the most progressive, and the most fearless Cycle Lady commuter at your workplace when you arrive with a fanfare of glistening sweat and pheromone fireworks each morning!
Still unconvinced?
Solution: Witch Hazel. Mad shout out to Chad Taniguchi from HBL who hooked it up with this tip! Not everyone needs to shower after their bike commuter, just bring a change of clothes, some toiletries or baby wipes and you are ready to talk to corporate! eat a bagel! remember birthdays! promote synergy! Erase that swamp crotch like sham-WOW!
2. Scaredy Cat – low confidence on two wheels, intimidated by spandex warriors, don't know local bike safety rules or are afraid of riding in traffic. Take Cecile R. from San Luis Obispo, CA who may cop out of a ride cause sometimes she doesn't like 'competing with boy bikers and their man legs.' Ladies, bike commuters are not terrorists. If I can do it, anyone can ride a bike with confidence! I assure you, as I am the female equivalent of Greg from Diary of a Wimpy Kid or more accurately: Daria. After a couple of months on a budget commuter bike, I became as confident as any fourth grader on a bmx… Cycle Ladies can definitely hang with boy bikers, like this story from LGRAB. Don't be scurred, ride it and own the road like Shy Ronnie owns the mic.
Still need more?
Solution: Look online for 'Smart Cycling' classes offered by instructors approved by the League of American Bicyclists that teach how to ride your bike with skill and confidence. Ride with an experienced friend. Be predictable and be bold! You don't need testosterone or liquid confidence to ride…. bike commuting is fun, and so easy, any human being can do it!
3. Da Broke Phi Broke – no cash to buy a sweet bike, no cash for a tune up, and no cash for bike commuting essentials. Cash flow DOWN like the economy? Caela B. and Trixie C. are self-proclaimed members of Broke Phi Broke in Seattle, WA, don't own bikes and think they are too expensive. Wellwz, Cycle Ladies: things can't be that bad if you have money for a gym membership, gas, car registration, car payments, parking pass, bus pass, running shoes, or a commuter llama. Look, I'm no math expert; math and writing are my weaknesses, but somewhere in my Chinese genetics, I know that bike commuting is saving me loads of cash money vs. driving a car or taking a bus. While saving money on your bills, invest in that first bike and roll up feeling independent! With the bike, no more waiting for the bus, or waiting for parking, or waiting in traffic! Bike commuter freedom for less cash than a car. If we asked Ms. Beyonce, she'd tell em 'The bike I'm riding, I BOUGHT IT, cause I depend on me!'
Still super-broke beyond all reason?
Solution: Like Alan Snel says, borrow a bike. When I first showed up in town, I contacted the Hawaii Bicycling League and borrowed the director's beater mountain bike for free! Check on Craigslist for families moving out of town who need to clean out the garage, or ask friends for one to borrow. Last but not least, if you're uber broke and unemployed, with free time on your hands you can volunteer at local Bicycle Collective non-profits, where you can usually build a franken-bike out of donated parts and used bicycles. Voila, custom ride for zero dinero.
So, if this post and Alan Snel still doesn't convince you that bike commuting is too easy for all humans, perhaps you share opinions with some of my friends. Here are some of the most hilarious reasons not to bike from the survey:
1. Maybe I want to pick up a mocha latte on the way to work (don't judge me)
2. I don't prefer to shower and get ready at work…cuz you know Shorty's going to be sweating after an hour bike ride
3. Shitty tube-changing skills, backed up by no public transportation along the route I take to work = too many opportunities for my ass to get stranded in the boonies.
4. Bikes are banned from drive-thrus, and the only way I could really convince myself to ride into work would be the promise of a daily McGriddles fix. Too lazy to lock up the bike and walk into McD's. Need to roll and eat.
5. That is a big ass hill I'd have to climb (in my opinion) and I'm afraid of having a heart attack.
6. The only people that ride bikes are crackheads, and I don't want people to think I am a crackhead.
It's always baffled me why more men are willing to throw on some spandies and fancy footwear than women in the world of cycling and bike commuting. Hopefully this post will make you laugh, and realize that biking is easy and fun for women… Cycle Ladies represent!