(Last Updated On: September 8, 2022)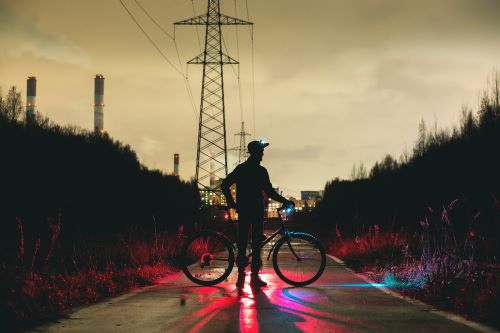 From a Darwinian standpoint, it may be that fear of the dark is an inherited trait, passed down since the beginning of time by those humans prudent and afraid enough of the dark to avoid being eaten by nocturnal predators.
There is definite wisdom in being wary of traveling in the dark. However, humans are able to learn and adapt, and riding in the dark is no exception. Having made some errors and sustained injuries during night riding, I have kept some strategies for riding at night that have helped me avoid major trouble thus far (knock on wood). These tips should help, but remember that riding in the dark isn't recommended for new bike commuters or beginner mountain bikers.
RL had posted an article a while back about riding at night  and below are the comments taken from that article. I have them summarized below:
Be safe, first and foremost: wear a helmet; find a route that keeps you away from the major streets…even if it means extra miles or time…it's worth it to find a quiet back street with little or no traffic; wear clear or amber sunglass lenses after dark; put in a little extra thought…use your own super tuned senses and hyper alert riding habits to keep yourself aware of any other moving objects, as well as upcoming potential hazards.
See and be seen: reflective vests; orange reflective triangle pinned to your back, blinkies, DOT reflective tape, reflective stripes; the goal is to light up like a Christmas tree…better a geek with a heartbeat than a macho fixie rider without one; run two headlights (one steady, one blinking); helmet-mounted light to shine into the eyes of oncoming drivers; consider a product made for motorcycles called the 'halo helmet band';   have a good back up light.
Be prepared: may get flats at night…so carry a head lamp to make bike repairs a lot easier.
Below are some of my own tips for night riding, some of which echo the advice given above:
1. Slow down. The less you can see, the less time you have to react, so the higher likelihood of crashing if you go at your normal daytime speed.
2. A key distinction with bike lights is being seen versus seeing. Both are equally important. When cars see you, they avoid you. But if you don't see your surroundings, you risk the chance of an accident.
Example: my blinkies did not help me see a piece of car tire in the middle of my bike lane late one night. It got caught in my spokes when I rode over it, and my bike stopped dead in its tracks, and I catapulted forward. I was also going pretty fast that night.
Solution
– As stated above, you can run more than 1 headlight on your bicycle, one flashing to be seen, one steady to see.
– There are a wide range of powerful bike lights, like a 4000+ lumen lamp for a pretty penny.
– Try slowing down just a tad; if I had ridden just a little more slowly, I feel that the severity my accident would have been reduced.
– If all else fails, and you just cannot make out the road ahead of you, try what I call 'vicarious lighting.' This technique basically takes advantage of cars' bright headlights as they pass you or drive towards you from the lane of opposing traffic. By looking at the road as illuminated by these headlights as the car drives ahead or towards you, you can gauge if there are any major debris or potholes lying ahead for the next 10 meters or even further, depending on the circumstances of the car, the curviness of the road, etc. You just have to train your eyes to track the area of the road illuminated by the car and estimate when your bike will reach any area of potential concern or danger. However, use this technique with caution because in the few seconds when the road is not illuminated, you cannot guarantee that a cat, for example, has not scurried in front of your bike.
3. Usually, I bring only one pair of lights (front and rear) and have a USB charger to charge them up at work. But sometimes, I have picked up a riding buddy on the way home who doesn't have any lights. Or, I am biking in a group and one person's lights have died. In this situation, I 'split' the one set of lights between two people: put the front light on the front cyclist and the rear light on the rear cyclist. Of course, the pair now has to be much more careful about keeping a safe distance from each other.
4. Dooring sucks during the day time, and I'm sure it sucks even more at night. To reduce my chances of dooring at night, I slow down. I also keep a distance from the parked cars on the side of the road and am especially vigilant when a parked car's lights are on or if I see any movement inside of the car.
5. Last, but probably the most important, in my opinion, is planning. If I am thinking of biking a new route and know I will likely be riding at night, I try to drive the route before biking it. Sometimes, I even drive the route at night if I feel it necessary to scrutinize the surroundings before committing.
Questions I consider while driving and surveying the route:
– Do other people bike this route? If there are and I can safely drive by them, do they seem very cramped for space?
– How fast do cars drive on this route?
– Does it seem safe in the surrounding areas at night? Is it a busy street at night and well lit, or is it desolate and scary?
– What is the quality of the road? If I can feel lots of bumps while driving, it will probably be about 500 times worse on a bicycle. And you run a greater risk of pinch flats, among other bad things.
Thinking about these sorts of issues is critical to preventing major trouble during a commute, especially at night when bad can get worse very quickly if you are not prepared. If any of these questions cause concern, time to look for another route.
If you have any other tips about biking at night, feel free to comment. Do good and ride well.