(Last Updated On: September 7, 2022)
Holy Reflective Metal, Cyclists! Agent Mir.I.Am reporting for duty here:   Check out this little DIY project I've had my eye on for quite some time: Stealth Reflectors for your $300 commuter bike.   It's based on the fact that I am underpaid and unlikely to buy that spiffy Bright Bike kit or not quite crazy enough to "Get Visible" like these luminous peeps in this email forward inter-tube video.   Anyway, if you've recently cleaned your frame you might be interested in this easy number.
One lovely afternoon, boyfriend tells me that he gets free shipping through the Jungle Website if he spends a couple more bones so do I want anything from Jungle Land?   YES PLEASE!   Last week the postal service delivered our Jungle package and it was this…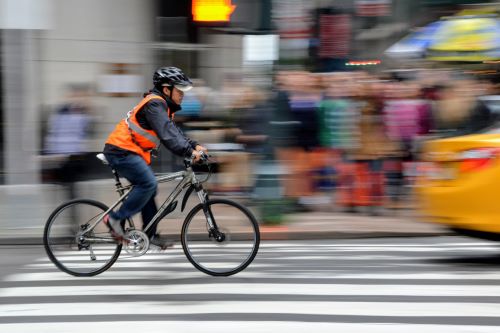 Praise to the Amazonian Jungle Goddesses for taking my (boyfriend's) sacrificial three dollars for a 36″ long sliver of Ruban Adhesif Reflechissant! Or, thank you tricksy false Amazon.com for convincing us to spending more money on your website with promises of freedom of shipping…     With this new gift bestowed upon me, weekend crafties were in order.   Finally!
Super Tangent: I ADORE BLINKY LIGHTS.   Brian (aka boyfriend) will often enter the LBS with me in search of something simple like a spare tube, a shopping trip he envisions taking only 5 minutes tops.   It always ends with him dragging me away from the blinky lights display; I can sit there -literally- for a half hour playing with Knogs, Planet Bike headlamps, and those ghetto spoke multi-colored LEDs that die after 6 hours of commuting. **GASP! Shiny Things!!! Yes, yes, I do need more than two headlights.**   I also dig reflective and neon colored shiz   and don't care if this makes me a visibility dork…. My next reflective purchase will definitely be a pair of these hotties at Art n Flea from Vamos Threads.   Needless to say, I freaking love reflective and hi-viz anything!!!   On to the DIY part.
Please excuse the hipsta-matic photo qualities, as I have yet to purchase a digital camera of considerable quality (my current cameras include broken underwater digital camera from WalCrap, outdated Kodak Polaroid, cell phone without internet access)… Thus, we are relegated to the use of boyfriend's so'called "iPhone" and emailing photos back to myself.   Bear with me, bike commuters.
Some tools required for the DIY "Get Visible" installation:
STEP 1: Cut a hole in the box.
STEP 2: Put your junk in the… oh wait. No, step two is measure the length of piece you want to cut against your bike frame.   Here is a picture of me and the bumblebee Scott Speedster doing just this, way back… back in TIME.   Like 1972, considering the amber glow from the hipstamatic iPhone thing.
STEP 3: Now you cut it using your fangs!!   Like this:
STEP 4: Apply willy-nilly!   I stuck these reflective tape pieces all over my bike-parts that were white so it has the same bumblebee Scott Speedster label-whore design as the original.   Maybe if I happen upon a large amount of scrap reflective tape, I will just bling the whole damn frame!   Another idea for acquiring reflective tape comes from this Instructable, where they suggest hitting up your local safety equipment store and asking for reflective sign scraps for free!
Hopefully this increases my visibility.   If any of you Oahu riders happen to see my Bumblebee Speedster cruisin' around Chinatown, take a pictha with a flash so we can check if this reflective tape works… Lacking photography apparatus at the moment.   Anyone else have super easy DIY tips on how to get visible like the crazy headband   chick in that video?!! (Seriously watch this lady, she is cracking me up!)   I'll start with Vamos Threads reflective leggings…   In the meantime, maybe it's time to change the battery in my Spoke Light:
Hopefully this post will show you how 15 minutes, some shadow fangs (or scissors) and reflective tape can add a little bling to your frame without breaking the bank.   So easy, why did I wait 2.5 years?   Maybe it's the fact that I only clean my bike once per season… oops!   Wham BAM!   Mir.I.Am.   Catch you next time my cycle monsters.