(Last Updated On: September 5, 2022)
I hope everyone has been enjoying their winter commutes…and I hope everyone has been staying on top of winter bike maintenance!
As many of you in colder climates know, road conditions can take a real toll on our bikes at this time of year: from sand to slush to salt and snow, there's a lot of nastiness we have to contend with on our routes around the city. Regular (meaning at least weekly, or sometimes DAILY, depending on conditions) maintenance makes a huge difference in how our bikes ride over the winter and could mean the difference between pedaling to work or having to catch the bus.
In my neighborhood, I have salt to contend with — as I live near a very high concentration of U.S. servicemen and women, the roads in our area are heavily salted. After all, the military needs to get to work on time in any weather! All that salt is brutal to bike drivetrains, though…a day or two of neglect and you're looking at a frozen, rusty mess that may not be salvageable.
In the interest of keeping things clean and functional, the good folks at Finish Line and White Lightning both sent cleaning products for us to try out.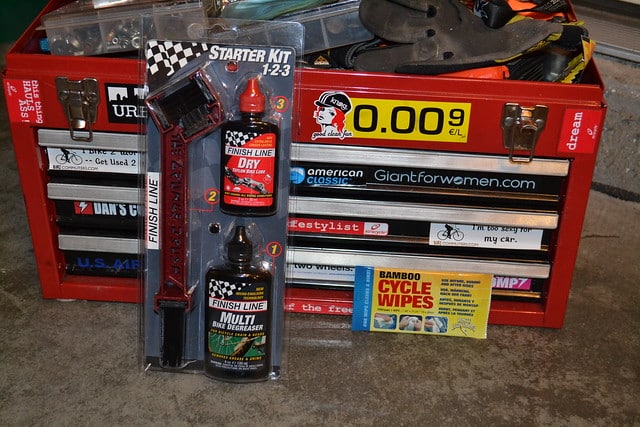 First up is the Finish Line "Starter Kit 1-2-3", consisting of a small bottle of multipurpose degreaser, a small bottle of Teflon-based dry lube, and a handy cleaning brush. The degreaser is mixed with water and the stiff-bristled brush is used to scrub the chain, cogs and chainrings. Finally, the lube is applied and allowed to set.
The brush and diluted degreaser made short work of the chain and gears…the bristles on one end of the brush scrub three sides of the chain at once and also get both sides of the chainring, while the long, stiff bristles on the other end reach down into the cogs and derailleur bodies to scrub out embedded grime. The degreaser itself seemed to work quite well in dissolving caked-on crud:
I should add at this point that I rarely clean my chain in this manner during more temperate months — I've long been a user of "homebrew" (1 part synthetic motor oil to 3 parts mineral spirits), which both cleans and lubricates the chain. In the interest of cleaning off the salt and creating a bare, clean chain to try out the Finish Line dry lube, I strayed from my normal maintenance routine. The lube provided in this starter kit seemed to do an adequate job in keeping my chain quiet and smooth, and also seemed to attract less grime than the wetter solution I usually use. That's a plus when the streets are covered with grit and salt crystals. I could get about 75-100 miles between applications with the Finish Line lube in these miserable winter conditions, so I'm suitably impressed.
Next up is the White Lightning Bamboo Cycle Wipes. I got the single-use packet to try out. Inside the packet is a woven sheet about 5″ x 7″…made of waffle-textured bamboo. It's saturated with a mild solution to cut grease and grime. Here I am starting with a really yucky bike:
I gave the bike a good once-over, and it came out quite nicely. These Cycle Wipes were especially effective at cleaning tire sidewalls and the brake tracks on my rims…where so much grossness accumulates after a wet, slushy ride. Here's what my baby looked like after a good wipedown:
I was pretty amazed at these Cycle Wipes — they cleaned the whole bike and got snagged repeatedly on teeth and other pointy bits, yet never tore or shredded. The single wipe simply kept on absorbing dirt. Still, I would have liked to have another one on hand to really pretty things up, but hey, my bike's just going to get dirty again in a day or two!
Here's the long-suffering wipe after a hard workout. You can see that it survived some pretty rough treatment:
The Finish Line degreaser and the White Lightning Bamboo Cycle Wipes are both 100% biodegradable, a plus in my book. The Finish Line starter kit retails for around $20.00 — with 3 to 4 degreasings and a whole season of lubing possible with the amounts provided, that's a decent deal. The White Lightning wipes come in a variety of packages, from a 6-pack box of single packets to a 25-wipe canister. I believe the single packets retail for less than a dollar apiece, and other reviewers report that they can be washed and reused for general purpose cleaning (although I didn't try that). Keep a packet in your saddlebag for quick roadside cleanup or in your shop toolbox to keep your bike shiny and fresh…the cleaning solution is gentle enough for skin and tough enough for grimy parts.