(Last Updated On: September 5, 2022)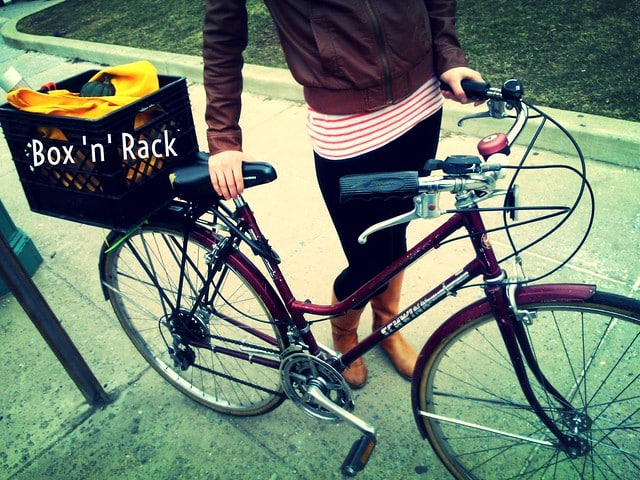 Ever find yourself in a pickle like this:
You're at the farmer's market with your so-called girlfriend getting all carried away with sampling apples, debating pumpkin varieties, and haggling over prices of buckets of yogurt.  A mere 40 minutes of local-food perusing and $30 later, your limbs are loaded down with re-usable grocery bags like nobody's business.  Good thing I spent all those evenings bouldering and I have tons of finger strength for lifting groceries, because lord knows there is no other reason for all that finger strength…! Oh yeah, and you borrowed your friend's roommate's bike and there's a good 25 minute ride ahead of you.
What to DO, Bike Commuters?!
Not an unlikely situation if you are visiting your friend, Mo, in DC, the same weekend as the National Women's Bicycling Forum, and you are a veteran Pike Place Market veggie hawker like me. The combination is ruthless. You end up with two enthusiastic cycle ladies in a pile of vegetables, and a rear rack with bungees is just not gonna cut it. Damn those floppy cloth bags and that pumpkin! Yes, we bought a pumpkin, hauled it, cooked it, and ate it like the good green-blooded NorCal hippies that we are.
Anyway, the solution for the Farmer's Market overload?
Enter the last-minute Veggie Hauling No-Brainer DIY Box 'n' Rack.  Recipe below:
Prep Time: 20 minutes for collecting ingredients
Cook Time: 15 minutes
Ingredients:
(1) plastic cube/crate free from the bread vendors
(6) removable neon zip ties from the CVS across the street
(1) existing rear-mounted bike rack
(2) opposable thumbs
(1) friend, also with (2) opposable thumbs
Instructions:
First, sit on your bike saddle and have a friend with opposable thumbs position the crate  with a couple inches of clearance for your bum, so you don't end up crowding your bum with the Box 'n' Rack as you pedal. Center the box on the rack.
Second, have said friend hold the rack in place, as you zip tie the hell out of it in 6 different places from the bottom of the rack to permanently secure the crate.
Third, throw in your veggie bag and pedal on home, without grocery bags swinging from the handle bars!
The DIY Box 'n' Rack is such a no-brainer, almost any farmer's market/flea market-goer can pull it off in a matter of minutes. So worth the minimal effort for no dangerous swinging bags of groceries near your front wheel on the bike ride home.
Try it, you'll like it!