(Last Updated On: September 2, 2022)
Meet Andrea Carney, next up in our recurring commuter profiles series. Unlike nearly all of our other profiles, I've had the opportunity to ride with Andrea on a few occasions, and one other thing to know about her is that she's always smiling while she's on her bike…it doesn't matter how cold or windy or hot it might be. She's just happy to be out there on two wheels! Very inspiring indeed. Take a look at the information she was gracious enough to share with us:
Name: Andrea Carney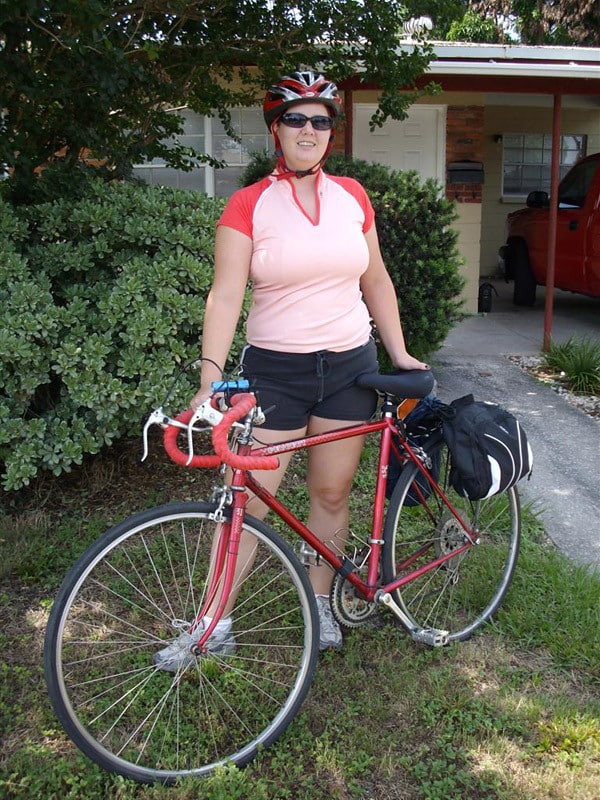 How long have you been a bike commuter?
I have commuted off and on for seven years. Currently I have been ON for 9 months and I don't plan on stopping! I keep riding more and more each week and hope to soon be doing some touring.
Why did you start riding your bike to work and how long is your commute?
I originally started riding and commuting due to the influence of a good friend of mine. He is 26 years old and has vowed to never own or drive a car. He has been commuting by bicycle his whole life! I had to stop commuting for a few years due to a hectic work/school schedule and bad location for riding. Now that I am a career woman, I have a little more choice in where I work/live. My commute is 6 miles one way.
How does bike commuting help you with your lifestyle (economics, health, relationships)?
I have seen a huge improvement in my health since I've jumped head first into commuting and cycle in general. I don't get sick. I find myself craving healthy foods and I've been loosing dress sizes. Economically I think I am coming out ahead, I only fill my gas tank about once a month (instead of once a week). Since I ride a vintage bicycle, I've been making small upgrades/repairs, but I know that I will come out ahead in the long run! As far as relationships, it has made me very social! Not only do I commute, but I've started doing group rides and making so many new friends. When I tell people I commute to work by bicycle, they are amazed and want to learn more about me, it really feels good (even when they give me that crazy look and say "You do WHAT!?)
What do you do for a living and in what city do you bike commute?
I am a Medical Laboratory Scientist in the Bone Marrow transplant laboratory of Moffitt Cancer Center in Tampa, Florida. I work in a lab processing and testing bone marrow for transplant to leukemia and lymphoma patients; we also do some children's transplants for All Children's Hospital of St. Petersburg, Florida.
What kind(s) of bike do you have?
I have a 1985 Peugeot, Carbolite 103 Steel frame – it is a great bike for bigger riders. I'm learning a lot about fixing my bicycle my self and slowly gathering tools, in a few months I hope to start building a new bike on my very own!
Any funny or interesting commuting story that you may want to share?
Communication is key when cycling, whether you are giving a hand signal, verbally warning another cyclist of a pothole or yelling at a driver to "not kill you.� I was cruising down a busy street in rush hour once when two teenagers wanted to dart in front of me in the bike lane. I had cars whizzing by me on the other side and it surely would have ended in disaster; I simply yelled out "Don't you dare run in front of me!!� It worked.
What do people (coworkers, friends) say when you tell them that you are a bike commuter?
Since I am commuting home during the night (anytime between 7pm and midnight), I get a lot of questions about using lights and whether my ride is safe. Yes, of course I use lights! As far as it being safe, it depends on your attitude. I feel safe, but I know my route and I know how to handle traffic. I also get asked a lot if I ride on the sidewalk, which I reply "NO.� This is the hardest thing to explain to people. I used to get much more criticism than praise, which I feel is unfortunate, but now it seems the scales are tipping and friends and family are giving me the "thumbs up!� Some are even being inspired and riding for recreation, which they did not do before.
How about bicycling advocacy? Are you active in any local or regional advocacy groups?
I am not part of any particular group, but I do participate in advocacy whenever possible. Riding down the road, riding in groups and telling friends about cycling is how I advocate. I also try to educate other cyclists about safety. In Tampa, we have recently had a lot of cyclists being killed by motorists. This has made me start to get more political about my bicycle advocacy.

(visible on the right side of this photo is the ghost bike installation for Dr. Kayoko "Kay" Ishizuka…a reminder for all of us to be safe out there)
Anything else that you want to share with us?
My mom is always amazed at how much I do with my life, I'm always busy and always on the move. She asks me "Don't you ever stop!?� I simply respond "I'm like a shark, if I stop moving I will die.�
We'd really like to thank Andrea for submitting her words and photos, and want to remind the rest of you that if you're interested in being featured right here on Bikecommuters.com, simply drop us a line at info[at]bikecommuters[dot]com or ghostrider[at]bikecommuters[dot]com.