(Last Updated On: September 7, 2022)
Here's Dan Gentry's commuter profile, he is also know as Dan On Bike. He's a fellow blogger and bike commuter from West Lafayette, IN.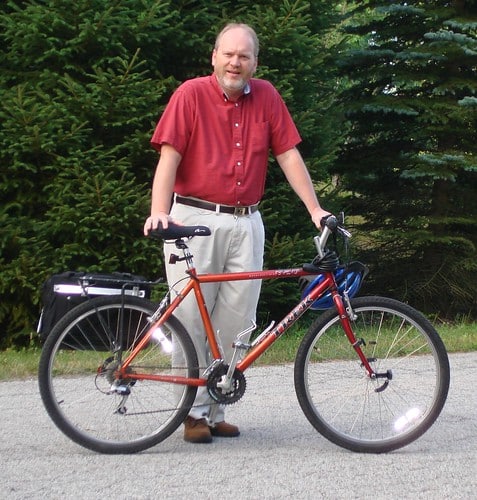 How long have you been a bike commuter?
I started in the late 90s, but it was about four years ago that I really got into it. It was only in the mid 90s when I returned to cycling after many years out of the saddle. My sister convinced me to give it a try.
What do you do and what city do you bike commute?
I'm the director of one of the many IT departments at a major Midwestern university. West Lafayette, IN is a great bike town, and the surrounding countryside offers many miles of quiet roads with great scenery.
Why did you start riding your bike to work and how long is your commute?
The idea of not taking my car to work seemed outrageous at the time, so I tried it for the eccentricity factor. It turned out to be fun. Now, taking the car feels like the crazy thing to do.
I live just 3.5 miles from my office, which I cover in about 20 minutes. With parking ($240/year), it takes around 10 minutes by car. For the ride home, I usually take a longer route.
When the weather is nice, I can ride in 3 or 4 times a week, but I put in a lot less when it is cold or wet.
What kind of bikes do you have?
My commuter bike is a 10-year old Trek 820 with sensible street tires and platform pedals. I've amassed quite a collection of panniers and messenger bags that I use to carry my ride home clothes and various electronics.
Last fall, I added a road bike to the mix. I find the Trek Pilot 1.0 to be very comfortable and fun to ride.
Any experience that you can share with us about 'learning the hard way'?
Taking the lane can help everyone act more safely. I complain a lot about people passing me unsafely, and I've found that if I move more to the left, those drivers are less likely to pass at a bad time if they have to use more of the oncoming lane to do it.
What do people say when you tell them that you are a bike commuter?
I used to get responses like "that's a long way" or "you're a brave man", but now I think people are just tired of hearing about it. It would be fun to make the same remarks to auto drivers. "You drove all the way from home?" "Aren't you afraid of the semi trucks?" "What if it rains?"
Do you have an "advanced commuter tip"?
I don't really feel advanced. I just point the bike East and pedal.
Anything that you want to share with us
To anyone thinking about commuting by bicycle, I would recommend starting small. Don't vow to sell your car and only use the bike for all transportation. Instead, shoot for a few times a month in the spring (or whenever the weather is best in your area). Try out the route on a quiet Sunday morning before riding for real on Monday. Just ride on the easy days. You will find that issues involving wardrobe, schedule, and equipment will become clear as you gain experience.
Many thanks to Dan for sharing his story and also his pictures. Check out his blog at http://danonbike.us/