(Last Updated On: September 2, 2022)
From our neighbors to the North, meet Dean Peddle — longtime reader of Bikecommuters.com, email correspondent and current leader in our Bikecommuters.com/Bikejournal.com "club" commuting pool: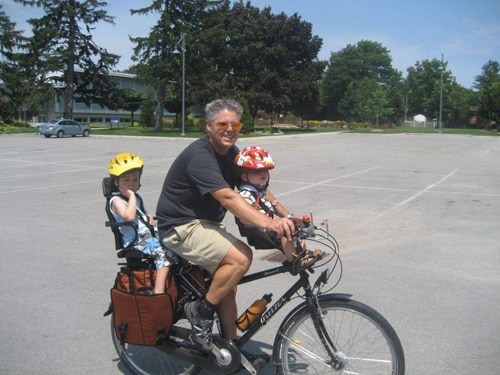 How long have you been a bike commuter?
Almost 15 years now.
Why did you start riding your bike to work and how long is your commute?
I don't have a "feel goodâ€? story about the environment or anything like that. At the time I was still racing and I just wanted more miles. I decided, "why drive an hour each way to work and come home and ride another 3 hrs when I could just ride to work in about 1.5 – 2 hrs and get my training in then?" When I stopped racing though I continued to commute. Funny thing was I never commuted around town for errands until I took a trip to Holland and saw how it's really done. I came home right away, purchased a Dutch bike and now do all my town errands by bike.
My commute has been different lengths over the years with different jobs. I even had a 2 month stretch where I was commuting 77kms each way to work. My current work location has been about 5 years. My commute is between 2 major cities with country roads in between. It has a little bit of everything, wide busy city roads, empty country roads, bike lanes, bike paths, steep climbs and beautiful scenery. It's starting to get a little busy with all the new development they have done on the outskirts of my roads but the drivers are really good here. I very seldom have any problems. Living in Canada this makes it hard in the winter. In my hardcore racing days I would ride ALL winter but as I got older I became a little softer so I take January and February off. But now after seeing Dottie out there in Chicago she might inspire me again.
How does Bike Commuting help you with your lifestyle (economics, health, relationships)?
As I said above, it didn't start out that way but it sure has taken that route lately. I remember last summer riding by the gas stations and laughing my head off every time the gas went up. I'm pretty much ready to give up my car but I will have to keep the family car for my wife and kids. Also, all the riding with the kids and wife have really helped….it is a lot of fun and the kids absolutely LOVE it. They can't wait to get on the bike when I pick them up from daycare. Health-wise, it's the only thing keeping me alive the way I eat. I'd be 300 lbs if it wasn't for the bike.
What do you do for a living and in what city do you bike commute?
Ahhh….guess. I'm a software developer like everyone else. I think it's the creativity and ability to adapt to change needed in this profession that brings so many bike commuters. You really need to be creative and change quickly in this field and deciding to ride a bike to work is a real creative change. I commute between Burlington and Mississauga Ontario Canada, right outside Toronto.
What kind(s) of bike do you have?
Well, with almost 15 years of commuting the list is big. I have 6 bikes….one for each occasion as I like to say. I have an old racing bike I still like to take out on fast group rides or centuries Cannondale R5000 with Dura – Ace 10 sp and Cosmic Carbone wheels. I converted my old Litespeed Appalachian cyclocross bike into a fixed gear using the White Industries ENO hub for commuting to work. I also added a Dynohub to this after using this on my Dutch bike cause I liked it so much.
My other favorite is my Dutch bike that I use for all my errands around town. It is so nice to be able to ride in normal clothes and I've started to tackle more and longer rides on this so I don't need to wear my bike clothes. It's a Breezer Uptown 8 with fenders, full chainguard, ring lock, dynamo hub, lights and panniers. Pretty much an old man bike.
I also have an old Cramerotti cyclocross bike I like to use for winter and rain riding and of course an old fixed gear bike for riding in the winter. I have now added a Dahon Hon Solo fixed gear fold-up bike for taking on trains or if I'm bumming a ride from someone. It's pretty cool and fun to ride with it's leather saddle and grips and wood fenders and chaniguard. As you can see I'm a big fan of fixed gears. 3 of my 6 bikes are fixed with plans to replace my Cannondale next year with the new Trek District Carbon. I love riding them and even challenged myself to complete a double century on one this year. I did make it but my knees were a little sore…
Any funny or interesting commuting story that you may want to share?
One time me and a friend were out for a ride and someone hooked us really bad in his car. My friend being the type A personality that he is chased him down and when he got beside him the driver said "when you start paying taxes I'll start giving you more respect.â€? I think this caught my friend by surprise seeing he probably pays more money in tax then this guy makes in a year. Needless to say I called my accountant that night and said "I don't have to pay taxes anymore….I ride a bicycle!!!â€? I mean come on, I heard it from someone that drives a car….it must be true…he has to be smart. This just shows you the mentality of the people out there operating heavy machinery so BE CAREFUL.
What do people (coworkers, friends) say when you tell them that you are a bike commuter?
Well as you can imagine I have a long commute so most people don't even believe me. Of course I get the "you're crazy� comments, especially in the cold months. I like to say to people "It only seems impossible until you try it.� It is amazing to see a child who can adapt so easily to any situation but an adult has such a huge problem changing and will find any excuse not to.
How about bicycling advocacy? Are you active in any local or regional advocacy groups?
Not really….I would like to but I guess I'm just not the type. I did attend our city's "Bicycle Master Planâ€? meeting which included a great job they are going to do for our city to make it very "Dutchâ€? as we are a sister city with Appledorn Holland and we had a traffic engineer from there design our plan. I made a few comments about what problems they would face as I've ridden in Holland many times since my wife is Dutch but nobody really understood "whatâ€? I was saying.
Anything else that you want to share with us?
I guess as I stated above….Just BE CAREFUL. It's amazing what kind of people are allowed to drive cars. Also be more adaptive and add more bikes. For years I was a die-hard roadie with a narrow mind until I took a trip to Holland. Heck, before Holland I didn't even think you could ride a bike without bike clothes….now I very seldom wear bike clothes. Also, there is no bike that can do "everythingâ€? so buy a bike for each occasion. It is so much fun! Of course my wife doesn't think so. But hey….I don't spend money on cars so why not bikes !!!!
We'd like to thank Dean for sending in his profile and photos to share…he indicated that he'd send additional "winter action" photos for our enjoyment when the cold weather comes, so stay tuned!