(Last Updated On: August 30, 2022)
This week's commuter profile comes from Jed Reynolds, longtime reader of our humble site. Jed's got lots of stuff to share, so let's get started!
Name: Jed Reynolds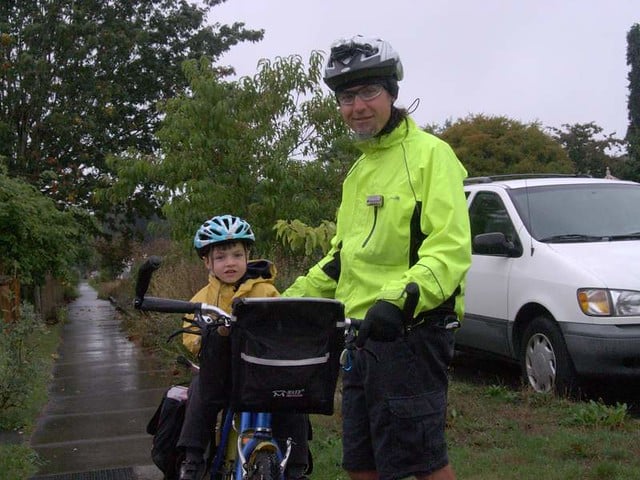 How long have you been a bike commuter?
I took bicycling casually about 15 years ago while in college–I got around using a beginner mountain bike and transit. I eventually took being a software contractor pretty seriously, bought a car, and lost the bike. Eight years ago, I moved to Bellingham, and I bought a bike to get to my first job here, but I still occasionally drove to work. In the last three years I have "figured it out"…my knees don't bug me, and I thoroughly got bit by the cycling bug. I've been a full time bike commuter for approaching two years and I'm busy cycling through my second winter in the pacific northwest!
Why did you start riding your bike to work and how long is your commute?
Not wanting to own a car was while I was in college was a start. Now it's about getting exercise and avoiding buying gas are why I started biking to work. Once my office relocated closer to home to about six miles–that seemed much less daunting to me. My health has changed and getting regular exercise has become a necessity. I've gotten get used to biking about thirteen miles a day, or more if I have time to expand the route.
How does bicycle commuting help you with your lifestyle (economics, health, relationships)?
I can't claim to be the most frugal cyclist, but this year I did downgrade from two cars to one. If it weren't so fun to upgrade my bikes, I'd actually save money. Using my cargo bike, I can go for about five weeks without touching the van. (My van is still very useful for family trips.) All my typical shopping I can fit in plastic storage boxes on my cargo bike. I also deliver my kids to school by bike, using a trailer or on the cargo bike. I haven't calculated my savings, but the money wasn't as important to me as the fun riding and the righteous feeling of minimizing my car use.
I'm feeling healthy and am now in better shape than when I was in high school! I realized recently that I really did need an hour or more of exercise a day. I didn't lose 40lbs from just from cycling, however. The truth really is too serious: type II diabetes. I control my health with medication, diet and exercise. I have no excuse to live a sedate lifestyle now. Rather, I feel a responsibility to model an active lifestyle. (There are a million new cases of type II diabetes every year. Please take diet and exercise seriously. [Footnote: 1.6 million people in the United States aged 20 years or older are diagnosed with diabetes every year])
People from my past will find a new Jed. Previously I was a sloth-like asocial computer geek–never a fan of exercise and derisive of organized sports and loathed "jocks." I've dropped all that attitude. Now I'm eager take my kids on bike tips in any weather, and I'm planning a summer of bike picnics and eventually bike camping.
I no longer talk only about computers–I can strike up a conversation about bicycling with almost anyone, and it actually feels much better. (Other people don't like to talk about computers? Wow.). I've made friends in my neighborhood by offering bike tune ups. Just drawing a bicycle on my name tag at gathering invites conversations.
My inner childhood mechanic loves geeky DIY bike culture. I've been cutting up scraps of this and that to fashion light brackets and fender extensions. For my cargo bike I made a bright yellow rain tarp using reclaimed inner-tube as tie-downs. I've gone on my second tweed ride with my sons! (Tweed rides are almost as geeky as attending a Renassance Fair or being a larper.)
My family relationships have been enriched in other ways. I have a brother in law who's a professional bike mechanic and my sister has a 26 mile daily bike commute…so we always have something to talk about. As you can tell…I'm still waiting for this bicyclist thing to improve my relationships.
What do you do for a living and where do you live?
I've been a web application programmer and Linux system administrator for over a decade. Occasionally I hear that computer programmers tend to like bicycles, but it still seems uncommon. Conversely, Bellingham is very bike friendly and there's a local software company that not only has its own bike shop, it keeps winning a pile of the bike to work month challenges.
What kind(s) of bike(s) do you have?
I have three bikes that I love to ride: a Trek 7200 that I installed fenders and trekking bars on, and a 58cm Novara Expresso XC I turned turned Xtracycle. I've also started learning to ride a recumbent and now I have a Rans Tailwind. I also pull a Burley Bee trailer for shopping and lugging kids in…sometimes I tow it behind my Xtracycle.
I recently sold a Trek 3900 that I hybridized–taped the fenders up with yellow tape, and extended the fenders with milk jug panels, added toe clips and a rack. Good bike. I also sold a Trek 820 that I also made a rain commuter with yellow fenders. Now I just have one more Trek 820 to outfit with some yellow fenders on and sell.
Any funny/interesting commuting story you'd like to share?
My route takes me up Northwest Avenue and under Interstate 5. That area until just recently has been a snarl with bad left turn traffic and then construction to redevelop the intersection with a roundabout. Going home months ago on my mountain bike, I was passing through this underpass and a contractors pickup rumbles by and I hear the tinkle of nails in his truck. Suddenly I cannot pedal and I'm skidding right into the middle off the offramp merge lane! Luckily, I land on my feet and still full of adrenaline I don't skip a beat to drag my bike to the shoulder. The bike will not coast. I drug it to the sidewalk, unhooked the panniers, dug out my toolkit, and what did I discover but a five inch nickel-plated nail slammed through both sidewalls of the tire! The nail was wedged against the rear brake pads which explains my sudden skid. I had just taken the read wheel off when I look up to see on of my neighbors parked right next to me with his trunk open! "Need a ride?" I love living in a small city.
What do people say when you're a bike commuter?
While its common in Bellingham to compare bike commutes, I've met a variety of reactions. Generally-impressed is almost as common a reaction as nodding-approval. People in line at the grocery often ask how far I ride, and then they seem quite reflective and wish that I stay safe on the road. I enjoyed talking to a grocery bagger who was astounded that anyone could bike from Bellingham to Ferndale.
I get impressed looks from people when I clarify that I'm looking forward to another winter on the bike. Snow? Yes: studded tires! Rain can't stop me, its part of the adventure (like camping). But I admit it–wind will stop me. Sustained winds over 25mph are not safe or enjoyable, and gusts beyond 35mph have pushed me to a standstill and into traffic. On those days, I'm fortunate that I can work from home.
People are often left with the impression that I've been biking and athletic my whole life. That's not the case at all–overweight nerd programmer hated exercise, never played a sport and resents sports on TV even more.
How about bicycling advocacy? Groups?
I've recently met many of the local biking and transit advocates in Bellingham: Mary and Linda and Karen from Whatcom SmartTrips [https://www.whatcomsmarttrips.org/] and EverybodyBIKE . I've won some transit prizes from our SmartTrips program. This summer I attended a recognition ceremony at the farmers market with my younger son. We met the mayor Dan Pike and congressman Rick Larsen. Mayor Pike does his best to ride to work…and so have a many previous Bellingham mayors.
But its not really up to my congressman to model the behavior I expect. Like Ghandi said: you must be the change you wish to see in the world. When I bike, I feel like that change. When I talk about bicycling, I also feel like that change. After bragging how much I save on gas, I often ask people if they ever considered biking to work. I invite people to tell me why their commute wouldn't work by bicycle.
People's comfort zone is pretty obvious, but some people have provided other instructive answers:
• people live dozens of miles away
• people work early shift and have to leave the house at 3AM to be in my 4:30AM
• people work late shift and I don't want to bike in the dark
• people run, don't have time to bike
• people live X miles up a 50mph windy highway lacking bike lanes or any shoulder
• afraid of traffic
• that huge hill
• "that wife" put the bike behind the couch again
Bicycling is just bicycling, of course, it's not superior for all people. I believe that advocacy has got to be fun. Bike parades, themed rides, and multi-economic angles need to play together. I believe in keeping the conversation going around parents with kids. I think that getting groceries while taking the kids with you – on a bicycle – is how we need to break our addiction to cars.
In Bellingham, there is an inspiring project providing disadvantaged youths bicycles and group rides called The Bike Shop . Families wanting bike come in and can buy a really cheap beat up bike…but they cannot leave with it until they've learned to fix it up. This helps build independence and removes the concept that bikes are a disposable appliance.
Thank you, Jed, for sharing your words and stories with us. For the rest of you who would like to be featured in a future commuter profile", drop us a line at ghostrider[at]bikecommuters[dot]com.