(Last Updated On: September 2, 2022)
How long have you been a bike commuter?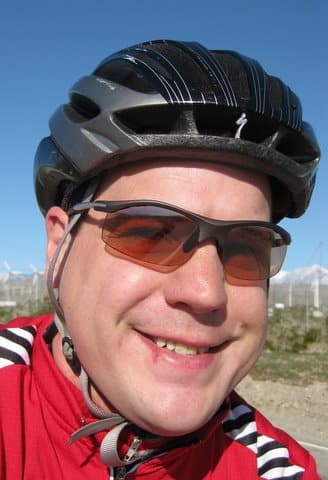 Over a year. I started in March 2008 as gas prices started climbing
and fell in love with it quickly. 4,000 miles, 10lbs, plenty of bike tires, and three bikes
later, I'm still having a blast.

What do you do and what cities do you bike commuter?
I ride to work in suburban Santa Clarita, CA, a big suburb of Los
Angeles. The city has a nice network of bike paths; unfortunately my
route includes none of them. I seldom see other bike commuters save
for Latinos riding beater bikes to their jobs.

Why did you start riding your bike to work and how long is your commute?
I started because gas prices were approaching ridiculous levels and I
wanted to get fit. My commute is very easy- only 2 miles- but I work
for a school district and I'm sometimes required to visit schools
during the work day. So, sometimes if I'm lucky, I'll put twenty miles
in while riding to various schools.

What kind of bikes do you have?
I started out on a standard Trek hybrid. After having a few
reliability problems with that, I sold it and got a Swobo Dixon, which
was my main commuter for much of the last year. As I took up road
riding, I found I had a need for speed, so I've shelved the Dixon to
beer-bike duties and I now ride a rack-equipped Jamis Quest road bike
to work. It's so much faster!


How does Bike Commuting help you with your lifestyle (economics,
health, relationships)?
Let's see. I've saved hundreds in gas, car payments, and insurance
since I got rid of my car last year and we became a one car household.
I'm in much better shape, I get to be outdoors, and I've lost weight.

Any experience that you can share with us about 'learning the hard way'?
In my first week of cycling to work. I got into a very minor accident.
You see I wasn't paying attention closely enough and ran into the back
of a stopped car. I wasn't going fast and no damage or injuries
resulted but it taught me a valuable lesson- pay attention!
Situational awareness is king when you're cycle commuting, think ahead
100 feet, 500 feet, a half mile etc. Make plans and signal your
intentions!

What do you do for a living?

I work as a database administrator. I'm not sure why so many tech
people ride to work, but I'm pleased to be one of them. Just wish I
had more commute buddies in this car-dependent town.

What do people (coworkers, friends) say when you tell them that you
are a bike commuter?
Jerks say: You're weird. Skeptics say: How are you going to handle the
heat this summer (it gets up to 110 in Santa Clarita)? The
Unimaginative say: I could never give up my car, I have
kids/dog/insert special problem here. Girls say: Nice, I bet you're
going to lose weight and look good!
How about bicycling advocacy? Are you active in any local or regional
advocacy groups?
I monitor local cycling situations and blog about them at my new blog,
soulcyclist.blogspot.com . I've also spoken before the city council on
issues pertaining to cycle commuting. I'm thinking of starting an
advocacy group as well, but, I'll be honest, it's hard to find bike
commuters out here. I'm so jealous of the success I read about in
other places.