(Last Updated On: September 6, 2022)
From Jim Davis' (Garfield creator) hometown; Kyle Johnson is a bike commuter that committed himself to riding to work because of "Bike to work week", here's his bike commuter profile: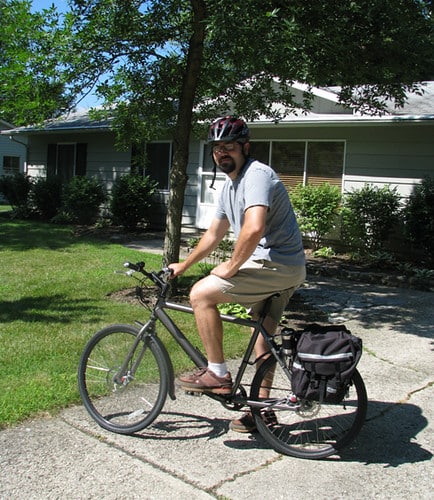 How long have you been a bike commuter?
Daily since May 12th, 2008…..and sporadically prior to that.
What do you do for a living and in what city do you bike commute?
I am the GIS Coordinator for Delaware County, Indiana (GIS= Geographic Information Systems). I am responsible for managing, maintaining, and distributing all of the computer-based mapping for the County, towns and the city of Muncie. I am pretty much an IT person focused on computer mapping. I live in the city of Muncie, Indiana….famous for a few things….Jim Davis, creator of the Garfield Comic strip, and home to Ball State University..the Alma Mater of David Letterman (we now have telecommunications building named after him!).
Why did you start riding your bike to work and how long is your commute?
I was a "fair weather" commuter for several years, riding only when it was convenient (and not too hot), but have been riding every day since early May 2008. During "ride your bike to work week" I decided that I would commit to riding every day, mostly because I live pretty close to work, as well as the high gas prices. I am lucky that I only live exactly 2.5 miles from work (see my profession below to know why I know exactly how far it is), so a 5 mile RT is pretty easy…and it is FLAT in this part of Indiana. My biggest challenge is not getting too sweaty on the really hot and humid days…I am not good at dealing with that kind of weather. The best part is I get to ride through Ball State University and along one of our bicycle-pedestrian trails, the White River Greenway. I pretty much have the ideal commute.
How does Bike Commuting help you with your lifestyle (economics, health, relationships)?
I physically feel much better since I have been riding every day…while I am not in bad shape, I have definitely put on some pounds since getting a "desk job". Using the BikeCommuters.com calculator, I estimate that I have saved over 50 bucks in gas over the 51 days of riding. I haven't really been keeping track of weight loss or anything…but I have been using the excuse of "I rode to work today, so I can eat that foot-long sub for lunch….or have a few extra beers after work" so I may be kind of balancing out most of the health benefits…ha!
What kind(s) of bike do you have?
I have had a Jamis Aurora hard tail since 1997 with a nice commuter bike saddle, and have rode this up until this summer I purchased a SWOBO Dixon and ride it daily. I absolutely love the Dixon, the Sram internal 9 speed rear hub is perfect for my area…and shifts super smooth, and the Avid disc brakes are great. I have the typical rack and panniers to carry rain gear, and miscellaneous other stuff I need for work. I also carry a Timbuk2 laptop messenger bag…which I also love. I have found that laptops in panniers just don't hold up to well to the vibration (Muncie roads are notoriously bad). Best accessories: Planet Bike clip on fenders (ATB)…easy on-off and great splash protection, and Planet Bike Superflash Stealth rear light…and incredibly bright rear blinky at an awesome price……..and my custom coffee mug holder. I also made a "studded" front tire last winter using a couple hundred pan-head sheet metal screws and an old knobby MTB tire….it worked incredibly well, and plan on using it again this winter.
Any funny or interesting commuting story that you may want to share?
One day on my way home, riding along the White River Greenway trail that runs along a busy street, a girl leaned out and screamed (to be funny…but scared the crap out of me) as the car she was riding in went past. A few minutes later, the car got stopped in traffic at a light and I caught up with them….as I rode by, I gave her a little scream of my own…returning the "favor".
What do people (coworkers, friends) say when you tell them that you are a bike commuter?
Working in local government, where the vast majority of employees are middle-age or older, I am pretty much labeled as the "crazy kid" even though I am 30. I have been able to encourage several co-workers to also bike commute when the weather is cooperating (mostly Ball State University Interns), and one co-worker who lives less than a mile away rides most days too. Most of the strange looks I get are from people seeing my carry my bike up 2 flights of stairs (our elevators are notoriously unreliable and SLOW). I am lucky that there is room in the office to store my bike, so I don't have to carry a heavy lock or leave the bike out in the weather.
How about bicycling advocacy? Are you active in any local or regional advocacy groups?
My office is adjacent to our planning department which oversees all the master planning associated with transportation in our County. They are one of the largest users of my mapping system and I have had the privilege to be involved with the creation of the comprehensive bicycle-pedestrian plan for our community, as well as serving as a resource for our local Greenways- the Cardinal Greenway (longest bike-pedestrian trail in Indiana) and the White River Greenway that runs along the river through the City of Muncie. I have recently started a group on the LinkedIn professional social networking site for bike commuters ( I borrowed and modified your logo, hope you don't mind). Every year I volunteer at the Northern Indiana Fat & Skinny Tire Festival in Winona Lake, Indiana. Some of my best friends from High School help organize this great event, and it keeps growing every year.
Anything else that you want to share with us?
Keep pedaling!
We thank Kyle for his time, pictures and his commuter profile. I believe that Bike To Work does motivate some of us to keep riding to work; it is just too bad that it only happens once a year.