(Last Updated On: September 6, 2022)
Today's commuter profile comes from Marsha Ungchusri, known as "Princess Hungry" to legions of fixed-gear fans for her great product reviews and fantastic sense of humor over at Fixed Gear Gallery. Here's a bit about her in her own words: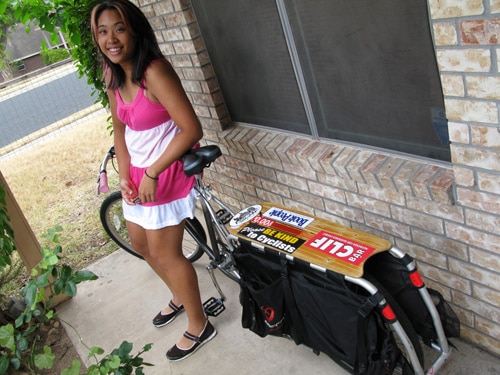 How long have you been a bike commuter?
About two and a half years. I got back on the bike three years ago to do a charity bike ride from Austin, TX to Anchorage, AK to raise money for cancer research through Texas 4000 for Cancer (www.texas4000.org). My perception of distance and what my body was capable of doing encouraged the idea of cycling to commute when I came back to Austin.
Why did you start riding your bike to work and how long is your commute?
I started consistently cycling to work when I graduated from college and began teaching at a middle school 6 miles from home. Before, I use to just putz around campus by bike, but since joining the 'grown-up' world, I've done all I could to stay a kid at heart. My students got a kick out of seeing me ride by their bus stop in the mornings and I would always get waves and "HEY MISS U!!!!� (My last name is really long and unpronounceable by the general public). It was definitely a workout since the ride there was uphill and I had to haul graded papers, lunch, change of clothes, etc. daily. I started leaving my 'teacher shoes' at work to lighten the load a bit.
My commute to work is now a downhill 3-mile cruise through downtown where I currently work at a local bike shop in town. While Jack and Adam's is not a commuter shop per se (we mostly sell road and triathlon bicycles), most of the employees ride to work (anywhere from 3-20 miles round trip). Since there is no shower at the store we usually hose off in the back and give the customers at the Jack in the Box across the street a show. Unfortunately, we recently put up a fence in the back so no more shows.
What do you do for a living and in what city do you bike commute?
I am the Queen Bee @ Jack & Adam's Bicycles in Austin, TX. I run the sales floor and make sure people are taken care of. I use to teach 6th grade science at Mendez Middle School.
Right now I also intern at The Butler Bros. Firm where I get to play on Illustrator and participate in ad branding.
What kind(s) of bike do you have?
Do you mean what kind of bikes I don't have? Ha.
Right now I currently have 4.5 bikes in my quiver. I race on a Level 3 custom Lynskey titanium bike. My previous race bike was the Trek 1500 I rode to Alaska in 2005 that is now my geared commuter bike. I also have a KHS Flite 100 fixed (48-18) for toodling around town and my most recent build, an 80's Univega MTB xtracycle single speed conversion with pink grips (Thanks Lee). I also had a Fuji Palisade fixed conversion (my first!) that was a beautiful light cream color with sky blue logos and Michelin tires to match. It also had little red bullhorns. I lent it to a friend and it pretty much belongs to him now, but your first conversion is always close to your heart, eh?
I've been eyeing this beautiful Biondi frame from Spain that is hanging at a shop here in town. I am torn between building it up as a geared bike or as my 'nice' going out fixed. I would also like to get a cross bike at some point and go play in the dirt.
So many decisions!
Any funny or interesting commuting story that you may want to share?
It was 7am and I had just turned off my street onto the main street into town and a guy on a Bianchi Brava flies by and slows down. He waits for me to catch up and blurts out, "OMG YOU'RE PRINCESSHUNGRY! YOU WRITE ALL THOSE REVIEWS FOR FIXED GEAR GALLERY!!�
Mind you, it's early in the morning and my coffee has not kicked in yet. I don't normally respond to anything loud very well that early.
We stop at the light and I mumble something like "Yep, that's me…â€? When the light turned green I dropped him. Poor guy.
What do people (coworkers, friends) say when you tell them that you are a bike commuter?
I think my favorite comments/questions are:
"Do you sweat?�
"Isn't it hot out there?�
"What do you do when it rains?�
"What about groceries?�
"You're crazy�
"What do you mean you haven't driven your car in 6 months?�
"I would do it but it's too hard/far/no showers at work�
How about bicycling advocacy? Are you active in any local or regional advocacy groups?
Right now I am looking for a local cycling advocacy group to invest my time and resources in, but what I have found has left me rather disappointed. Most cycling groups here are geared towards recreational riding, trail riding, or racing. While I race for AT&T Brain and Spine, there isn't very much to be had for cycle commuting advocacy. We do have the Streets Smarts Task Force and one of my teammates is the Cycling and Pedestrian manager for the City of Austin, but for a city that is ranked Silver by the League of American Bicyclists, we are definitely lacking. As one of my friends from NYC said after riding around Austin for a week, "You guys talk the talk, but you sure don't walk the walkâ€?. With people riding bicycles on the sidewalk, up the wrong side of the street, etc. I agree with him wholeheartedly. Sure, we may be better off than say the likes of Houston or Dallas, but in the grand scope of things with cities like Portland, Seattle, Copenhagen… we are eons behind.
I think what this fair city needs is a group that unifies all of the different genres of cyclists we have here in town. What we lack is a common voice and mission to be heard. Instead our voices get lost in the din of big trucks and SUVs and the infrastructure to support a cycling Austin will stay blue prints.
I love this city and I see the potential in it to become car-lite and cycling friendly. With gas prices through the roof (woohoo!) we are at a tipping point that will either shepherd us into a world with more bikes, or we will continue to be wholly dependent on the car.

(Photo courtesy of DCM Photography)
Anything else that you want to share with us?
For my internship at the Butler Bros. marketing firm my current project is to create a brand and mission statement for a hypothetical bicycle advocacy group (which may not be so hypothetical once I am through with it). In my head is brewing a campaign called the Cute Commute Campaign that will be a subgroup within what I think I will be branding "bikeAustin�.
More info to come on: http://princesshungry.blogspot.com
We'd like to thank Marsha for sharing her pictures and information…the marketing campaign sounds like a great idea, and we wish you the best of luck in implementing it!