(Last Updated On: August 30, 2022)
Please join us in welcoming Matt Dykstra to the Bikecommuters.com team! What better way to introduce Matt than to publish one of our long-running-series "commuter profiles". Read on to learn a little more about Matt, and stay tuned for his unique perspective on commuting…he'll be publishing articles shortly right here.
Name: Matt Dykstra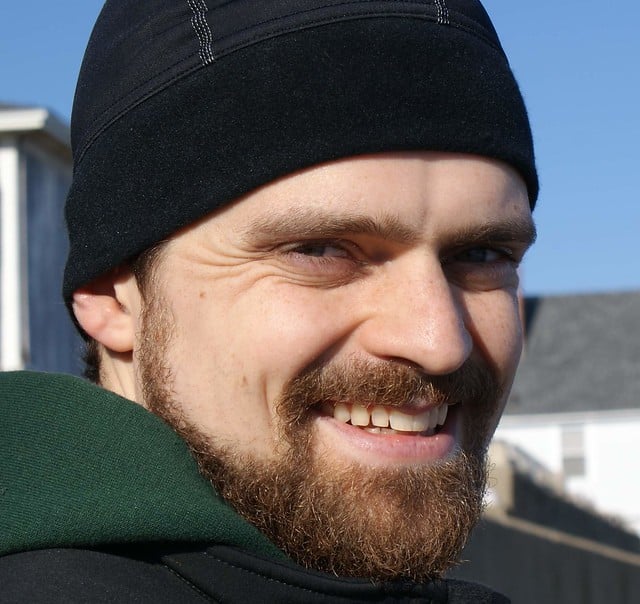 How long have you been a bike commuter?
I've been bike commuting at least part-time since 2007, and switched over to most-of-the-time in 2008 when my wife and I decided to become a one-car family. I've always biked when I could though – I biked to middle school and high school a lot, and didn't own a car during college.
Why did you start riding your bike to work and how long is your commute?
I started riding to work because I wasn't getting any biking in at all. I felt like I needed more exercise and I thought I could do it. Also, I was embarrassed because two of my (much older) coworkers biked in all the time and I didn't!
My first commute was 17 miles into Washington D.C. – I generally did a bike/metro combo on the way in and biked all the way home. My current commute is 6 miles, mostly on the Washington and Old Dominion Trail. It's a pretty pleasant commute most of the time.
What do you do for a living and in what city do you bike commute?
I'm a manager for a government contracting company. I sit (either in front of a computer or in meetings) all day, which I don't really enjoy – biking at least 3-4 days a week is essential for my health and sanity! I currently work in Sterling, VA – about 30 miles away from Washington, D.C.
What kind(s) of bike do you have?
This is actually a tough question! I do a lot of bike building/repairing so my bike fleet changes pretty constantly (It's at 8 bikes right now). My primary bikes are a 700c geared commuter and a cheap mountain bike. I also have a 26er mtb single speed and a road single speed under construction, plus a few others I'm planning to fix up eventually. Yes, I'm into big wheels and one gear…
Any funny or interesting commuting story that you may want to share?
Last winter my area got 10 inches of snow in about 3 hours, starting around 3 or 4pm. When I compared notes with coworkers later, it turned out that my hour-long (normally 30 minute) ride home was by FAR the quickest commute anyone had that day – one of my coworkers who only lived a couple miles from me took 6 hours to get home in his truck, and a few had to stay in hotels overnight!
I've almost been hit by suicidal deer and squirrels several times, but so far have avoided hitting or killing anything mammalian.
What do people (coworkers, friends) say when you tell them that you are a bike commuter?
1) Wow! I didn't think you could ride here.
2) What do you do about showers?
3) You didn't ride in TODAY, did you??!
4) Do you wear a helmet?
How about bicycling advocacy? Are you active in any local or regional advocacy groups?
I'm a member of WABA, MORE, and my town's Pedestrian and Bicyclist Advisory Committee (PBAC). Advocacy – especially at the local level – is really important to me, and I'm working on making my time and money back that statement up.
Anything else that you want to share with us?
I have my own blog that I try to write in fairly regularly – Daddy Rides Bikes. My wife Adrienne and I have two beautiful and energetic girls, J (3) and R (8 mos) – Adrienne is a stay-at-home mom and they keep her very busy! We also have a 7-year-old dog, Otis – who regularly gets abused by the human children, but adores them anyway. Adrienne and I both grew up in Massachusetts, so we're legitimate Boston sports fans. We live in Herndon, VA and have a small house with a big yard and a big garage.
The Dykstra clan: