(Last Updated On: September 2, 2022)
From Northern Virginia, Peter Beers is a bike commuter who rides his bike to Washington DC; here is his bike commuter profile:

How long have you been a bike commuter?
Part time (1-3 days per week): 15 years, Full time (250-300 days per year): 3 years.
Why did you start riding your bike to work and how long is your commute?
I've been a bike geek since I was old enough to ride. As a kid, it was my freedom. Mom worked a lot to pay the bills. I was left to myself. I went for a lot of bike rides.
These days, living in a city with gridlock issues like the Washington, DC metro area, riding my bike to work is a natural extension of that feeling of freedom. I could sit in a car in bumper-to-bumper traffic, or I could be riding my bicycle.
I change up my commute route during the week. It is a minimum of 30 miles round trip, but I often take the long way home – 45 miles round trip. My weekly mileage for commuting is between 150 and 200 miles.
How does Bike Commuting help you with your lifestyle (economics, health, relationships)?
Riding 200+ miles per week throughout the year has both an up and down side. I've lost around 50 pounds over the last 3 years. I've had to increase my beer consumption in order to keep any semblance of a belly.
The down-side of riding in the city that much is that there are many more opportunities to get up-close and personal with taxis, buses and cars. I've been hit 4 times in the last 18 months. None were too serious, though I did miss 4-5 weeks of riding this winter with a dislocated shoulder. On the good side, I also missed 4-5 weeks of snow shoveling. All of the incidents happened because drivers were not paying attention.
The mental health/attitude improvement benefits of riding to work are beyond measure. I'm happier and more energetic at work. I arrive at the office with my blood flowing and ready to work. I'm productive from the moment my butt hits the office chair. I arrive home having de-stressed from the day and carrying no work-related baggage.

What do you do for a living and in what city do you bike commute?
I'm a computer geek (software lifecycle management) who lives in Northern Virginia and works in downtown Washington, DC. I'm fortunate enough to work in the same building as the US Environmental Protection Agency. They let us non-government wonks use their bike facility and showers.
What kind(s) of bike do you have?
I've got a wide variety to choose from. Spring, summer and fall commuting these days is done on a Surly Big Dummy cargo bike. Riding a 75+ pound bike gives a bit of extra workout value to the commute.
Winter commuting is done on either a Surly Steamroller fixie (which looks like a senior bike) or a mutant fixie cross bike (with studded tires for ice and snow) made from an old 26�-wheeled single speed mountain bike frame that now sports 700c wheels drop bars and a front disc brake. When the weather is really bad, I break out the 29er dinglespeed (2 chainrings, 2 cogs for the drivetrain) based on a Salsa Mamasita MTB frame.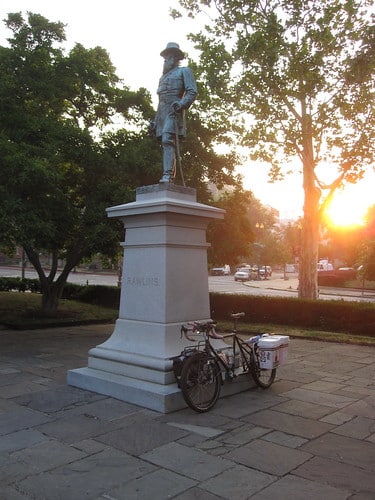 Any funny or interesting commuting story that you may want to share?
Anger management has been a challenge when dealing with cars, taxis and buses. I used to let my emotions get the best of me when someone would cut me off or actively threaten me with their car. The high point (or low point depending on your point of view) of that was when a woman ran a red light and ran me off the road twice in 2 blocks because she was talking on the phone. She never did see or hear me beating on her window. I was so angry that I chased her for 20+ miles through DC rush hour traffic. I wanted to give her a piece of my mind. At the end, I found myself 30 miles from home and pretty dang tired and no less angry. Not good.
Honestly that day was a red flag for me that I needed to change how I approached cycling. I had my own little intervention (Can you intervene with yourself?) and started a quest NOT to avenge any wrongs perpetrated against me on the road. I now do what I can to get rid of the "Us versus Them� attitude between bicycles, runners, cars, buses, taxis, tourists, etc. That is my new quest. Am I 100% successful? Hell no! I definitely try to be a good example of riding at peace with my environment.
This is a great transition into my next topic…
In early April I added a sign to the back of my cargo bike aimed at aggressive drivers. It says, "Honk if you're horny!â€? I wasn't exactly sure how well that would to over with the road ragers in the DC area. After about 3 months, I'd have to say that it is an unmitigated success. It has completely changed the demographic of people who are honking at me. I've had only one or two people honk in anger at me since. It has helped my attitude too, because my reaction isn't to respond in anger… it is to laugh at them professing their amorous intentions so loudly. I get people laughing, waiving and honking playfully every day. Sure beats getting honked at in anger every day. It has changed the dynamic of my riding.
What do people (coworkers, friends) say when you tell them that you are a bike commuter?
Mixed. In the winter people just think I'm a mutant that cannot possibly be in his right mind. Few if any can fathom the idea that the decision whether or not to ride is rarely made by me. If it is physically possible to ride, I will. If I can't get through by bike, I probably can't get through by car.
Spring and fall people think it is nice and express an interest in getting out there and riding with me.
With the summer heat index up over 100 degrees, I seem to fall back into the category of "crazy bike guy� with co-workers.
I'm the self-appointed person who promotes commuting on bicycle at the office. I've inspired a few to start riding a few days per week during nice weather. We have great access to bike facilities. On a good day we've got 5 or 6 people who commute on bicycle. In an office that usually has between 40 and 50 people working in it each day, that isn't too bad.
I have a lot of co-workers that comment on my photographs.
How about bicycling advocacy? Are you active in any local or regional advocacy groups?
My advocacy is kind of all-over the place. I show up to and support Washington Area Bicycle Association functions. I contribute to BikeArlington's forums to help facilitate people choosing to incorporate bicycles into their life more often. I rebuild and donate bikes to charity on my own, though I haven't had time to do that much this year. Up until this year I worked pretty avidly with the Mid Atlantic Off-road Enthusiasts (http://www.more-mtb.org/). They're the local mountain bike club. I lead beginners rides and conducted skills clinics for many years as well as taking part in trail maintenance and building days. Work has not allowed me to do much of that for the last year.
I guess my bit of advocacy is just leading by example. I get a lot of comments on the cargo bike. My answer to most questions is simple. "This is the bike that lets me do what I want to do without having to drive.�
Though not really bicycle advocacy, I distribute water, clothing, food and what-ever to the homeless people I encounter on my travels. This morning I encountered one of "regulars� who had decided that the middle of the Custis trail (the main bicycle/pedestrian artery into the city) was the best place for him to be sleeping. Nothing I could do would convince him this was not a good thing. I left one of my flashy lights 15 feet in front of him so people would know to avoid him. I left him a bottle of water in case he was thirsty when he woke up. Not sure yet how that turned out. I did what I could.
Is that bicycle advocacy? No. I guess I'm being an advocate on a bicycle though.
Anything else that you want to share with us?
I belong to a small band of people who have a group on Flickr to document their cycling. The group (Bike180 for 2009, 2010Bike180 for this year) was an active photo essay maintained by a group who ride at least 180 days per year and contribute one photo for every day we ride.
The 2009 Bike180 (http://www.flickr.com/groups/bike180/) group had 54 people in it and a total of almost 2100 photos contributed. Many rode more than 180 days, 4 rode more than 200. 2 of us rode more than 300.
The 2010Bike180 (http://www.flickr.com/groups/bike180-2010/) group has fewer people (38) but they're much more prolific. We're at mid July and we've already surpassed the number of photos/rides of last year.
For me the challenge isn't to make 180 days per year… it is to take interesting photos every day. Starting in June I decided that I needed a theme. I started documenting one statue, sculpture or monument each day. It has forced me to stop and smell the roses. It has renewed my love affair with Washington, DC.
Thanks for the opportunity to share.
Thank you Peter for sharing your profile and your pictures with us. We are still working on other commuter profiles, so be patient if you haven't seen yours yet!