(Last Updated On: September 6, 2022)
From our nation's capital, Phil Lepanto is a Bike Commuter who is also a tri-athlete, here's his Commuter Profile: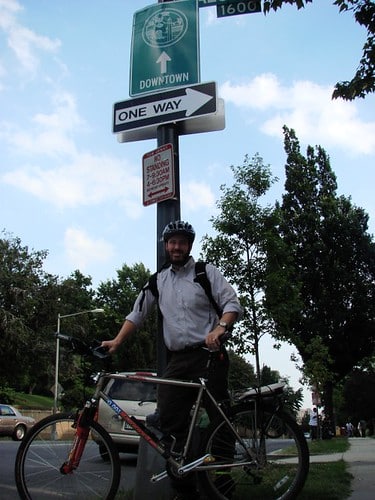 How long have you been a bike commuter?
Off and on for about 12 years. My work is usually well served by public transportation, so I haven't always used my bike.
Why did you start riding your bike to work and how long is your commute?
I started riding my bike because I realized I could get to work faster by bike than any other means of transportation. My office is about 1 mile from my house, so I am definitely not breaking any endurance records. Still, living in the heart of the city is an important lifestyle choice in and of itself. It's a lot easier to rely on your bike when everywhere you want to go is only a few miles away.
How does Bike Commuting help you with your lifestyle (economics,health,relationships)?
I enjoy bike commuting because I feel like I am not being wasteful. There was a time when I had to commute about 15 miles both ways to work. Whenever I would drive, I just felt like I was being so inefficient. When I get out there on the bike, I feel like I can move around the city easily and I can go to exactly where I want to go. Obviously, leaving my car parked and not burning gas every day saves bucks and wear and tear on my car.
What do you for a living and in what city do you bike commute?
I am a partner in a small technology consulting firm that focuses on the political and public affairs market. My home and office is in Washington, DC.
What kind(s) of bike do you have?
I ride around town and off-road on my Jamis Exile mountain bike. About 4 years ago, I wore out the real knobby commuter tires that came stock on the bike and opted for a more hybrid tread. I really like the wide tires for rolling over glass, curbs, etc. but having a smoother tire makes pedaling across town easier. I also have a 2006 Specialized Transition Elite that I use for racing triathlon.
Any funny or interesting commuting story that you may want to share?
I wish I could come up with something good. I've certainly had a few close calls with drivers pulling bone headed moves. I think there were a couple of times when Vice-President Cheney's motorcade was heading down Rock Creek Park when I was commuting out to Virginia.
What do people (coworkers,friends) say when you tell them that you are a bike commuter?
It really doesn't phase anyone at my office. We're a small shop, only 7 people. Two people bike, one person walks, two people take Metro, one person drives a hybrid from Baltimore. We've really got only one person who shamelessly drives his gasoline burner… but at least it's a compact. When I worked in a larger office, most people thought I was kind of nuts to do it. I kind of thought I was too, considering I'd roll into work a sweaty mess and have to use the sink to sponge off.
How about bicycle advocacy? Are you in any local or regional advocacy groups?
I once supported the Washington Area Bicyclists Association. I've disagreed with them on a couple of issues that they've pushed and have withdrawn my support. However, I try to attend meetings of the D.C.'s Bicycle Advisory Council meetings. The District Department of Transportation is really trying to push bikes and pedestrian issues. We almost actually have a city bike sharing plan (www.smartbikedc.com) and D-DOT is aggressively putting down bike lanes every time they put down new asphalt.
Anything else you want to share with us?
About a year ago, I got a BoB trailer. My wife and I had tried biking up the C&O canal and between the gear and the food, my panniers couldn't handle everything. I've used it to carry big loads of toilet paper, coolers of drinks, even a small charcoal grill. I remember taking a cooler of beer down to the park, biking past a bunch of high school tour groups down on the National Mall. I loved hearing the oohs and ahhs.
Biking is a great way of life. The more I get into it, the more I love it.
As usual, we want to thank Phil for his time and for sharing his story, I will send you some stickers soon!