(Last Updated On: September 7, 2022)
Today we've got a special commuter profile to share with you…Chris Follmer of Planet Bike. Chris has graciously allowed us to share his commuting stories and photos with you: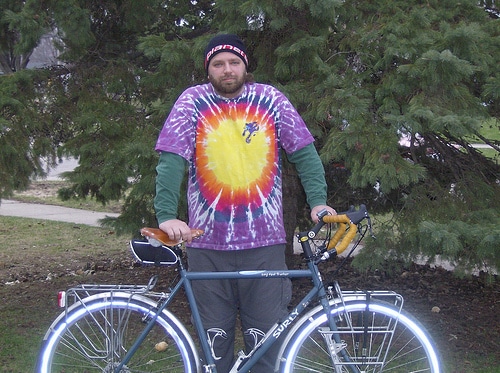 How long have you been a bike commuter?
I have been commuting year-round for the last 3 years now: 2 years in a small town in southwest Wisconsin and a year in Madison, Wisconsin.
Why did you start riding your bike to work and how long is your commute?
My old commute was only 4 miles round trip. It started at 3:30 in the morning and was VERY hilly. I started riding to try to get into shape. I needed some exercise in a big way, but don't like going to gyms. I figured by using my bike for transportation it would be "exercise in disguise,� as I like to call it.
Now working for Planet Bike, my commute is 8 miles round trip. On the really nice days I go home around the lake and that is about a 12 mile ride home. Biking here in Madison is so easy to do year-round. During some of the big snow storms this winter the bike paths were cleared before the streets!
What do you do for a living and in what city do you bike commute?
I work for Planet Bike running the warehouse and taking care of online orders. I commute in Madison, Wisconsin, one of the best cities for biking in the country!
Tell us a little about working for Planet Bike – the company is well-known for supporting the bicycling community – what kinds of things does the company support? How about commuting incentives for employees?
Planet Bike supports the notion of using bicycles as transportation. We are devoted to supporting causes that get bicycle advocacy into people's minds. We support groups at the city, state and national level who are working very hard to get bicycles built into the infrastructure of this country and to change the perception of bicycles as transportation tools, not just toys.
I have been working here for a year and have yet to hear of any commuting incentives! We all are in the mindset of just commuting and don't really need to have incentives to do it. Although incentives don't hurt either!
A few months ago we installed solar panels on our roof, and we have been switching our packaging from plastic sleeves to recycled cardboard printed with soy ink. We don't heat the warehouse in the winter; instead I wear a good set of Carhartts to keep warm. That saves a lot on the heating bills and energy. We have a 15 gallon water heater instead of a big 40 or 50 gallon heater.
What kind(s) of bike do you have?
I have a Surly Long Haul Trucker fitted with good commuter bike tires for my commuting and touring bike. I have a Trek 7300 hybrid with an Xtracycle on it to haul basically anything I want, and I have a Swobo Folsom on its way here for my 'round town, hanging-out bike.
Any funny or interesting commuting story that you may want to share?
During the summer, there are a lot of people riding on the bike paths. A lot of them are on fast road bikes and all decked out in Lycra. I usually commute in shorts, t-shirt and summer sandals. Last summer I was coming to a stop at an intersection and there was a group of road riders there waiting and of course that happened to be the time I was learning to ride clipless. So I came up to the stop sign and unclipped my right foot, figuring the wind was blowing from the left. I had my bag on the right side of the rear rack. Needless to say I went to the left, right onto the ground! Luckily they all laughed and said "I've been there before!� and then helped me up. It was nice to feel some good vibes from them, but you still feel funny falling like that in front of people.
What do people (coworkers, friends) say when you tell them that you are a bike commuter?
My coworkers are all bike commuters as well (editor's note: wouldn't that be great for the rest of us?!?), so they don't think anything of it. When I tell friends and family that I ride my bike year-round, they give me a weird look. They just think I am going to freeze in the winter. I tell them I usually end up sweating by the time I get to work, because it's a pretty short ride and I'm moving the whole time. My coldest commute was -4 with a wind chill of -32. It was a pretty chilly morning, but I was dressed properly and made it to work with no problems!
How about bicycling advocacy? Are you active in any local or regional advocacy groups?
I am a member of the Bicycle Federation of Wisconsin, and Adventure Cycling Association. I am not all that active as far as doing anything besides giving them a check for my memberships.
Anything else that you want to share with us?
I can honestly say bike commuting has probably saved my life. When I got my Trek hybrid 3 years ago, I weighed 320 pounds and was very out of shape. I started riding and just kept with it. There were mornings when I thought of just driving to work, when it was pouring rain, or we just got a couple of inches of fresh snow, but I toughed it out. I realized I started having a lot of thoughts like that, so I decided to sell my truck. If I don't have it, I can't use it. Living in Madison is also very easy to get around on a bike, so it makes being without a vehicle pretty easy. I think with the price of gas skyrocketing, hopefully we will see more people on bikes, and that will hopefully lead to a better biking infrastructure. The better the biking infrastructure is, the more people that will be biking.
We'd like to thank Chris for taking time out of his busy day to share his stories and pictures…Planet Bike is an amazing company — check them out if you haven't before!