(Last Updated On: August 30, 2022)
Say hello to Robert Guico, next up in our recurring commuter profile series. Robert sent us his profile information and photos at the end of October (What can I say? I'm a little behind…so ignore the Christmas reference at the end of the questionnaire). Let's see what Robert has to say!
Name: Robert Guico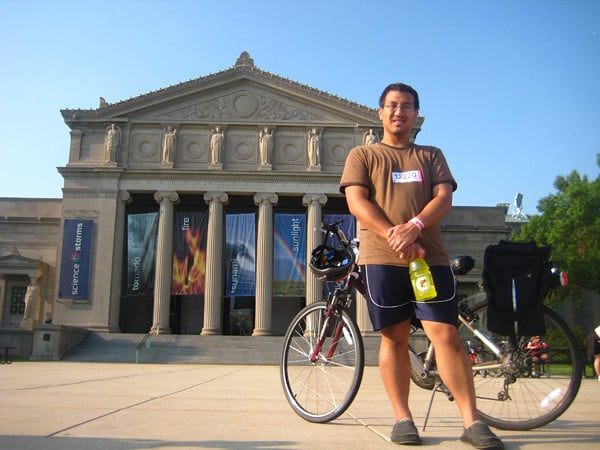 How long have you been a bike commuter?
I've been at this for the better part of two years. I remember being a pretty avid bicyclist through middle school and a little bit of high school, but things dropped off when I got to college. I went to IIT, which is 4 miles south of the loop, so I was really close to the Lakefront Path, which is a fantastic place to ride your bike. But by then, I was so out of shape, I could barely go 5 miles.
Why did you start riding your bike to work and how long is your commute?
I started riding my bike to work because I realized I was getting seriously fat (check out this list of recommended bikes for "fat" riders). I'm 5'8″ and I'm not built like a stick, but at 237 pounds I realized I should do exercise, not hope to do exercise. Of course, my commute is 9 1/2 miles, one-way, so that first month was… shall we say… brutal.

(The forest preserve in March, before the grass starts growing.)
For a good chunk of my commute (6+ miles), I'm on my own right-of-way (sidepath or limestone screening trail), with few car-bike interactions, and that's really nice when I want a less stressful commute. It used took me over 50 minutes the first few times, saddle time, to make the trip, but now I can get to work in about 40 minutes on average.
How does Bike Commuting help you with your lifestyle (economics, health, relationships)?
Ever since I started this plan, I've lost about 20 pounds. I've probably lost more fat, because this October I've biked more in a month than any month in the past two years, and muscle weighs more than fat. I can actually start to see my abs, which is new! My wife likes the new look, and as someone that hated most forms of physical activity in gym growing up, I can confidently say I'm in the best shape of my life. Even my parents, who used to tell me in no uncertain terms that I was fat, approve. (Speaking as an Asian, that's important!)
On the economic side of the ledger, I'm not sure how much gas I've saved. Probably a couple hundred dollars; I try to bike to work 3-4 days a week, so I haven't cut myself off from the car entirely. It's a world away from when I was putting on 25,000 miles per year on our Civic… and that many miles wears down all sorts of parts. I needed many more oil changes and headlamp bulbs then than we do now.
Plus, I'm not counting the $1,200 of "the car is 6 years old and some things need fixing" work. In comparison, I put a three-inch hole in my rear tire once, and only had to shell out $50. (The worst part of that experience was the 45 minute walk home.) So overall, I'd say I get a lot of freedom from the mere $300 I've spent on my hybrid bike. Regular maintenance doesn't cost all that much, either.

(The only bike route in town is an east-west sidepath / multipurpose trail. At least it's well signed!)
What do you do for a living and in what city do you bike commute?
I'm a software engineer at Lynch2, a web development company in Bartlett, Illinois (the next town northwest from where I live, Carol Stream.) I've noticed a lot of software engineers decide to bike to work… maybe it's just because there's a lot of us on the internet, wanting to share our common experiences. The flexible work environment (in terms of hours) helps a lot, too.
What kind(s) of bike do you have?
I have one bike, a Trek hybrid. I don't have the faintest idea what model it is, but I do know it's about 6 years old. We bought it when we first moved into our apartment by O'Hare, but I rarely (if ever) used it–we had a bus that ran straight from the apartment complex to the nearest Blue Line stop, or drove into downtown. My wife has the other bike, but she doesn't like bicycling nearly as much as I do.
I have no complaints about it whatsoever. I haven't named it or anything, but it's hard for me to imagine, "Hmm, will I take the red bike, or the blue bike to work today?" I think I'll ride this one 'til the frame falls apart.
Any funny or interesting commuting story that you may want to share?
There are precious few bicycle commuters once you leave the (more) bike-friendly streets of Chicago. On a cold day in March, I might pass two joggers on my 9-mile journey to work. On a warm day in June, I might pass a dozen cyclists; half of them are training for the next road race, and most of the rest are just out for a recreational spin. One or two of them might be other bicycle commuters.
I think I know what to look for. Panniers? Camelbaks? Bright reflective clothing? Mirrors on the helmets? If I pick up the signs right, there are five or six of us out here (along my route, anyway… and there aren't that many dedicated bike routes), and I don't see them every day.

(I've been going through this forest preserve during sunset recently. Fortunately for me, the sunsets have been spectacular. )
What do people (coworkers, friends) say when you tell them that you are a bike commuter?
Well, most people at work think I'm nuts some, if not most days. You know, those days when it's 30 degrees outside and I show up on two wheels, or if there's a high wind warning, or if a big thunderstorm rolled through earlier that morning, or if the heat index is 105 °… I mean, it's Chicago. I know all of these things can happen, sometimes in that same week.
My parents think it's dangerous, but I think my route is one of the safer routes in the county. Mostly, they can't believe that I spend an hour and a half just pedaling on a bike… and usually, they're noticing I'm thinner, which I don't mind.
How about bicycling advocacy? Are you active in any local or regional advocacy groups?
Heh. I am a local advocacy group… it's just called Carol Stream Bikes, and it consists of me and a handful of other people on an email list. There isn't any other natural place for a bicycle group to form–our suburb of 40,000 doesn't have a local bike shop or any sort of bike/ped specific governmental institution. So I made one up.
However, I have a full time job, so it hasn't grown as much as I would like. But I'm in the initial stages of working with both the local government and retail businesses to encourage biking and build more bike infrastructure. Hopefully with persistence, things will go well.
I'm also a member of the League of Illinois Bicyclists and the Active Transportation Alliance, formerly known as the Chicago Bicycle Federation. I bounce some ideas off of both those groups every now and then, too.

(19.5 miles away from home, Whole Foods [Schaumburg] provides a perfect example of how underground bike parking should be done. I just wish it was closer.)
Anything else that you want to share with us?
I bought my first pair of gloves two months ago, before the 62-mile long Boulevard Lakefront Tour. I hate buying bike-specific clothing (because I don't think bike commuting should be anything special or expensive) but I do appreciate the extra comfort in my hands.
Polarized prescription sunglasses are actually worth getting, whether you're driving or bicycling. I might even be able to see after a good snowstorm, now!
Instead of getting a $100+ dedicated bike-specific headlight to see where I'm going in the dark (the one mounted on my bike helps me be seen, but not much else), I bought a $15 LED mini-flashlight and fastened it to my helmet with electrical tape (and by looping the flashlight around the vents in my helmet so it doesn't fall off. Works really well for me!
I'd like to keep doing this for as long as I can, including through the winter. Which means I'm going to have to find a way to stay warm below 20 °. I think that I'll have to get used to wearing long johns. But Christmas is coming up, which means egg nog, so… I'll find a way!

(One of my alternate routes home. I have never, ever passed a bicyclist on this bridge. Or on the rest of this path. So how many bicyclists total do you think actually obey the "stop and walk your bikes" sign?)
We'd like to thank Robert for sharing his words, thoughts and photos, and want to remind others who have submitted profiles that we haven't forgotten about you…there's a backlog of stuff just waiting to be edited and published, so we'll get to your profiles soon. If you're interested in submitting a profile for publication, please drop us a line at info@bikecommuters.com or ghostrider@bikecommuters.com and we'll send out the questionnaire and simple instructions. Thanks!