(Last Updated On: September 7, 2022)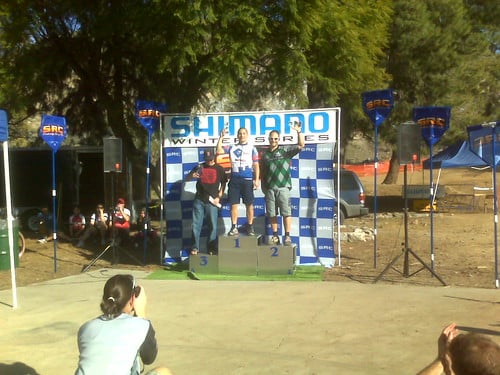 Ryan, taking first place at Southridge
If you are a regular MtnBikeRiders.com reader, you may recognize Ryan's screen name as FlynnRyan. We know Ryan to be a bad ass Mountain biker (First place in the Southridge Series in the Sport Category) but what is little known is that Ryan is also a dedicated Bike Commuter, here's his commuter profile:
How long have you been a bike commuter?
I have been commuting for almost three years. coming up on 6000 miles.
Why did you start riding your bike to work and how long is your commute?
In this order, I love to ride, to help me stay conditioned for mountain bike racing and to save money on gas. In the morning up 30 miles depending on how much time i have from point A to point B 14 miles each way.
How does Bike Commuting help you with your racing?
Keeps my legs conditioned and loose through out the week in between races. Getting an extra 60 miles in a week definitely keeps the edge on the competition. and having those base miles always helps on the endurance end.

Ryan (right) with MTB legend Hans Rey (left).

What do you do for a living and in what city do you bike commute?
I manage a Locksmith company in Newport Beach and have been a locksmith for 10 years. I commute from Anaheim CA to Newport beach. I don't commute from my house b/c its a little to far,although i have in the past it's about a 70 mile round trip and just under a 2hr ride each way.
What kind of bikes do you have?
I own a 2003 Specalized Allez comp w/ an ultegra group all original with a total of about 8000 miles.(commuter) 2008 Cannondale Scalpel 2 xc race bike sram x9.
Any funny or interesting commuting story that you may want to share?
Not really. But the best part of my commute in riding to and along the coast. Its a definite personal favorite to do a morning ride to the coast right before work.
What do people (coworkers, friends) say when you tell them that you are a bike commuter?
They think its a cool thing. There will always be the Lycra jokes but being in the position that i am in at work i think it helps promote a positive out look on staying healthy. I have not directly changed anyones life but i know that most of my employee's have tried to live a healthier life.
How about bicycling advocacy? Are you active in any local or regional advocacy groups?
I am big on sharing the road but not part of any groups. Bicycling comes second to family. I try to promote safe driving and bicycling when i can and in a situation where it's not preaching.
Anything else that you want to share with us?
Keep the rubber side down and the helmet side up. I appreciate everything you guys do for the bike community,bike commuters and mountain bike riders. Thanks for giving me the opportunity !! Ryan
Big thanks to Ryan for sharing his profile with us. If you want to share yours, email us at info@bikecommuters.com.