(Last Updated On: September 6, 2022)
Our next Bike Commuter Profile is from a rider that calls himself the 'Lazy Bike Commuter', read on: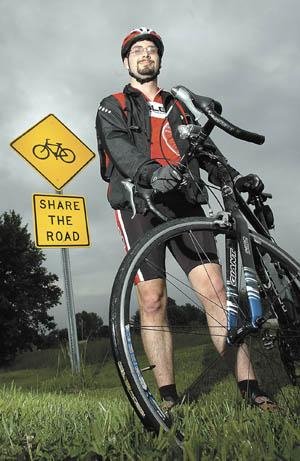 How long have you been a bike commuter?
Aside from 1.5 mile rides to college, I have been biking to work on and off since Feb 2006. I really didn't start regularly biking to work until April of this year tho, due to a change in city and job.
Why did you start riding your bike to work and how long is your commute?
I really enjoy biking, and like to do it every chance I get. I also have a tendency to be an overweight bike rider, and riding a bike more is a whole lot more palatable than eating less (palatable–get it?). My current commute is just a little bit over 8 miles each way if I go the more direct route, I have been known to increase it to 18 each way if I had other errands to run though.
How does Bike Commuting help you with your lifestyle (economics, health, relationships)?
I recently had an appendectomy after starting my new job–my old health insurance lasted 60 days, my new insurance took 90 to kick in, and I was in the hospital on day 67. The going price for that procedure in this area is around $42,000. I managed to get it down to more like $17k, but I can still definitely use the money I'm not spending on gas.
Other benefits–definite weight loss benefits. There is a very good feeling that comes with discovering you have to wear a belt with pants that used to be uncomfortably tight. If course, the increased size of the quads means that if I buy a smaller waist the pants will fit even worse, but I would say that a belt is indeed a small price to pay. I dropped 50 pounds one year.

What do you do for a living and in what city do you bike commute?
I work in data operations–very sedentary. Getting out and biking is pretty necessary for me to maintain sanity. The job is in Beavercreek, Ohio, and I commute from Dayton. The rail trail system here constantly amazes me.
What kind(s) of bike do you have?
By far my most-ridden bike is a Surly Long Haul Trucker, from the first shipment of "complete" bikes they did last April. It's a comfortable ride, and it's plenty fast enough to get me to work on time. The cargo rack is also a high point, and the super low gearing is a life saver when I am towing my Burley cargo trailer with 100lbs of groceries up a steep hill. I also have aspirations of fully loaded touring before too long.
I also have a Santa Cruz Heckler for when I have a chance to play in the dirt, and a Giant TCR1 for when I want to go fast and care less about comfort.
Any funny or interesting commuting story that you may want to share?
I have had two flats while commuting to work. One was during bike to work week, and was discovered while leaving the park where the film crew was. I got to be on the news changing my tire, giving a quick voiceover for my boss that I have proof as to why I was late that day.
The other flat happened 3.5 miles from work just last week. Unfortunately, the spare tube was on the bike at the time. Lesson: Never ride without a spare, or you will be 50 minutes late for work.

What do people (coworkers, friends) say when you tell them that you are a bike commuter?
They seem pretty impressed with the whole idea, though I can't get many of them to consider that the idea could work for anyone but me. They also like to tell me that my saddle looks really uncomfortable (Brooks B17).

How about bicycling advocacy? Are you active in any local or regional advocacy groups?
In my last hometown I tried to be active in our effort to try to get Bowling Green, KY certification as a Bicycle Friendly Community, but since moving I have been little help on that front.
I would also help out with trail maintenance at Sal Hollow, our local mountain bike stomping grounds.
Anything else that you want to share with us?
If I have anything worth saying, it can be found at http://lazybikecommuter.blogspot.com.
Big Thanks to Tommy for sharing his profile, I will mail your stickers shortly. By the way, you can still submit an article, review or your complete bike commuter profile to info@bikecommuters.com, I still have a few stickers left. If you have submitted your profile, be patient, I will post it in the coming week.