(Last Updated On: August 30, 2022)
Although we're primarily a U.S. based commuter site, we're always excited to hear from readers abroad. We've met quite a few people from other countries over the years, and it is energizing to learn that our message spreads beyond our shores. Today, here's a special treat all the way from Portugal…bike commuter Victor Domingos:
Name: Victor Domingos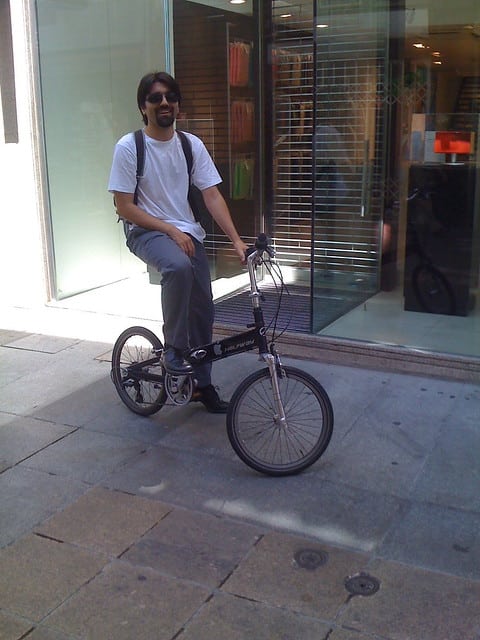 How long have you been a bike commuter?
I started about 10 months ago and have been bike commuting nearly every work day since then.
Why did you start riding your bike to work and how long is your commute?
Well, I have been a pretty sedentary person for decades. While I was in school, university and even when I started working. When I recently moved to this town, I realised that I spent a few minutes everyday getting the car out of the garage plus about 15 minutes walking from the nearest free car parking to the door of my workplace. And gas prices kept going up and up, also. I guessed that with a bicycle it would become easier to get out of the garage, and I could make a direct "door-to-door" trip, saving some time and making a bit of exercise. And hopefully I would be saving a few euros in gas… My bike commute is about 3km long and I am doing it 2 times a day, both ways. So, I ride about 12km each day.
How does Bike Commuting help you with your lifestyle (economics, health, relationships)?
First of all, it makes me feel good! Finally, after all those years, I am doing some exercise almost every day. And I was able to save about five or ten minutes in each home-to-work travel, which makes about 30m each day. It's not a lot of time, but hey… I only have one hour for lunch and this way I am able to have lunch at home, and that's great: I have lunch in the company of my wonderful wife. I eat healthier, and waste less money than if I was going to a restaurant. Also, I enjoy some fresh air everyday – it's nice.
What do you do for a living and in what city do you bike commute?
I live and work in Braga, Portugal, at an Apple Reseller that has both a retail store and an online store. Most of my time, I work at the online store.
What kind(s) of bike do you have?
I own a 7-speed, 20-inch wheels, folding bike. It's a Giant Halfway that has recently been upgraded with new tires, a pair of fenders, and rear rack.
Any funny or interesting commuting story that you may want to share?
Well… The fact that I ride a folding bike was received with a bit of surprise at first. I used to go by a street where there is a school. One day, one kid saw me passing by and was so excited about my bike that he started calling for is fellows to see it "Hey, guys! Come here! Look at that a little bike… so small!".
What do people (coworkers, friends) say when you tell them that you are a bike commuter?
It depends on the person. Some find it a bit weird, as if I was a bit crazy. But lots of people seem a little jealous and tell me that they would like to do the same, if… and then they list their personal reasons to keep using their car. Most people are frightened by the traffic speed in town – which is not that bad, I think.
How about bicycling advocacy? Are you active in any local or regional advocacy groups?
I guess my bike commute is already a soft form of bicycling advocacy. Every now and then people seem interested about it, and I just try to give them some useful information and take away any fear, showing that bike commuting is easier than it seems.
I am willing to participate in my local Critical Mass rides (which has happened last month for the first time), but at that time I am still at work.
On the web side, I have been a little more active. I started a Portuguese Facebook group which title means "We want cities that are friendlier for bicycles and cyclists!"
And more recently I started a blog named "Sempre de Bicicleta", which means "Always by Bike". It is a blog mostly dedicated to bike commuting and utility cycling in general…
Anything else that you want to share with us?
Sure! I am a big fan of your blog, and I must confess that it was a main inspiration for starting my own. I love your "Commuter Profiles" series, the product reviews, and so on. I wish we had a blog like yours here in Portugal! :-)
We'd like to thank Victor for sharing his words and photos with us, and we'd like to remind the rest of you that if you want YOUR turn in the limelight, drop us a line at info[at]bikecommuters[dot]com or ghostrider[at]bikecommuters[dot]com. We'll provide you with our questionnaire and simple instructions for submitting a profile for publication. We're running low on profiles to post, so don't be shy — get your face and your words out into the world!