(Last Updated On: September 7, 2022)
How long have you been a bike commuter?
Off and on since last summer. I started commuting every day this past January until now.
Before that I rode an old road bike fixed gear conversion to college.

Why did you start riding your bike to work and how long is your commute?
I wanted to get a head start on my fitness this summer for the riding season and gas prices started climbing.
My work commute is 5.6 miles one way. Usually 6-7 to get home with errands.

How does Bike Commuting help you with your weekend club rides?
Well I commute on a fixed gear, which has improved my pedal stroke and endurance tremendously.

What do you do for a living and in what city do you bike commute?
I work for a remodeling company In Fresno, CA. I draw plans, manage the computers and do the marketing.

What kind of bikes do you have?
Fixed Gears:
2008 IRO Commuter + rack and panniers


1953 Schwinn Paramount Track Bike All Original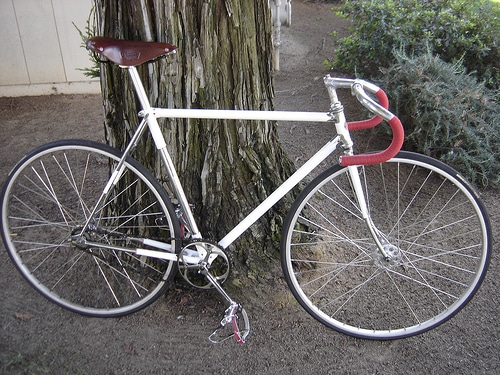 One Road:
2005 Kestrel Evoke + Full Campy Record 10spd
One beginner mountain bike:
2007 GT I-Drive Full Suspension

Any funny or interesting commuting story that you may want to share?
I am starting to see alot of the same people on my commute and lately and
while waiting at traffic lights they have been asking me whether I am:
1. Carless
2. Commuting
3. Crazy

What do people (coworkers, friends) say when you tell them that you are a bike commuter?
They think its cool, they say they wish they could do it too. I tell them they can! I've converted and encouraged a few frends to bike commute too. I used to get mixed feedback when it was colder outside and gas was cheaper. Now all of a sudden its a great idea and everybody wants to do it. Amazing how that happens.

How about bicycling advocacy? Are you active in any local or regional advocacy groups?
I belong to the Fresno Cycling Club and My self and a Friend have a bike blog www.bike4more.com
We cover issues like improving health, the environment, and bicycle awareness. Its fun.
We also go to local cycling events like Bike Hop: http://www.fresnofamous.com/node/5545



Anything else that you want to share with us?
Your stories and articles are great keep them coming.